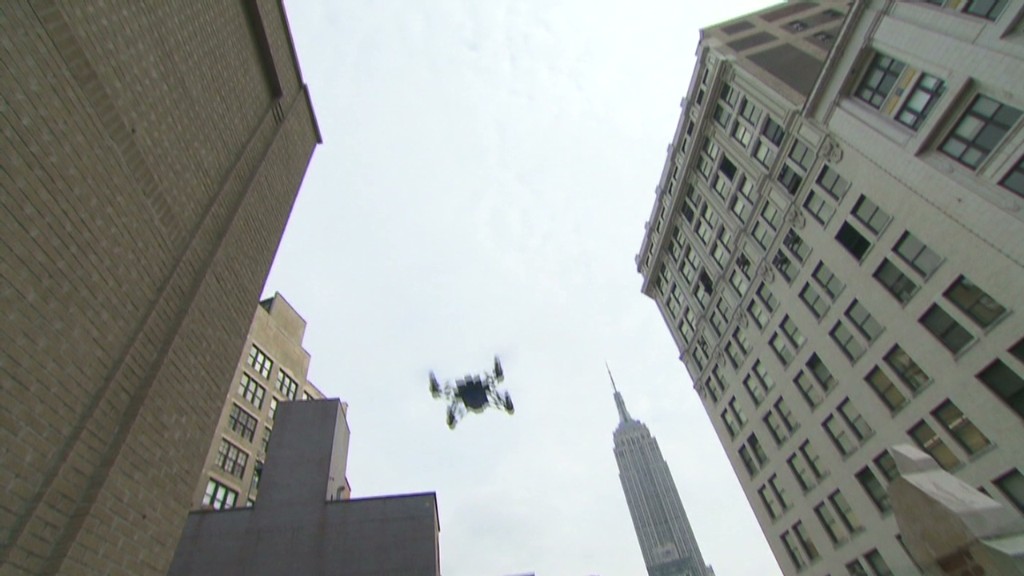 Drones can be used for everything from emergency response to playing the James Bond theme song. But --until now -- you might not have seen them jump.
Drone-maker Parrot is releasing two new models of miniature drones this August: the Jumping Sumo and the Rolling Spider.
CNNMoney took them out for a spin on a midtown Manhattan rooftop.
The Jumping Sumo -- as its name suggests -- can actually fling itself two and a half feet in the air (so we were careful to keep it away from the edge of the building). It's controlled by an app for Apple (AAPL) iOS and Google (GOOGL) Android devices, and it requires a Wi-Fi connection. The Sumo can be controlled at a distance of about 160 feet.
Unlike many of Parrot's other products, it has wheels and not propellers -- it can't fly.
On the other hand, we took the Rolling Spider joy riding over Broadway. It's a Bluetooth-controlled miniature quadcopter that works with iOS and Android devices. As of September, it will be Microsoft (MSFT) Windows compatible. The Spider also comes with a set of attachable wheels, which enables the robot to scale walls. The smartphone control range extends about 50 feet.
Related: What would you pay for a drone bartender?
At one point the wind took the Spider a bit out of reach and it flew very close to a nearby building (the only onlooker that appeared to notice simply lowered her shades).
The Jumping Sumo is $159 and the Rolling Spider is $99. Both robots are targeted at a younger demographic than Parrot's AR drones, which will run you about $300.
"It really introduces the technology to fourteen-plus, but we'll see kids of all ages wanting to play with these devices," said Parrot Vice President Peter George.
The ultimate in childhood spying.