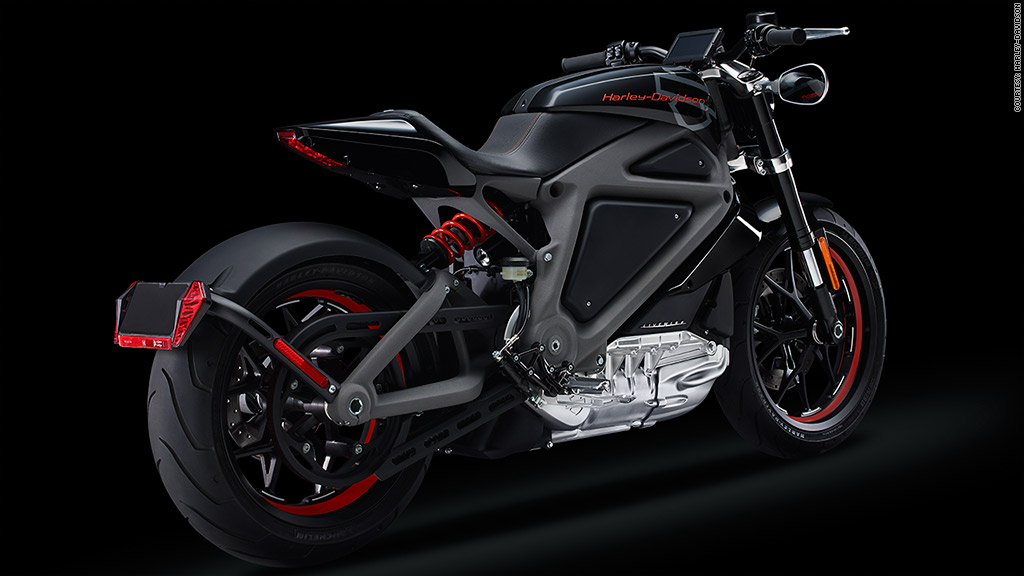 Harley-Davidson unveiled its first electric motorcycle Thursday, and promised it will still sound really cool.
"The sound is a distinct part of the thrill," chief marketing officer Mark-Hans Richer said in a news release. "Think fighter jet on an aircraft carrier."
The electric Harley, dubbed Project LiveWire, isn't for sale yet. The iconic motorcycle manufacturer kicks off a promotional tour next week to give customers a chance to test the bike, which it says will have all the edge of a gas-guzzling hog.
Related: Top quality new cars - J.D. Power
Harley-Davidson (HOG)plans to incorporate consumer feedback into the final version of the bike.
The promo tour will kick off on June 23 at a Manhattan dealership, where the company will launch its entire electric fleet.
"We will have 33 LiveWire motorcycles riding the streets of New York next Monday," a company spokeswoman said.
The tour will stop at 30 Harley dealerships around the United States. It's slated to continue into 2015 in both Canada and Europe.
Related: Buy your own tank, or missile launcher
The bike runs on batteries that can be recharged by plugging into an electrical outlet, she said. The company plans to eventually establish "docking stations" around the country.
The spokeswoman would not say when the bike will go on sale or how much it would cost.