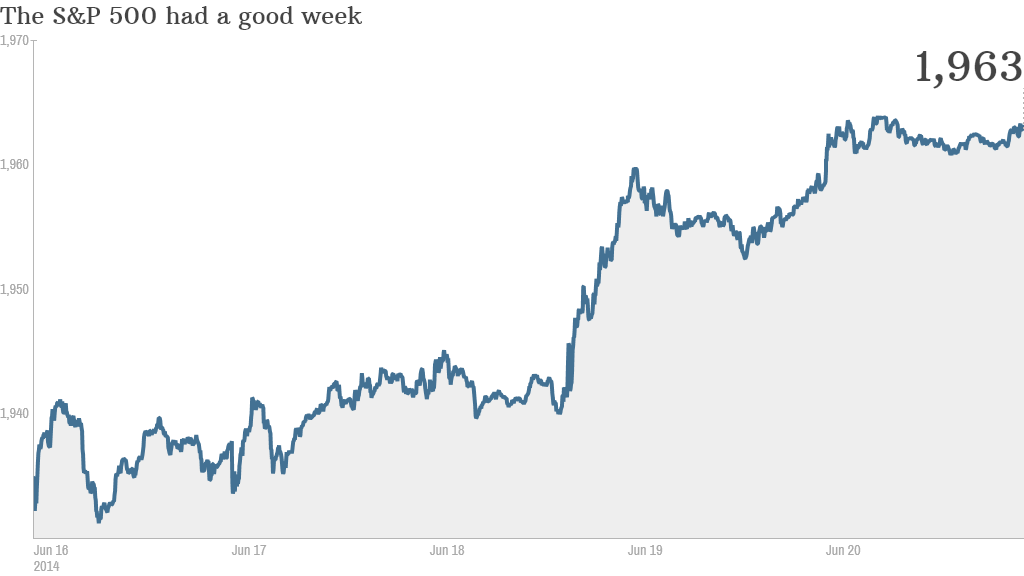 It's a high-five kind of week for investors.
The S&P 500 and the Dow Jones Industrial Average both closed at record highs Friday. The Dow made it to 16,947.08 and the S&P 500 hit 1,962.87.
The Nasdaq finished a hair higher than yesterday. Don't look for records there any time soon: it's about 13% off its 2000 peak.
All three of the major indexes closed the week with 1% or greater gains.
Here are some highlights from the day's trading:
1. BlackBerry jumps, Oracle slumps: Oracle (ORCL) disappointed Wall Street on both sales and earnings, and now it's getting punished. Its stock fell 4%.The culprit, revealed in the quarterly filing, is new software licenses, which showed no growth (falling way short of the 20% growth that analysts had been expecting).
However, Things are looking up for smartphone pioneer BlackBerry. (BBRY) On Wednesday it announced a new partnership with Amazon (AMZN)for its app store. It reported Thursday that it actually made money last quarter as analysts were expecting a loss, and it announced a couple of new devices on its earnings call yesterday. A "phablet" called the Passport and a BlackBerry "Classic" are on the way later this year.
BlackBerry shares closed up just under 8% higher.
Related: See how companies like Oracle, BlackBerry and Amazon stack up against the rest of CNNMoney's Tech30
2. CarMax revs up, Coach out of fashion: CarMax (KMX) is having a great morning after reporting stronger sales. The company said it had growth in every area of the company except warranties. It also said that it was continuing to test the waters of subprime auto lending after its financing division reported 9% income growth. The stock finished up more than 16%. AutoNation (AN), another nationwide used car dealership chain, closed more than 5% higher.
Coach (COH) fell nearly 3% after the company disclosed during its annual Investor Day that it was going to close 70 stores worldwide at a cost of as much as $300 million. For context, the company said it made $1 billion last year.
Related: Coach to close 70 stores. Stock tumbles.
3. Summer slump for Olive Garden and Smith & Wesson: Darden Restaurants (DRI) reported poor earnings and gave another glimpse into why shareholders were so mad it didn't shove Olive Garden out the door when it dumped Red Lobster earlier this year.
Darden also owns Longhorn Steakhouse and smaller chains like Bahama Breeze and Capitol Grille. These restaurants reported decent sales growth. But Olive Garden, which still represents the biggest component of Darden's revenue, continues to struggle. Red Lobster is also deflating.
The stock dipped almost 4% Friday. The extra bread sticks and salad aren't cutting it.
Then there's gun maker Smith & Wesson (SWHC). Talk about a misfire: Earnings were good but sales are falling. After a fear-driven boost in gun sales, things are getting back to normal and Americans are buying fewer guns. Thus, shares are down over 8.5%.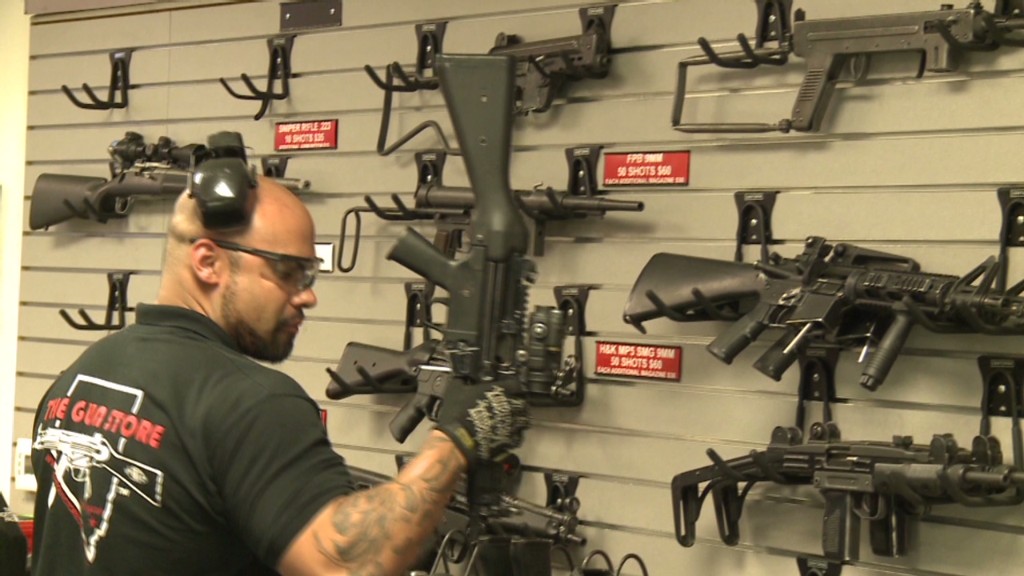 4. Starbucks stung by higher coffee prices: The big coffee retailer announced today that it would be raising prices on pre-packaged goods and certain drink orders. Starbucks shares had a muted response, down less than a percentage point.
Starbucks (SBUX) isn't the first company this month to raise prices this year. J.M. Smucker (SMUCK), which produces Folgers and Dunkin Donuts coffee, said a few weeks ago it would charge 9% more.
A Brazilian drought has put huge upward pressure on America's coffee. Contracts for the crop traded at the New York Mercantile Exchange are up 58% for the year.
Related: Which Starbucks products are getting hit by price hikes?
5. The Land of Saints and Tax Shelters: AbbVie is trying to take a trip to Ireland and the U.K. this summer -- mostly to get away from U.S. taxes. But Ireland-based Shire (SHPG) has rejected AbbVie's unsolicited $46 billion bid for two reasons: It thinks it's undervalued and it it sees too many risks with AbbVie (ABBV) looking to move its tax base to the U.K. Shire shares are up 17%, and AbbVie stock is was slightly lower.
6. Icahn raises stakes in Family Dollar fight: Activist hedge fund investor Carl Icahn wrote a letter to the CEO of Family Dollar (FDO) calling for the company to sell itself immediately, saying that the dollar store industry will inevitably start shrinking. He's also demanding to nominate three members for the company's board of directors. Investors may have seen this coming, though. The stock is up about 1% for the day.
7. Oil and gold: Worry about the situations in Iraq and Russia have investors -- and the world -- keeping an eye on oil and gold prices. Crude oil was up slightly Friday, but fell short of the $107 level that set off alarm bells earlier in the week.
Gold had an incredible jump Thursday and finished well over $1,300. It ended the week at $1,315 an ounce.