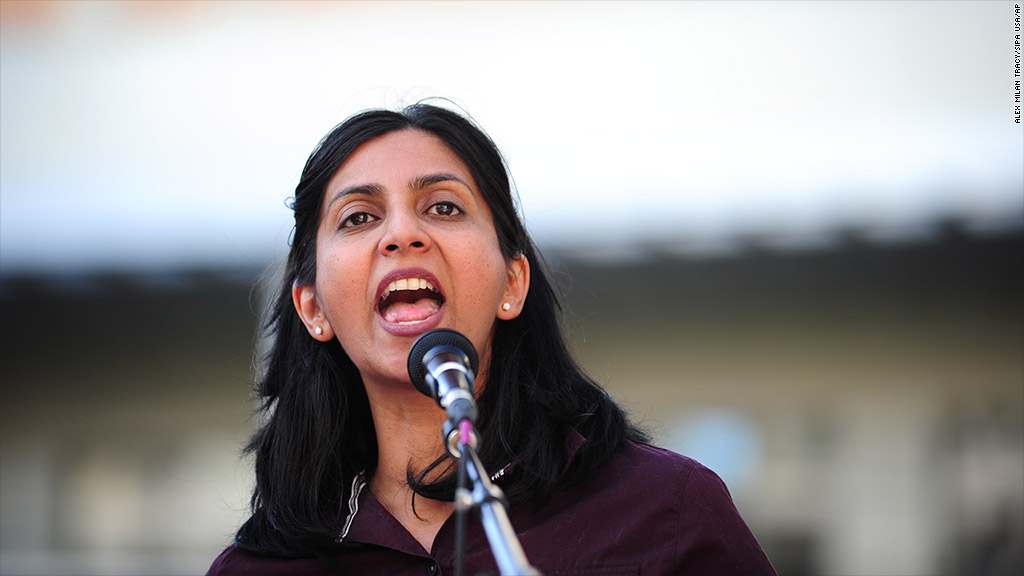 Kshama Sawant has gone from Occupy Wall Street to occupying Seattle City Council.
Now, fresh off Seattle's historic passage of a $15 minimum wage, the self-described Marxist is ready to make it a national fight.
Sawant -- whose full name is pronounced "Shah-mah Sah-want" -- emigrated to the U.S. from India and earned a PhD in economics from North Carolina State University before taking a teaching position at Seattle Central Community College. She says she was radicalized politically by the gaping inequality she observed upon arriving in the world's richest country.
The veteran activist, who supported the Occupy movement that cropped up in the wake of the Great Recession and bank bailout, ran for city council last year under the banner of Socialist Alternative, an organization that calls for "international struggle" against global capitalism.
The "Socialist" label is practically an epithet in many parts of the U.S., but Sawant says it "wasn't really any kind of barrier" in her meetings with voters.
"Everybody said, 'Don't call yourself a Socialist,' but every speech I gave, I started with saying that I'm a member of Socialist Alternative," she said in a recent interview at her City Hall office. "People are hungry for an alternative, but that alternative isn't there."
The cornerstone of Sawant's campaign was her call for a $15 minimum wage, an issue the local press credited her with placing on the city's agenda.
Seattle's city council unanimously passed the wage increase earlier this month, and it will be phased in over several years based on a scale that considers the size of and benefits offered by an employer. It will apply first to many large businesses in 2017 and then to all businesses by 2021.
Related: Some Seattle small business owners say new minimum wage is unfair
Washington already has the nation's highest state-level minimum wage, at $9.32, a rate that also applied to Seattle. The current federal minimum stands at $7.25. Some Democrats in Congress have been pushing for a gradual increase to $10.10, but so far without success.
While Seattle's $15 minimum is a first for a major U.S. city, it's not as if workers will be living lavishly. Working full-time, year-round for $15 an hour with two weeks off yields an annual pre-tax income of around $30,000.
"The cost of everything is going to go up," said Selena Bevers, a convenience store clerk in downtown Seattle. "You're still going to be where you are now."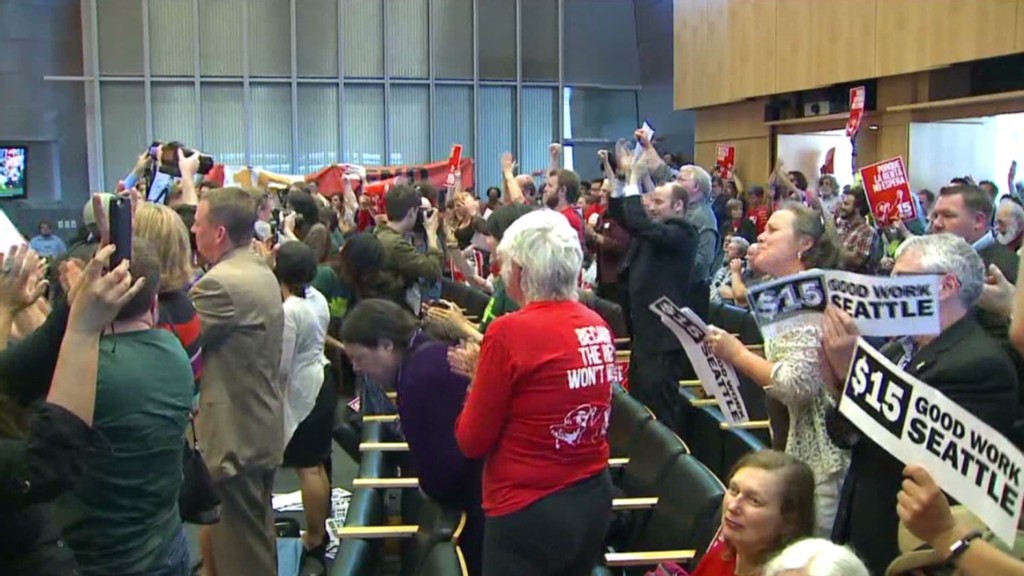 Annette Kousin, who works at a nearby coffee shop, worries about how the bill will impact food stamps and other federal benefits.
"I have a ton of student loans I need to pay off," she said. "I'm having trouble just surviving."
Local businesses, meanwhile, have complained that the legislation will hurt their bottom lines and harm the local economy.
Supporters counter that the economy could actually see a boost as workers gain more disposable income to spend.
"It has the potential to really help the economy," said Olivia Anderson, a clerk at a Seattle ice cream shop. "I know it will affect small businesses, but big corporations have the money to do this right now."
Related: Massachusetts approves $11 minimum wage
Sawant concedes that she has a number of concerns about the bill that ended up passing. She says it was "watered down" by business interests and the Democratic party establishment. She'd like to shorten the phase-in period, get rid of an allowance for sub-minimum "training wages" and leave tips out of businesses' wage calculations for workers.
But despite those caveats, she called the legislation a major victory, estimating that it will benefit 100,000 low-wage workers and transfer $3 billion from businesses to low-wage workers over the next decade.
Seattle's minimum wage push gained momentum following protests by fast food workers and a vote in the nearby city of SeaTac last fall to raise its minimum wage to $15. Now, Sawant hopes Seattle's example will help the cause of activists fighting for a $15 minimum elsewhere.
Related: Wages are falling in Manhattan and L.A.
Agitation for a higher minimum wage is on the rise, with low-wage workers staging demonstrations across the country in recent months.
She and Socialist Alternative launched an organization in January called 15 Now that has gained chapters in New York, Chicago, Philadelphia and Los Angeles.
Sawant said there is "a deep disconnect " between young people today and older generations that grew up with the "American Dream" ideal of hard work leading to a more prosperous life.
"That is not going to happen for most people now, statistically speaking," she said.