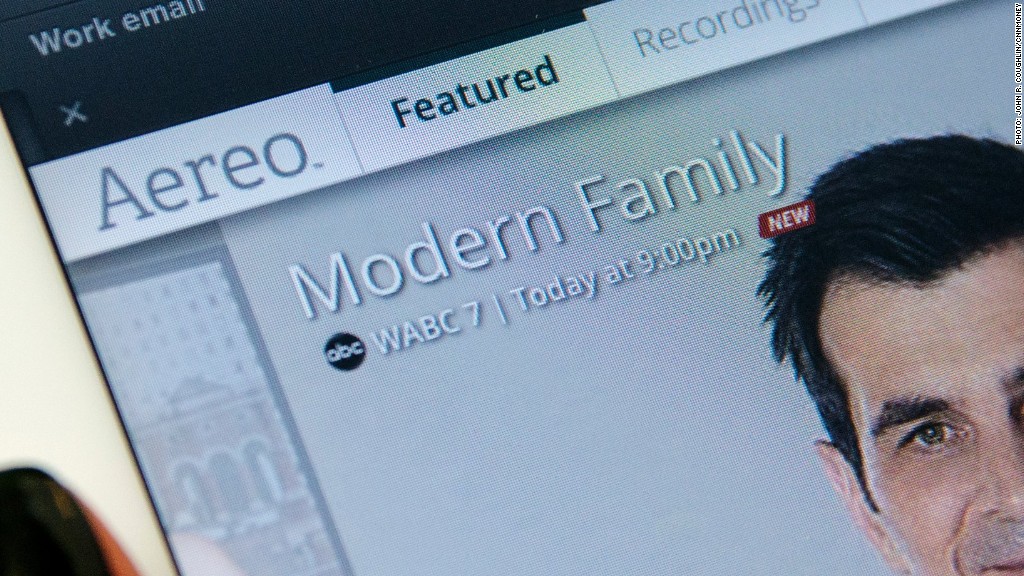 Aereo, the streaming TV service, will shut down -- only temporarily, it says -- in the wake of Wednesday's climactic Supreme Court ruling against it.
The court ruling found that Aereo violates copyright law by picking up the signals of local television stations and retransmitting them via the Internet to paying subscribers.
"As a result of that decision, our case has been returned to the lower Court," Aereo founder Chet Kanojia said in an email message to subscribers on Saturday morning.
"We have decided to pause our operations temporarily as we consult with the court and map out our next steps."
The "pause" will take place at 11:30 a.m. Eastern on Saturday.
Kanojia said all subscribers (the company has never specified how many it has) will be refunded "their last paid month."
Kanojia ended his email by saying "our journey is far from done." And in a subsequent email message to reporters, an Aereo representative said "We want to emphasize that this is a pause, and that the company is not shutting down."
However, conventional wisdom following Wednesday's ruling held that Aereo would either have to close up shop or radically change its business model.
Related: 6 cool innovations we're still waiting for
"For broadcasters, this is a huge relief, and lifts a cloud of uncertainty," Needham & Co. analyst Laura Martin wrote in an investors' note on Wednesday. "Although there was a low probability the Supreme Court would decide against them, the cost would have been billions of dollars of lost revenue through lower retransmission fees."
In the wake of the court ruling, "the only option that remains available to Aereo would be to change its model and pay the broadcasters to distribute the content," just like cable and satellite distributors do, Nomura analyst Anthony DiClemente wrote in a research note. He said Aereo could essentially offer "a slimmed-down content package delivered over the Internet."