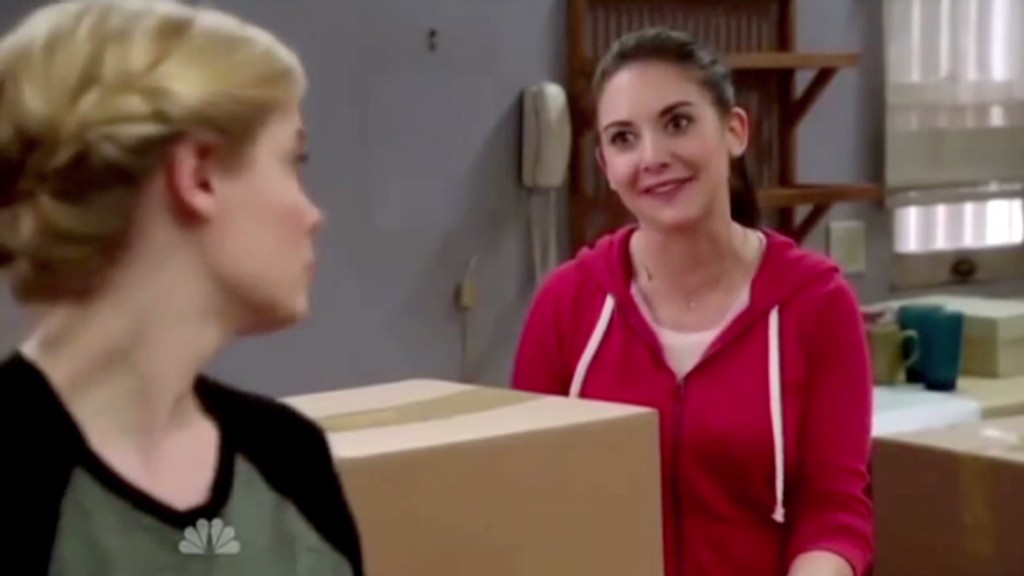 With a successful deal to resuscitate the canceled NBC sitcom "Community" for Yahoo, has Sony's television studio officially passed the point where it just produces for traditional TV networks?
Actually, "we passed that point a while ago," Sony Pictures Television president Steve Mosko says. And he's right.
Consider this: Not only does Sony (SNE) produce warhorses like "Jeopardy" and "Days of our Lives," but it is also working on a psychological thriller for Netflix (NFLX), a drama for Sony's PlayStation Network and now the revival of "Community" for Yahoo (YHOO).
Oh, and there's also the Jerry Seinfeld web video series "Comedians In Cars Getting Coffee," which the studio supports and distributes through its Crackle web site.
Related: Take a drive with Comedians in Cars
As the definition of television changes, so too will the Hollywood television studios who are responsible for churning out big hits like Sony's newest: "The Blacklist" for NBC, and smaller beloved shows like "Community."
Disney's ABC Studios division, for example, is producing a batch of Marvel-themed shows for Netflix.
The Telepictures division of the Warner Bros. studio is behind "#CandidlyNicole," an AOL series starring Nicole Richie that is shifting over VH1 later this month. (Warner Bros. and CNNMoney are both owned by Time Warner (TWX).)
In some ways this is the continuation of a pattern that started a decade ago, when major studios got serious about producing for cable in addition to broadcast.
"We are currently producing or developing shows for all the major online platforms," Mosko told CNNMoney.
Related: Chelsea Handler to host Netflix talk show
After "Community" was canceled in May, Sony executives began talking with potential saviors from television (including a new cable channel called the Esquire Network) and the Web.
"We were in pretty advanced conversations with Hulu and we had made a half-dozen or so phone calls to other places," Zack Van Amburg, Sony studio's co-president of programming and production, told The Hollywood Reporter. "Then out of the blue -- and this never happens -- I got the best phone call in the world from Yahoo selling us on why Yahoo would be great destination" for "Community."
It's obvious what Yahoo gets from the deal: a huge amount of attention for its new original video efforts and affection from fans of the series.
Sony gets to keep "Community" going, apparently at the same multi-million-dollar cost that NBC was paying. "We will not cut any money from what we were doing on the broadcast version of the show. No low-cost digital whatever," Van Amburg said.
Yahoo will debut the new season of "Community" sometime this fall. Mosko said of its revival, "When you have a large loyal audience that want more, and people behind the show -- actors, writers, producers -- that are still passionate, it makes it easy to fight for the fight to keep it going."
Sony previously kept the canceled FX drama "Damages" alive by moving it to the original programming channel operated by DirecTV (DTV), the satellite distributor in about 20 million homes.
Related: Future of media - a custom Flipboard magazine
The studio generated headlines last October when it struck a deal to make a still-untitled drama for Netflix that will star Kyle Chandler. At the time, The Wall Street Journal portrayed it this way: "Sony Pictures Television will become the first big Hollywood studio to produce a new TV show for Netflix Inc., underscoring how the TV industry's elite are starting to view the streaming-video service as a launch pad for original series."
Then in March, the studio said it would produce "Powers," a drama based on the comic book series of the same name, for its Sony sibling the PlayStation Network, which wants to feature its own TV shows.
This is "in our DNA," Mosko said. "It strategically plays to our strength as an independent studio -- we produce for everyone."