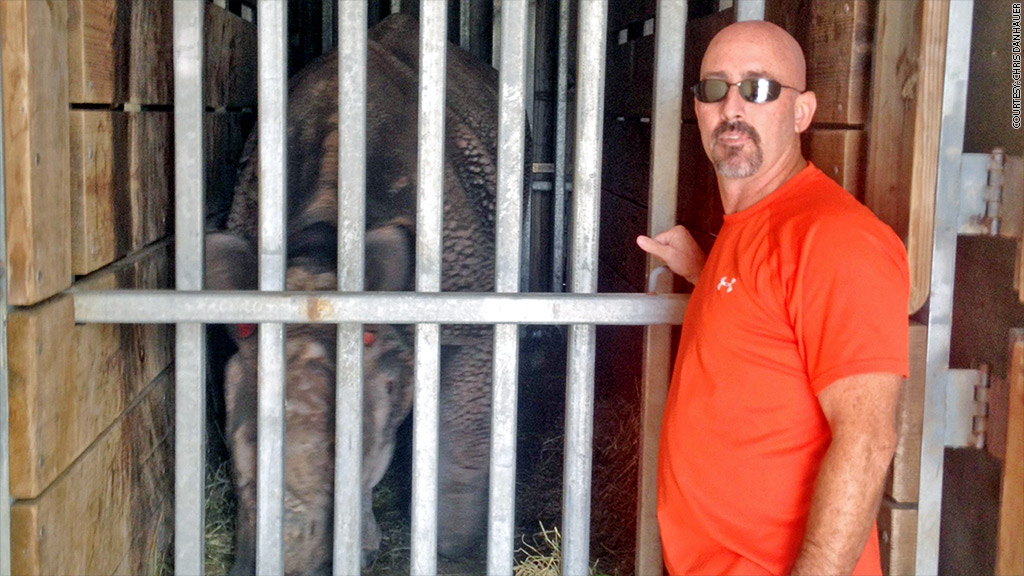 During one week in June, Chris Danhauer moved four rhinos to four different zoos all over the country and hoped no one on the highway noticed.
This is normal life for zoo animal movers who transport thousands of pounds of exotic and endangered animals and pride themselves on staying nearly invisible.
"I don't go down the road with a big banner saying: 'Guess what I have?'" he said, though people often wonder what's inside his trailer when he stops for gas.
But keep your eyes open, because it's a busy time of year for animal moves -- before mid-summer's heat can make it less comfortable for animals to travel.
Danhauer, the founder and sole employee of Texas-based Planned Migration, moves more than 200 animals per year, mostly during the spring and fall.
Related: Hot businesses to start now
If he's doing his job correctly, the public doesn't know what Danhauer is moving -- though that's hard when people see a giraffe's head in the back of his trailer.
"All of a sudden you get a thumbs up like you're doing something fantastic," said Danhauer, who has been in business for 15 years. "I'm just trying to stay in my lane."
The animals don't always make things easier. A gorilla's scream or a tiger's roar is hard to overlook.
Danhauer previously worked as a zookeeper but switched careers when he noticed many animal transporters were nearing retirement.
"If I wouldn't have had the skills and qualification, there would have been no way [zoos] would have touched me," he said.
Related: Refugees cook for the masses
Zoos typically move animals for breeding, conservation or education. The size, species and temperament affects how they're transported. The move can range from small birds and reptiles taking a commercial flight to someone like Danhauer trucking a rhino across the country in a climate controlled trailer. Some small fish even travel overnight via priority mail.
The Denver Zoo, which works with Danhauer, does rely on air transportation for some moves, like bringing Billy, an Asian elephant, from Europe on a Lufthansa cargo plane in 2013. But Dale Leeds, the curator of Toyota Elephant Passage, likes the fact that traveling by road means constant supervision of the animal.
In 2013, the Denver Zoo moved 317 animals in and 368 out. And planning is key -- whether it's coordinating with other institutions, quarantines or training the animals to prepare for the trip.
"It takes ten times longer to do the planning than it takes to do the move," Leeds said. "We're trying to make it risk-free."
Danhauer's trips typically take less than 24 hours, but he takes another driver when he has to travel overnight. He's very involved with loading and unloading and caring for the animal during the move. The zoos typically own the crates and Danhauer provides one of his two trailers.
He generally charges by distance and animal type. It could cost as little as $500 to move an antelope somewhere nearby or $12,000 to move an elephant hundreds of miles. Extremely large animals (think elephants and rhinos) require him to rent a semi-truck to pull the load.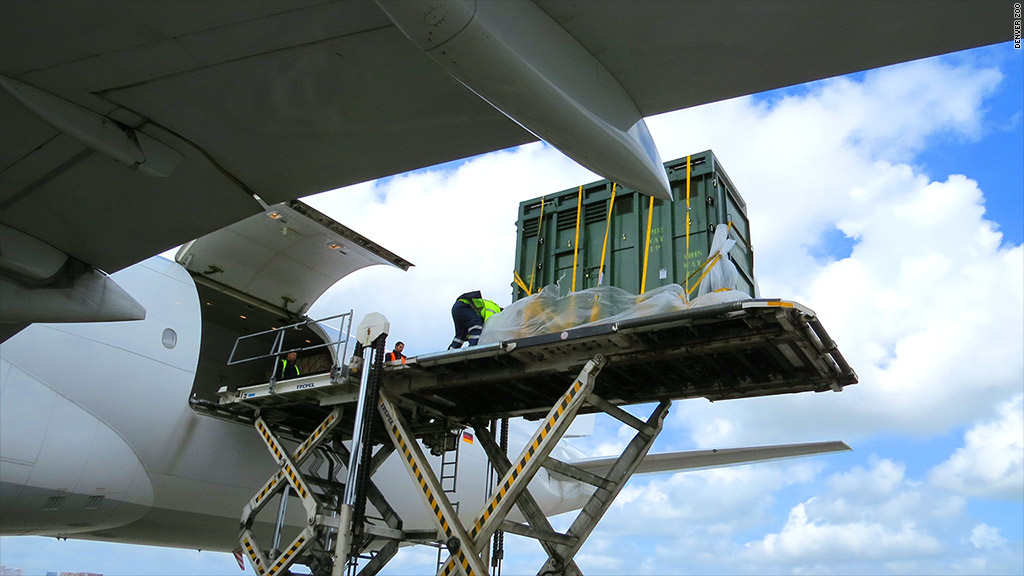 The first five years of business were somewhat lean. As Danhauer's reputation grew, so did his profits. But this isn't the kind of business that can grow exponentially, he noted, because the number of zoos in the country is somewhat finite. And zoos located in cities often don't have room to grow.
All of this animal movement reflects the changing mission of zoos, said Christina Castellano, general curator at Utah's Hogle Zoo.
"Back in the old days, zoos were very much about showcasing animals that would be important for guests to see," she said. Now that has evolved.
"Every space we have in a zoo is critical to our participation as a conservation organization," Castellano said. "A lot of these shippers are transferring animals between institutions because of breeding programs -- for us, having sustainable populations in zoos is very important."