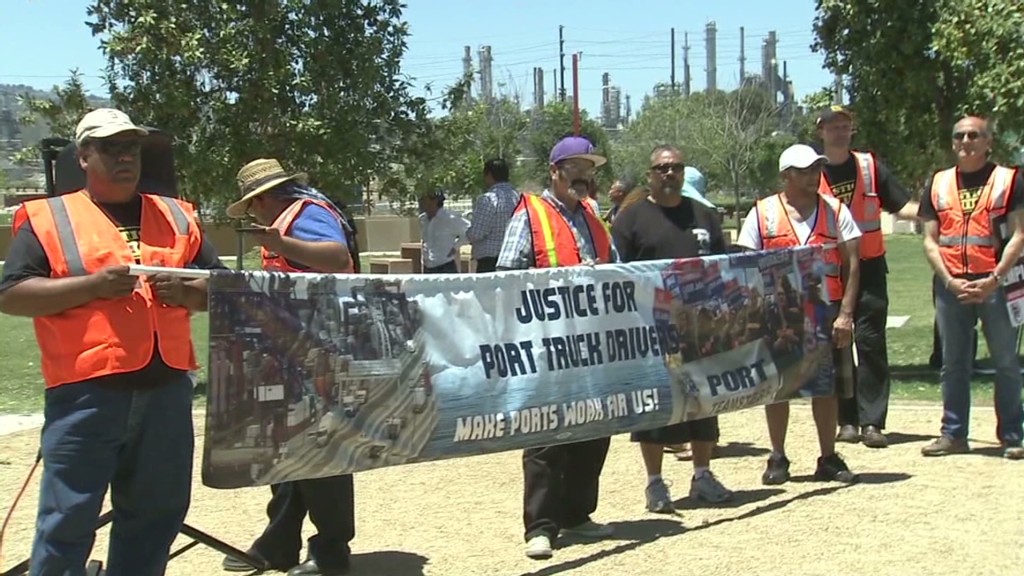 A Teamster strike that could disrupt the U.S. economy "far and wide" is underway on the West Coast.
About 120 truck drivers for three transport companies have walked off the job at the ports of Los Angeles and Long Beach. The drivers claim the companies are treating them unfairly and have intimidated them.
The Southern California ports are among the busiest in the world. A wider, prolonged work stoppage could have a significant impact on the economy because the ports are responsible for more than 40% of imports coming into the United States.
"Everybody uses those ports... retailing, manufacturing, agriculture," said Jonathan Gold, a supply chain expert for the National Retail Federation, a trade group."They are very important ports and disruptions will be felt far and wide."
The drivers, considered non-unionized independent contractors, are backed by the powerful Teamsters union. They say the strike will go on until their demands are met.
Union spokeswoman Barbara Maynard said the three transport companies being targeted are Total Transportation Systems, Pacific 9 Transportation, and Green Fleet Systems.
A statement from Justice for Port Truck Drivers -- a group that's part of the Teamsters -- said port truck drivers receive pay that's below minimum wage. They "are on the front lines of the fight for a fair day's pay for a hard day's work," the statement said.
The National Labor Relations Board brought a complaint against Green Fleet Systems in June, alleging that it wrongly terminated and disciplined workers and encouraged them to sign an anti-union petition.
In a statement to CNNMoney, GreenFleet said "outside interest groups" are behind the job action, preventing drivers from working. "It is unfortunate that once again we must wait out what has become a distraction," the statement said.
A person who picked up the phone at Total Transportation but would not identify himself said no one was available for comment. A call to Pacific 9 Transportation seeking comment has not been returned.