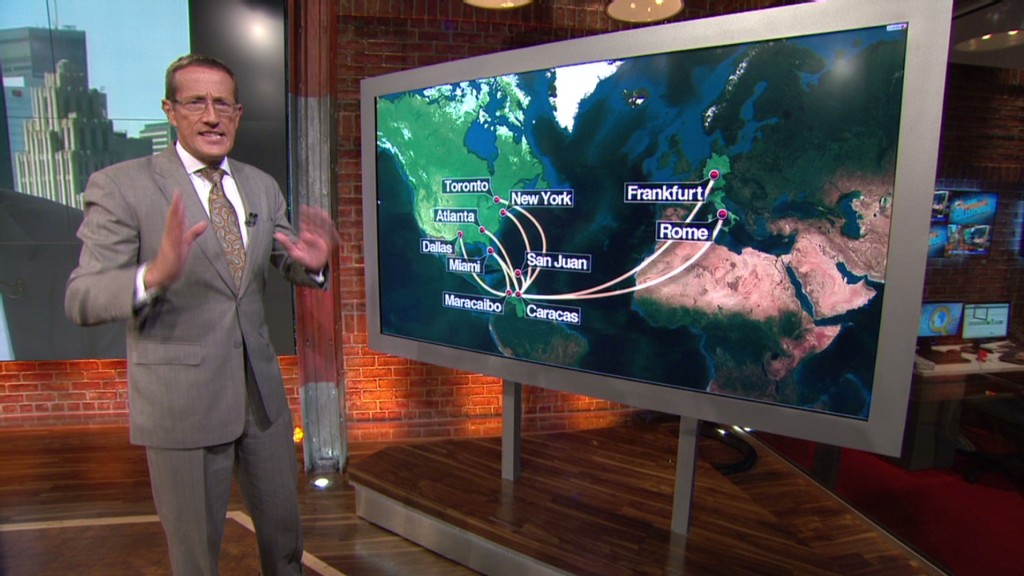 Venezuela is an increasingly painful thorn in the side of the airline industry, among other businesses.
The currency crisis in Venezuela is making it difficult for multinational companies to turn a profit in the South American nation.
Air France KLM became the latest to sound the alarm. The Franco-Dutch airline now predicts weaker earnings this year due to, among other things, "the challenging situation in Venezuela."
The profit warning comes amid an ongoing dispute between the airline industry and the government of Venezuela over the nation's foreign exchange policies.
Delta (DAL), which has flown to Venezuela for 15 years, recently announced plans to slash its daily service between Atlanta and Caracas to one flight per week, beginning in August.
American Airlines (AAL) said in its latest quarterly report that it has about $750 million in cash tied up in Venezuelan currency. That money would be subject to three different exchange rates if American tried to convert it into U.S. dollars, causing a big headache and a cut in profits.
In a statement, American said it has "significantly reduced" its flights to Venezuela as of last week. The company said it is "owed a substantial outstanding amount" and has "been unable to reach resolution" with the Venezuelan government.
Air Canada (AIDEF) suspended service to Venezuela in March, citing the civil unrest that was rocking the nation at that time. But the airline also blamed "onerous currency restrictions imposed on all airlines."
A total of 24 airlines are unable to bring home a combined $3.9 billion from Venezuela at "fair" exchange rates because of the government's currency controls, according to the International Air Transport Association, a trade group that represents the industry.
Related: 4 risks for emerging markets
But it's not just airlines that are feeling the pinch.
Coca-Cola (CCE) said in April that its Venezuelan subsidy took charges of $247 million related to "the devaluation of the Venezuelan bolivar."
Procter & Gamble (PG) and Colgate-Palmolive (CL) both said changes in Venezuela's exchange rate weighed on earnings in the first three months of the year. It's not an entirely new problem. Merck (MRK) reported $140 million in exchange losses in Venezuela during the first quarter of 2013.
"Consumer products companies have fairly large exposures in Venezuela due to the nature of the market," said Karl Schamotta, director of FX strategy and structured products at Cambridge Mercantile Group.
Put simply, companies that sell goods priced in Venezuelan currency are more vulnerable to the nation's foreign exchange policies.
Schamotta said some consumer products makers have been able to offset currency fluctuations in Venezuela using political risk insurance, but he said there's no way to avoid the problem entirely.
"The risks in emerging markets are typically driven by political motives," he said. "The risks can be very high even when fundamentals are relatively strong."
Related: 5 Hottest stock markets in the world
Venezuela has had strict currency controls in place since 2003. But President Nicolás Maduro has aggressively devalued the Venezuelan bolivar since he came to power in 2013.
The country now has three different official exchange rates, in addition to the black market rate that many Venezuelans pay for U.S. dollars.
Critics say the government is trying to narrow its budget deficit by undermining the currency.
Meanwhile, inflation has soared and shortages of food and basic goods, including toilet paper, led to violent protests across Venezuela earlier this year.
"The social unrest was a direct consequence of the mismanagement of economy," said Diego Moya-Ocampos, a senior analyst at IHS Country Risk. "It's all connected with foreign exchange control."