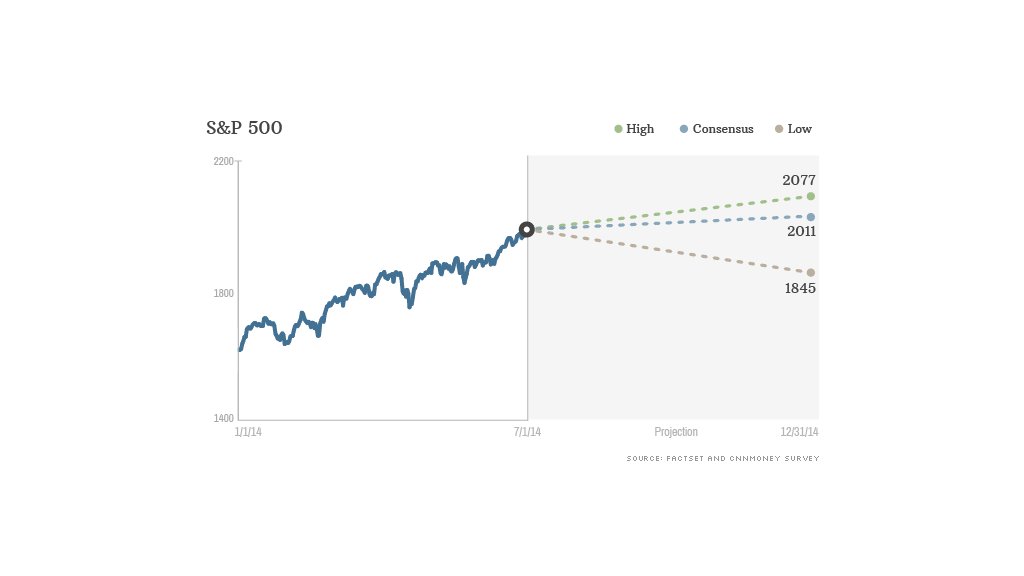 The five-year-old bull market in stocks may not be raging the way it was last year, but the stampede is far from over.
The S&P 500 will be even higher by New Year's Eve, according to most of the 22 investment strategists who participated in an exclusive survey by CNNMoney.
The benchmark U.S. stock market index currently sits about 1,965. The average forecast is 2,011 for year-end. That would translate to a solid annual gain of 8.8%.
It's an even more optimistic outlook than our survey showed in April, when the average strategist predicted a 6.5% gain for the year.
Related: View all the expert predictions for the market here
While stocks have been choppy this week, both the S&P 500 and the Dow Jones industrial average are still trading near all-time highs.
At the same time, market volatility has been all-but absent in recent months. The VIX (VIXAUG), a measure of investors' expectations for near-term volatility, is near the lowest levels on record.
Complacent or scared? This combination of record high stock prices and low volatility has raised concerns that investors are growing complacent.
Even Federal Reserve officials are worried that investors may be underestimating some of the risks, according to meeting minutes released this week.
While some strategists do see signs of complacency in the market, a majority said investors are still overly cautious and not fully invested.
Related: CNNMoney's Fear & Greed index cools off
"There is more fear then there should be in markets, and the participation is still low after the crash," said Art Hogan, chief market strategist at Wunderlich Securities. "It's not complacent, it's fear and loathing."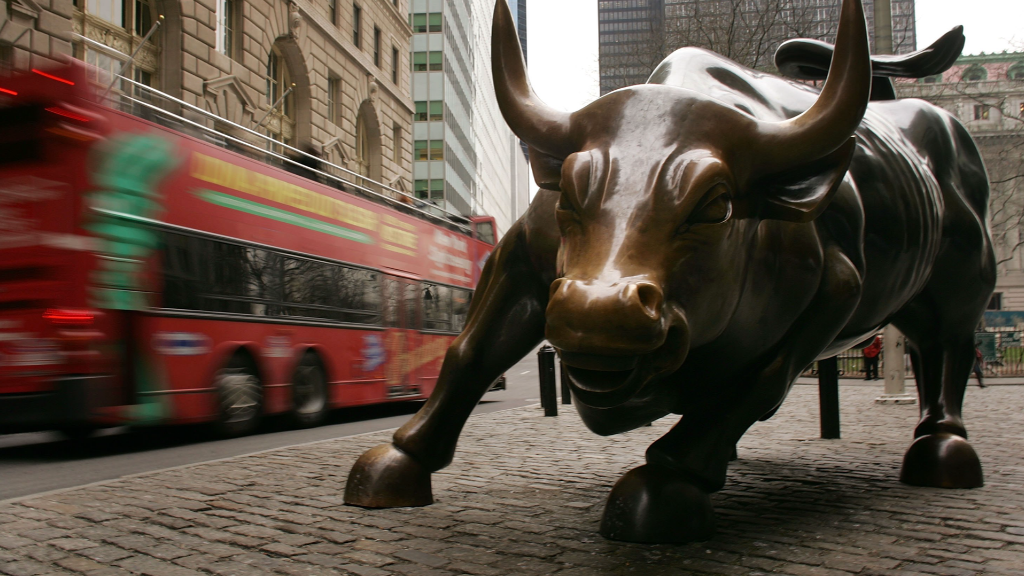 That should bode well for stocks going forward, as these investors gradually move off the sidelines, according to Frank Fantozzi, president of Planned Financial Services. He expects to see "a surge of investor money" over the next 12 months.
Earnings will come through. Brian Jacobsen, chief portfolio strategist at Wells Fargo Funds Management, believes that stock prices will move higher as companies continue to report record earnings.
Jacobsen expects the S&P 500 to end the year at 2,077.
Related: Is there a retail funk?
He said weakness in the U.S. economy will be offset by strength in overseas markets, where S&P 500 companies derive a significant portion of their earnings. At the same time, he said investor sentiment could easily improve if the European economy accelerates and the recent growth in U.S. payrolls is sustained.
"If you focus on the fundamentals of earnings and sentiment, it doesn't take a lot to justify the S&P 500 ending the year nicely above 2,000," he said.
Quarterly "earnings season" is underway. Overall, earnings for the companies in the S&P 500 are expected to have increased 4.9% in the second quarter versus the same period last year, according to FactSet.
Kristina Hooper, U.S. investment strategist at Allianz Global Investors, acknowledged that stocks are "quite expensive." But worries about stocks being overvalued "should be resolved once earnings begin to come through, something that we are just starting to see now," she added.
'Ripe for a correction.' Not all of the strategists in our survey were convinced that stocks are headed higher.
David Joy, chief investment officer at Ameriprise Financial, expects the S&P 500 to end the year at 1,845, which translates to a drop of 6% from Thursday's close.
"I think the market is ripe for a correction," he said.
While he's "constructive on stocks" over the long term, Joy expects the market to tumble as investors brace for the Federal Reserve to hike interest rates.
"Once the first rate hike is on the horizon, I think that will be the catalyst for investors take some profit off the table," he said.
Related: IPO market ready for liftoff
Still, Joy said any pullback would be manageable and present investors with an opportunity to buy stocks at more attractive price levels.
"I'm not expecting a huge correction or a bear market," he said.