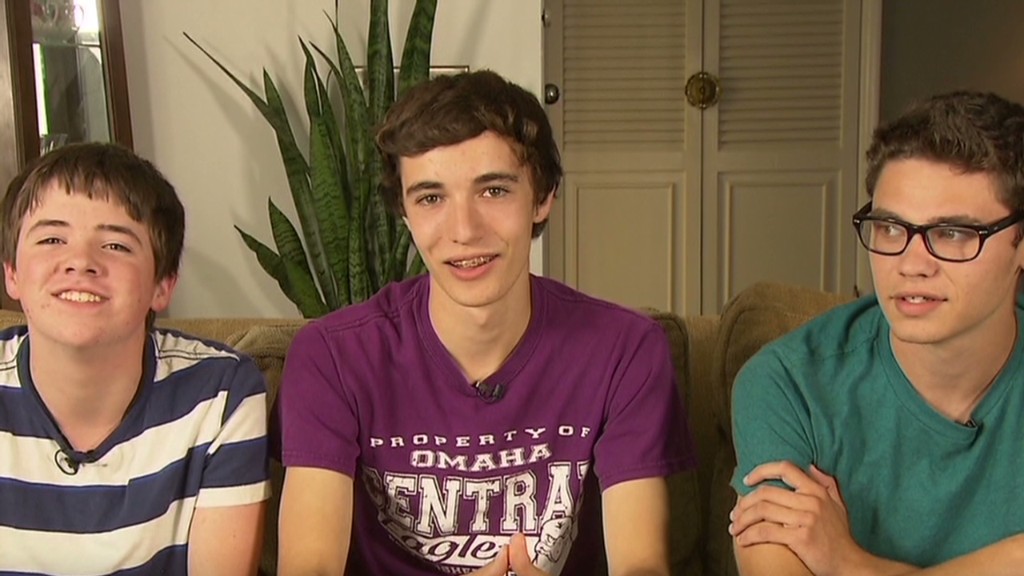 He may not be a paparazzo, but Nebraska teen Jacob Murray has snapped the latest viral celeb photo.
On Sunday night, Murray, 16, took a photo of his friend Tom White on an Omaha, Neb., sidewalk -- standing in front of Warren Buffett and Paul McCartney as the two men sat casually on a bench in the background. White tweeted the image, and by Monday it had gone viral.
"Chillin with my homies" said White's tweet, which linked to a copy of the image on Instagram.
Murray, White and another boy took a series of photos with the two men on Sunday, according to Murray's father, John.
The image was later re-tweeted by Paul McCartney's Twitter handle on Monday afternoon.
"Just hanging out with friends," @PaulMcCartney wrote.
Related: What stumps Warren Buffett? Minimum wage
Earlier in the evening, the billionaire CEO of Berkshire Hathaway (BRKA) and the Cute Beatle had dinner at Avoli Osteria, an Italian restaurant in the Dundee neighborhood of Omaha, according to Omaha.com.
Next, the two headed to eCreamery, a local ice cream shop, according to co-owner Becky App.
Related: The sixties British invasion
"Warren comes in here quite a bit, but he's never brought Sir Paul as a guest before, so it was pretty exciting," App said.
Related: Buffett, Adelson & Gates: Pass immigration
Tom Becka, a local radio host, also grabbed a blurry pic of McCartney in town on Sunday. But Becka, 58, says he wished he'd jumped in like White.
"It kills me that I didn't think of that," Becka said. "Different generation: The selfie didn't occur to me."
McCartney will be playing in Lincoln, Neb., on Monday night, according to his website.