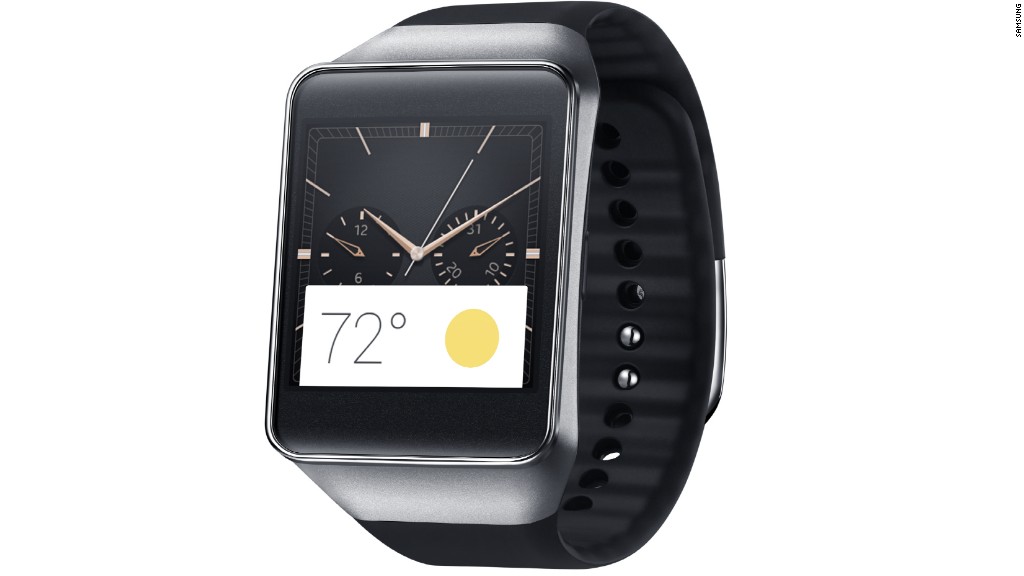 Here's a question to ask yourself before buying a smartwatch: Is it really that hard to just take your phone out of your pocket?
If you answered yes, you may want to consider the new watches from Samsung (SSNLF) and LG, the first to run on Google's Android Wear software.
The main function of these devices is to save you the time of getting out your phone and opening it. This isn't a very compelling problem, and the solutions Android Wear offers aren't much of an improvement.
Android Wear runs on voice commands. There's no keyboard function on LG's G Watch or Samsung's Gear Live. To do things like get directions or send texts and emails, you need to speak into the watch face. It's up to you to decide which is more obtrusive: discreetly typing on your phone under the table or speaking loudly into your wrist like an elderly James Bond.
Related: Google Glass wearers can steal your password
The devices themselves won't be first choice for the style-conscious, particularly those with smaller wrists. The watch faces are a bit bulky, and heavy enough that you'll never forget they're on your wrist.
With that said, they're fairly sturdy -- the Samsung Gear Live I tested survived several drops into a jug of water. The built-in step counter and heart rate monitor could be popular among the health-conscious, as could apps like fitness tracker Runtastic.
Android Wear has only recently been opened up to independent app developers, and the platform's appeal will depend in large measure on what kinds of new watch uses these developers come up with.
For now, there are some fun novelty options: you can order takeout from your watch with Eat24, practice your language skills with Duolingo or find lasting romance with Tinder. Pinterest will even send you notifications when you're walking near places you've pinned.
For more practical purposes, the MediSafe app will send reminders to your wrist about medications. Google (GOOGL) Maps will give you turn-by-turn directions, and you can also get advance reminders about TV shows, appointments saved on Google Calendar and real-time traffic updates.
You'll be able to do even more from your wrist as the world of connected devices grows. Philips has already released a line of lights that you can turn on or change colors using Android Wear.
But all these apps can be accessed from your Android phone as well -- and in almost all cases with greater functionality. In fact, Android Wear will often direct you to open apps on your phone, including when you get alerts from Twitter (TWTR) and Facebook (FB) or when you search the Web.
Another shortcoming is the battery life -- the Gear Live and LG's G Watch need to be charged every night, an annoyance if you're traveling a lot or used to sleeping with your watch on.
All this means that while these devices are an interesting concept, they don't make sense to buy right now. They don't do anything that can't be accomplished easily via your smartphone, and they're sure to be improved upon in the near future. Motorola is at work on a more stylish Android-powered watch that's set for release within the next few months, and Apple (AAPL) will likely debut a smartwatch of its own in the fall.
With longer battery life and a wider range of apps, these watches could one day compete to be your main entry point to the mobile Web. But for the time being, you're better off with your smartphone and a Casio.