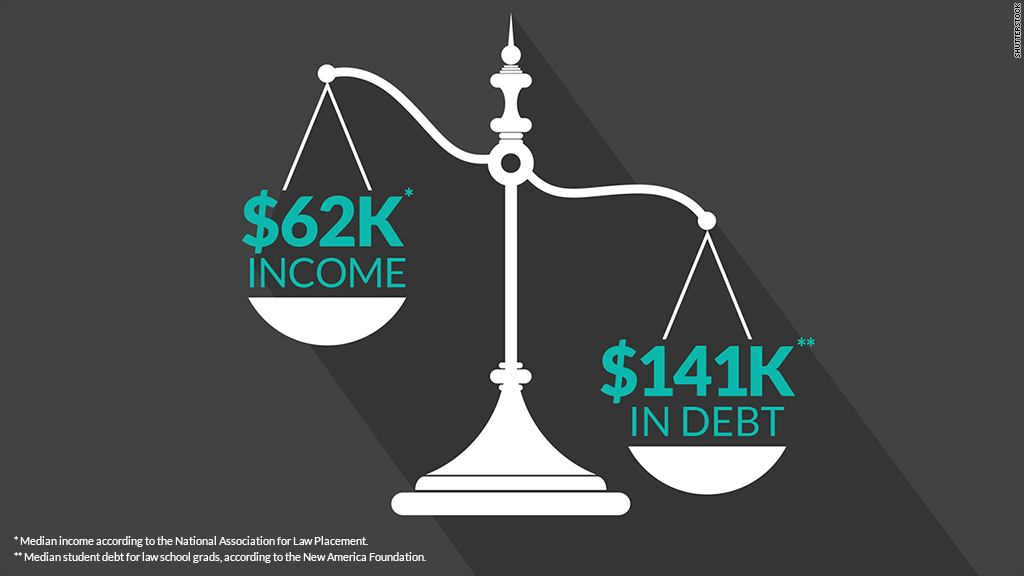 Leslie Thompson earns $40,000 a year working two jobs, but her Albuquerque, N.M., house almost went into foreclosure twice this year.
Thompson's trade? She's a lawyer.
Lawyers have been struggling for a while now, but it's gotten even worse: Half of lawyers are now starting at a salary of less than $62,000 a year, according to the National Association for Law Placement.
Not only that, but starting salaries have fallen 13% over the past six years, down from $72,000 in 2008. At the same time, lawyers' student debts are piling up. Thompson is carrying over $150,000 in student loans.
The law profession took a big hit in the recession: Firms saw profits decline, and stiff competition for jobs dragged salaries down.
"The third quarter of 2008 [it] was just like the spigot got turned off," says James Leipold, executive director of the law association.
Related: Stressful jobs that pay badly
Back in 2008, associates at big firms made $125,000 straight out of school. But by last year, that had dropped to $95,000. And the vast majority of lawyers actually work at small firms for much less money. Local prosecutors, for instance, make about $50,000 in their first year, while those with 15 years of experience only earn $80,000.
"In American culture, our sense of being a lawyer is so much driven by television," Leipold says. "Sure, there are a handful of people making a lot of money, but it's not the rule."
Related: Student loan horror stories
There are about 1.3 million licensed lawyers in the U.S., according to the American Bar Association.
There's not much reason to pay new lawyers well, given how many of them are struggling to find work. According to the law placement association, 13% of 2013's law school grads were still searching for jobs nine months after graduation. Many who were employed had taken jobs that didn't even require a law degree, working in human resources, for instance, or at a non-profit.
To make matters worse, the student debt that law school grads are carrying is climbing. Half carried more than $141,000 in student debt in 2012, according to a study from the New America Foundation. That's up more than $50,000 from a decade ago, and climbing faster than the debt loads tied other professions.
"The reality is it's going to take them a lot longer to pay back these loans than it would have 10, 15 years ago," says Kathryn Randolph, financial aid editor at FinAid.org, a resource on aid. "It's harder to get a mortgage. If you also have credit card debt, that's a huge problem too."
Thompson, the lawyer from Albuquerque, says she'll "keep scratching and clawing," but she's not sure how things will get better.
"The situation is kind of grim," she says.