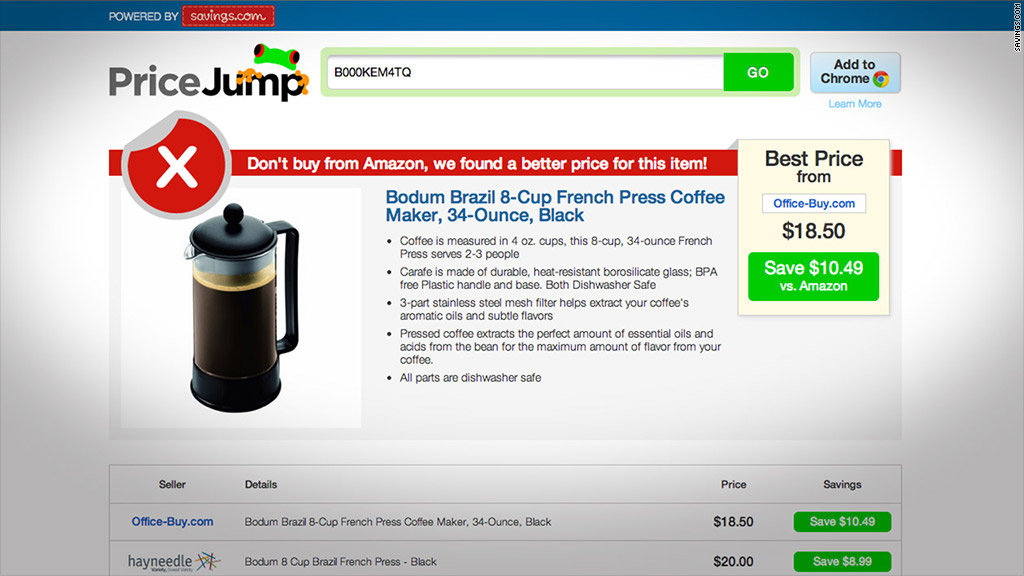 Hunting for deals online typically goes something like this: Go to Amazon.com. Search for your product. Find the cheapest option. Buy.
Though most shoppers believe Amazon (AMZN) is the go-to retailer for the best deals, a new online price-comparison tool proves that isn't always the case.
PriceJump, launched Tuesday by Savings.com, allows Amazon customers to immediately see if they can get a better deal elsewhere. Surprisingly, they can about half the time.
And on items that cost more than $100, Savings.com says PriceJump can find lower prices than Amazon 70% of the time.
"We all love Amazon, but how many people just default to it?" said Meghan Heffernan, director of communications at Savings.com. "Many times, you can find a better price, but most consumers don't have the time to go through that process."
Related: Amazon asks FAA for drone-testing clearance
The best reason to use PriceJump is that it literally takes zero effort. When you're looking at a product on Amazon's website, a downloadable PriceJump extension for Google's (GOOGL) Chrome browser will automatically indicate whether the best deal is on Amazon or elsewhere. (A Firefox extension is also in the works, Savings.com says).
If Amazon has the best price, a green checkmark will appear. PriceJump gives a yellow warning if you can save only 10% on Amazon, and it displays a red "X" if you can save more than 10% by purchasing from another retailer.
If browser extensions aren't your thing, consumers can also use PriceJump by copying the URL of the Amazon product page and pasting it on the PriceJump website. On both the website and Chrome extension, PriceJump will list the other retailers that carry the product and the prices they offer. You can click on links to buy the product on another retailer's site.
PriceJump says it scans more than 5,000 retailers and third-party sites to compare prices. But it is far from the only price-comparison tool on the Web. PriceGrabber, Shopping.com and Google Shopping all offer similar deal-finding tools.
But PriceJump is by far the easiest to use. With other tools, you need to know the exact name of the product. That can make finding the exact product a chore. How do you know you're looking at the same wall-mountable spice rack? And those lavender-scented candles don't even look the same!
Related: Amazon accused of illegally billing for kids' gaming purchases
Still, PriceJump isn't perfect. I sometimes found the site would tell me there was a better price available when there really wasn't.
For example, a search for a $28.99 Bodum French press coffee maker said the best deal was available for $18.50 on a site called Office-Buy.com. Clicking on the PriceJump link took me to a site called Bizrate.com, another price comparison site. Clicking through that site led me to Office-Buy.com -- which led me back to the same $28.99 coffee maker I found on Amazon.
Savings.com said that particular bug was a result of a third party site providing inaccurate data. It happens, but the company says it only has been an issue in "a very small number of searches." PriceJump's parent company says it encourages customers to reach out when they find mistakes.
PriceJump also doesn't compare shipping costs, product availability and delivery times, which can factor into where you purchase a product just as much, if not more, than the price itself.
Just because there's a better deal on another site doesn't mean it's worth buying at another retailer -- particularly if you're a subscriber to Amazon Prime which includes two-day shipping. And if you're a frequent Amazon customer, the site likely has all of your information stored. Buying from someone else could involve the never-fun process of entering all your contact and billing information.
Savings.com understands that. The company says PriceJump is just meant to be a simple tool for people who want to be more informed about other options before clicking "check out."
It might not be foolproof, but I know I'll be looking for PriceJump's green check mark the next time I buy something on Amazon.