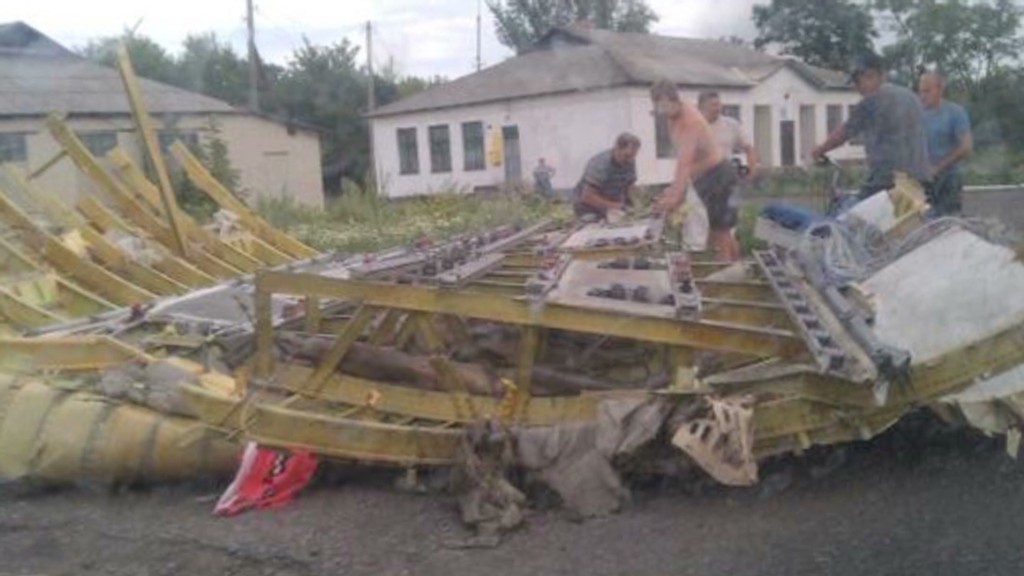 World markets fell further on Friday on escalating tensions in Ukraine after a Malaysia Airlines plane crashed in the east of the country.
The U.S. believes Flight MH17 was brought down by a surface-to-air missile over a region that has seen heavy fighting between pro-Russian rebels and Ukrainian government forces.
Japan's Nikkei tumbled by 1% and Germany's DAX fell 0.35%, extending a slide that began late Thursday as news of the crash broke.
Germany stands to lose more than most from a deepening crisis, because of its close trading ties with Russia.
But Friday's losses were modest -- and some European indexes closed firmer -- as analysts said the tragedy could bring the Ukraine crisis to a head by increasing world pressure on Moscow to resolve the conflict.
Related: Ukraine may need new bailout
Markets in Malaysia fell 0.4%, with aviation stocks falling sharply.
It was the second tragedy to hit the airline this year, just four months after Flight MH370 disappeared.
Malaysia Airlines was the most actively traded stock in Kuala Lumpur, slumping 11%. Malaysia Airports was also among the biggest losers, sliding nearly 5%.
The Boeing 777 was on its way from Amsterdam to Kuala Lumpur with 298 passengers and crew on board.
Russian stocks were also on the slide, extending Thursday's losses triggered by the announcement of new U.S. sanctions targeting leading Russian energy companies and banks.
The West is trying to pressure Moscow into ending its support for the rebels in Ukraine.
Investor sentiment took another knock late Thursday as Israel sent ground troops into Gaza, marking a significant escalation of hostilities.
Related: Malaysia Airlines may need a government rescue
U.S. stocks had a rocky session Thursday -- the Dow closed down almost 1%, the S&P 500 declined about 1.2%, and the Nasdaq slid 1.4%.
It was the biggest drop for the Dow in two months, and the S&P's fall was the steepest in three months.
Market anxiety was also reflected in gold prices, which edged 1.5% higher. The VIX index, a key measure of market volatility that's sometimes dubbed the "Fear Gauge," spiked nearly 36%.
Wall Street bounced back Friday and volatility eased.