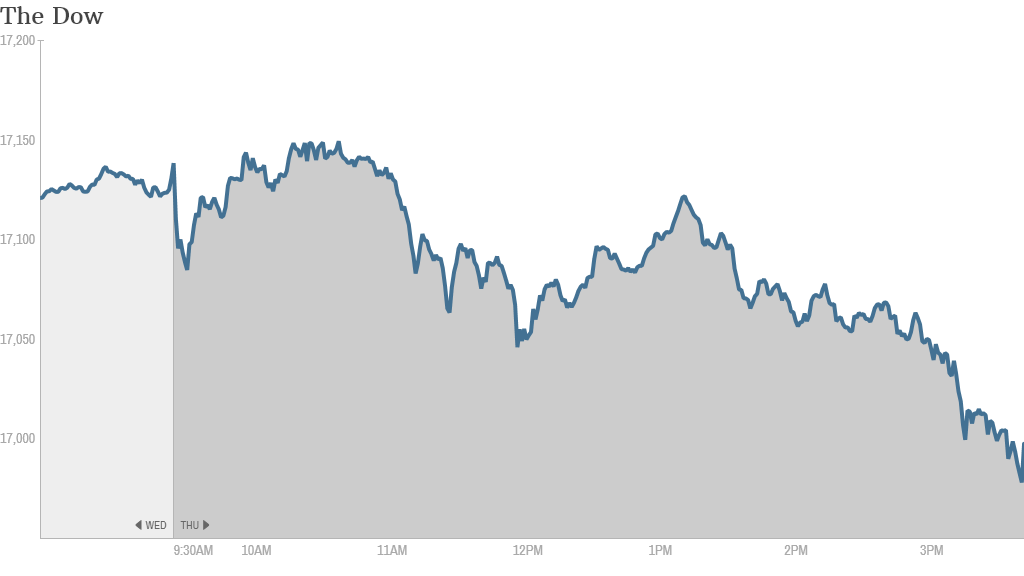 Markets went from bad to worse Thursday as Israel launched a ground offensive in Gaza shortly after a passenger jet crashed in conflict-ridden Ukraine.
The Dow fell 161 points (almost 1%), the S&P 500 was off about 1.2%, and the Nasdaq finished down 1.4%. It was the biggest drop for the Dow in two months, and the S&P's fall is the biggest for the index in three months.
So far, the world knows that a Malaysian Airlines plane carrying 295 passengers went down in Ukraine near the Russian border. European markets heard the news just before their closing bells, and many ended the day down 1%.
Just as American investors were digesting that news, word came that Israel has opened a new ground assault in Gaza.
As if anyone needed more proof of the market jitters, gold prices are 1.5% higher and silver is up 2%. The VIX index, a measure of market volatility that's sometimes called the "Fear Gauge," spiked nearly 36%.
Related: Gold, Russian markets react harshly to plane crash news
Here are some other highlights from today's trading:
1) Tech Movers: Google (GOOG) reported that sales were up 22% as it pushed further into mobile advertising, but profits only climbed at a third of that pace. The stock rose about 2.4% in after-hours trading. It did better than expected for sales, but earnings somewhat disappointed.
IBM (IBM) reported results that largely fell along Wall Street expectations. Revenues fell 2%, though net income for the computer maker and recently named Apple partner, jumped 28%. The stock fell 1.1% after the close.
Microsoft (MSFT) announced a staggering 18,000 job cuts to come this morning. The move signals that new CEO Satya Nadella means business about turning around the computing giant. Most of the cuts are coming from the Nokia brand, but some of the bleeding will come from Microsoft proper. The stock was up 1%.
Related: Layoffs part of "culture change" at Microsoft"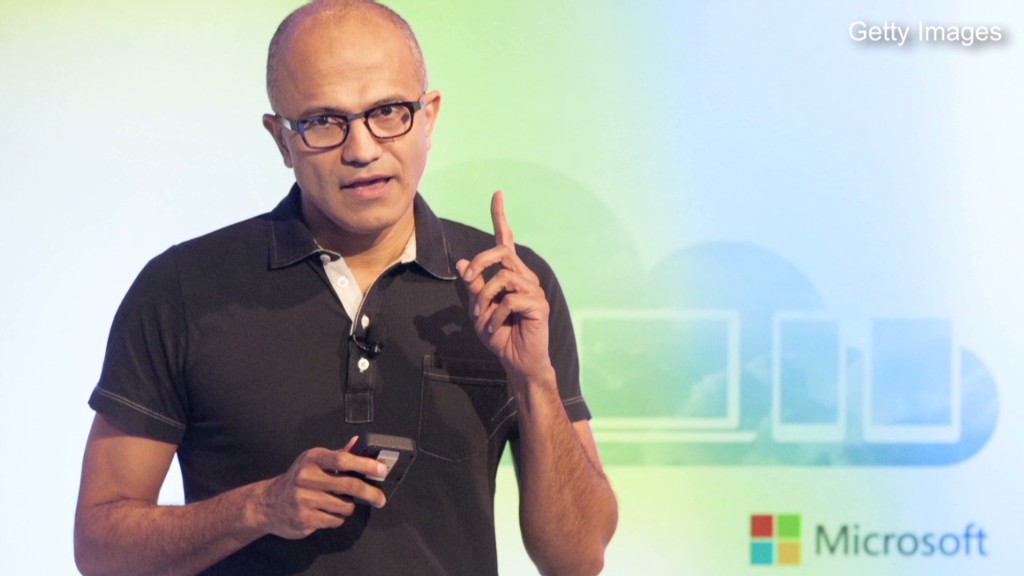 In other tech news, flash drive maker Sandisk (SNDK) is getting hammered to the tune of a 13.5% drop heading into the afternoon. The company beat on earnings and revenue this quarter, but that wasn't enough to satisfy Wall Street. It said in an earnings release that it brought in a record $1.6 billion in revenue for the quarter, but its margins are shrinking.
Related: Compare all these firms to the rest of CNNMoney's Tech30
2) Playtime less fun at Mattel: Barbies and Hot Wheels aren't entertaining kids like they used to. Mattel saw tepid growth that was far less than Wall Street was expecting. The stock fell 6.6% Thursday,
One bright spot for the company is American Girl doll sales, though it's a small part of the overall business.
Related: Trouble in Toy Land for Mattel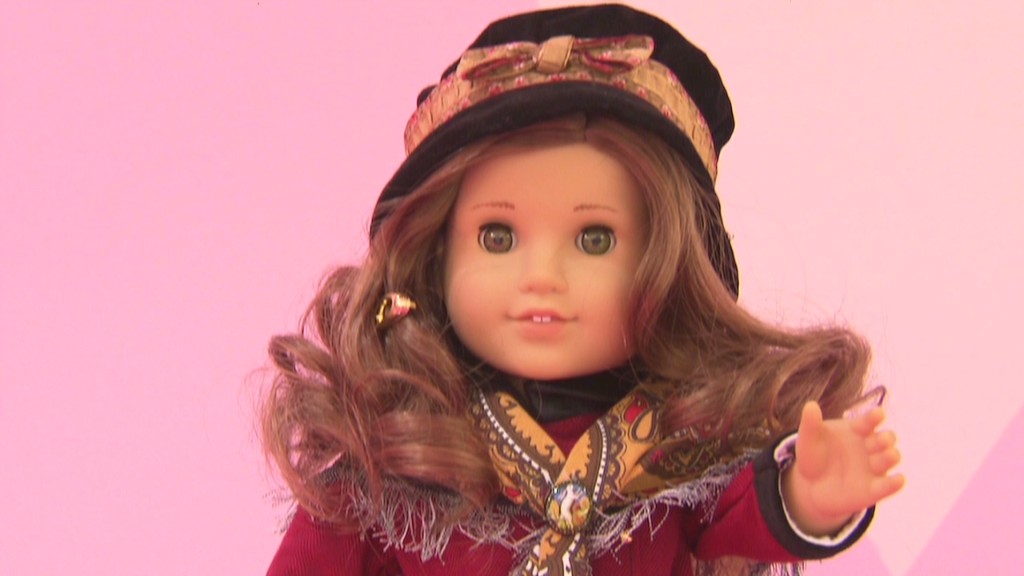 3) No Hangover for Time Warner: After rejecting an $80 billion bid from Rupert Murdoch's Twenty-First Century Fox (FOX), Time Warner (TWX) saw its 17% jump in yesterday's trading. Investors don't think that will be the end of things. The stock rose another 3.6% today. Fox shares were flat.
Related: Rupert Murdoch wants Time Warner for size, sports and ego
4) Health care hullabaloo: Insurer UnitedHealth Group (UNH) put out good results for the quarter, with earnings and revenue that beat expectations in all categories based on growth from all its business units and higher enrollments. The stock is up 1.6%.
A host of other insurance stocks are also up today. Humana (HUM) is up 3%, Aetna (AET) is up 2% and WellPoint (WLP) shares are trading 1.1% higher.
5) Things looking good for banks: Morgan Stanley (MS), the last big American bank to report earnings this quarter, did better than Wall Street was expecting. It beat estimates for both earnings and revenue on the back of a strong performance from its units in stock trading and investment banking. The stock ended down slightly.
Related: JPMorgan, Goldman Sachs smiling today
Rebounding bank performance is a good sign for the economy. Solid economic data also keeps rolling in for the U.S. On Thursday, initial jobless claims were once again lower than expected, coming in at 302,000.
6) Overseas markets: Russian sanctions and worries about the crash are fueling a sell-off in European stocks. The FTSE 100 closed about 0.7% lower, and the German Dax was off more than 1%. The Russian RTS index finished just under 4% lower.
Asian stocks ended the day mixed, though Taiwanese stocks fell more than 0.8%.