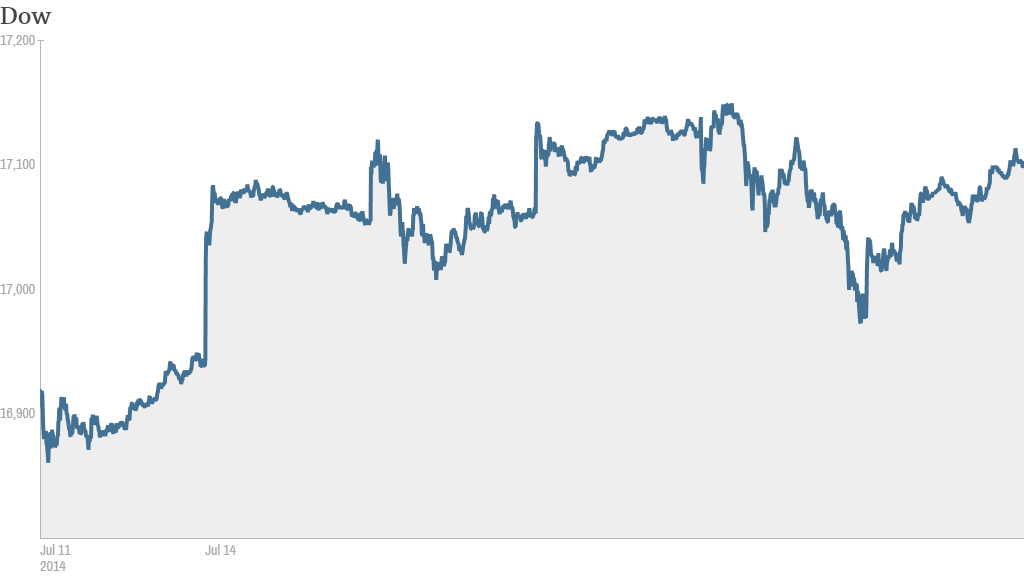 Scared of a little geopolitical risk in the market? Tell your shrink, not other investors, because they won't listen.
Despite drama in Gaza and Ukraine, the U.S. stocks soared Friday and ended the week with healthy gains.
Here's what you need to know this summer Friday:
Stocks perk up. U.S. stocks rebounded significantly after a sharp sell-off Thursday. The Dow rose 123 points and ended the week up by 0.9%. The S&P 500 moved 1% higher Friday and closed out the week with a nice gain of half a percentage point. The Nasdaq bounced around 1.6% Friday and also ended the week up.
Thursday's drama started after news broke of downed Malaysian airliner flight 17 over an area of Ukraine controlled by pro-Russian rebels. Market tensions stabilized after the event, but were then exacerbated after Israel sent ground troops into Gaza.
Related: 6 events that spooked the market in 2014
A fearless market? In another sign that the flurry of geopolitical concerns are cooling off, the VIX (VIX), a key measure of market volatility, fell 16% Friday after hitting its highest level in three months on Thursday.
Some market watchers believe the fallout from the shot-down plane might be old news.
"I would say this has blown over, at least as far as its effect on the market is concerned, even though it's in no way blown over for the people who are involved," said Dr. John Edmunds, finance professor at Babson College near Boston.
But CNN'Money's Fear and Greed Index, which tracks seven gauges of market sentiment, edged into "neutral" mode by the close of trading Friday after hanging in "fear" for most of the day. Of course, the index had been sitting in "greed" and "extreme greed" for the last month.
Tax inversion deal: Drugmakers AbbVie (ABBV)and Shire (SHPG) announced jointly their plans to merge on Friday. The $54 billion acquisition is the latest by a U.S. firm looking to move its tax base overseas to save money. Shares of both companies popped Friday.
Such mergers have become more frequent lately, and critics argue that they should be banned. Others, however, say the rise in inversion deals is yet another sign of the urgent need for corporate tax reform.
Related: Boom time for mergers and acquisitions
Earnings roll in -- Google, GE: Google (GOOGL) shares rallied over 4% after the tech firm reported another quarter of surging sales growth after the bell Thursday, driven by a 25% increase in ad viewing compared to the year earlier. News that Japan's Softbank has hired away Google's global sales chief Nikesh Arora may also being piquing investor interest.
It wasn't such a happy Friday for General Electric (GE). Shares fell Friday even though the conglomerate reported growth in second quarter revenue and earnings, buoyed by a solid jump in its industrial segment.
World markets not looking so hot: World markets finished mixed Friday after trading lower most of the day on fear of escalating tensions in Ukraine. The U.S. believes Flight MH17 was brought down by a surface-to-air missile over a region that has seen heavy fighting between pro-Russian separatists and Ukrainian government forces.
Analysts say the tragedy could damage business confidence, particularly in Europe, but may also bring the crisis in Ukraine to a head by increasing the pressure on Moscow to resolve the conflict.