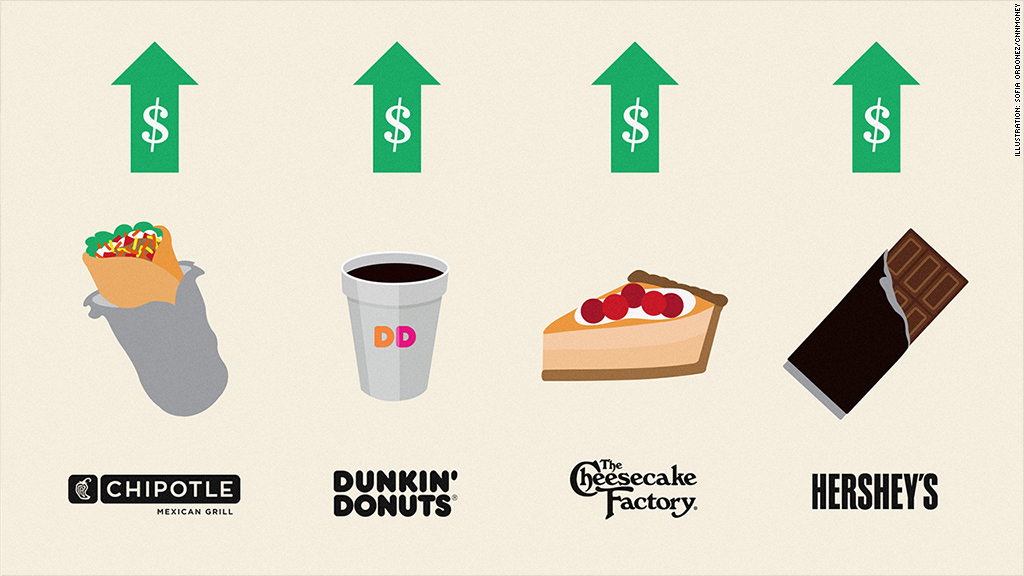 Burritos, cheesecake, coffee.
There are some tasty items on the agenda this week for investors. Chipotle (CMG), The Cheesecake Factory (CAKE), Dunkin Brands (DNKN) and Starbucks (SBUX) are among the companies scheduled to report quarterly results.
But consumers may not like what they hear.
Many companies in the food industry have been hiking menu prices recently as wholesale prices for everything from beef and pork to coffee and cocoa have risen sharply this year.
Coincidentally, the government will release a report on June consumer price inflation on Tuesday. The CPI index for May showed an increase that was double what economists had expected, raising concerns that inflation is heating up.
Related: Growing demand in China has been a boon for milk producers this year
Hershey Co. (HSY), which will report results Thursday, said last week that it was hiking prices 8% in response to higher costs for cocoa, dairy and nuts.
This brings us to the Cheesecake Factory. The restaurant chain behind the Hershey's Chocolate Bar Cheesecake and the Reese's Peanut Butter Chocolate Cheesecake reports Wednesday.
Coffee lovers may want to cover their ears too.
Related: Breakfast takes a bigger bite out of your wallet
Dunkin Brands is expected to announce price hikes when it reports results Thursday. The company that sells Dunkin' Donuts ground coffee in grocery stores, J.M. Smucker (SJM), has already announced a 9% price hike.
Starbucks, which rolled out price hikes last month, reports on the same day.
A severe drought in Brazil, one of the biggest coffee producers in the world, has driven wholesale prices through the roof this year.
Meanwhile, a prolonged drought in California helped push beef prices to record highs earlier this year. Avocados have also been hurt by the dry spell, driving up prices for the main ingredient in guacamole.
That's a double whammy for burrito makers. Chipotle (CMG) said in April that it would raise menu prices for the first time in three years. The burrito chain will report second-quarter results Monday.
Related: Would you order this $78 taco?
But the headwinds facing the food industry do not seem to have deterred another Tex-Mex chain. El Pollo Loco, which operates 400 locations in California, plans to make its initial public offering of stock this week under the colorful stock ticker "LOCO."
McDonald's (MCD), the largest fast-food chain, opens its books Tuesday. While sales have been in a slump, McDonald's has been relatively insulated from the rise in food prices. It locks in prices for key ingredients months in advance.
Tech also on deck: Aside from food companies, the week ahead brings results from several big technology companies. Microsoft (MSFT), Facebook (FB), Netflix (NFLX) and Apple (AAPL) are a few of the highlights. There's been a lot of discussion about whether tech companies, especially in the social media space, are overvalued.
More geopolitics? Investors will also be keeping a wary eye on geopolitical events. Tensions between Russia and Ukraine have been high since a Malaysian Airlines jetliner was shot down over a disputed territory between the two countries last week. And global stocks plunged after Israel's ongoing ground incursion in Gaza.
But U.S. bounced back Friday as investors seem confident that the turmoil in Ukraine and Gaza will not derail the bull market.