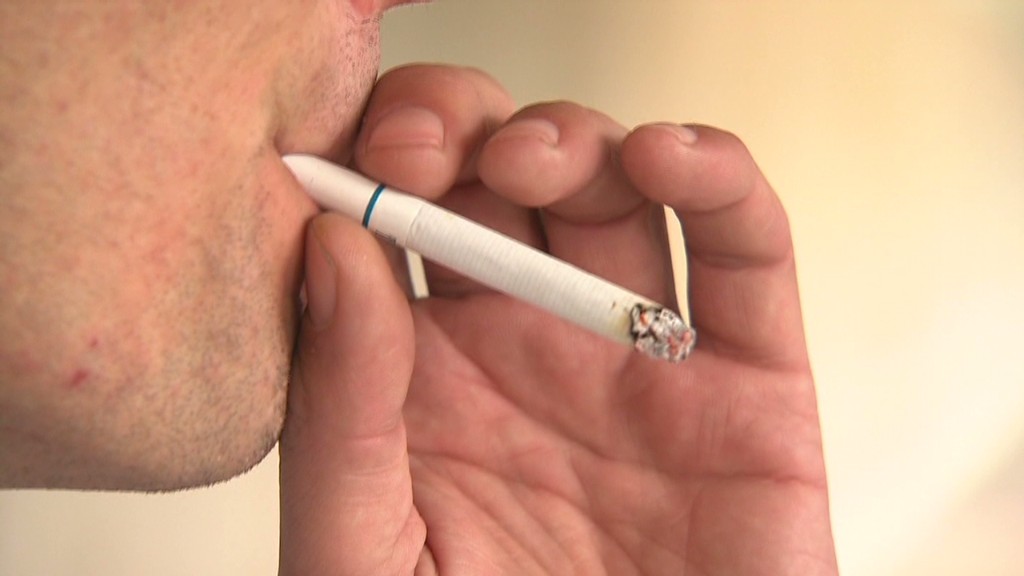 Big Tobacco stocks shook off the bad news from a surprisingly massive judgment against R.J. Reynolds for $23.6 billion - that's billion with a "B."
The Monday fallout for tobacco stocks isn't as bad as the lawsuit would suggest, because the jury-awarded damages aren't likely to stick.
"In my view, it is not really bad news for Big Tobacco," said Vivien Azer, tobacco and beverage analyst for Cowen & Co. "The industry is very well versed in defending itself through litigation. I think it's highly unlikely the $23.6 billion figure holds."
Tobacco stocks took a hit after a Florida jury awarded the punitive damages to a smoker's widow late Friday.
The stock price for Reynolds American (RAI), parent company of R.J. Reynolds Tobacco Co., fell about 1% at midday, recovering from an earlier drop of 3%. Other Big Tobacco stocks followed suit, with shares of Altria Group (MO) and Philip Morris (PM) slipping less than 1% and Lorillard (LO) dropping about 1.5%.
The judgment went in favor of Cynthia Robinson, whose husband Michael Johnson died in 1996 from lung cancer at the age of 36. Robinson sued R.J. Reynolds in 2008, claiming the company was negligent in not telling him that smoking was addictive and could cause lung cancer.
R.J. Reynolds general counsel J. Jeffrey Raborn said his company would fight the award, which he called "grossly excessive and impermissible under state and constitutional law."
The company's most recent financial filing says courts have entered judgments of $232 million against the company. Most of that is currently tied up in appeals.
The company has dug in its heels and is prepared to fight for as long as it takes, said Azer.
"There are 8,000 cases pending against Reynolds and they are litigating them one at a time," she said.
R.J. Reynolds Tobacco Co. said that it manufactures about one of every three cigarettes sold in the U.S. The company's brands are Camel, Pall Mall, Winston, Doral and Kool.
Reynolds American and Lorillard have done well overall this year, with shares surging on takeover speculation.