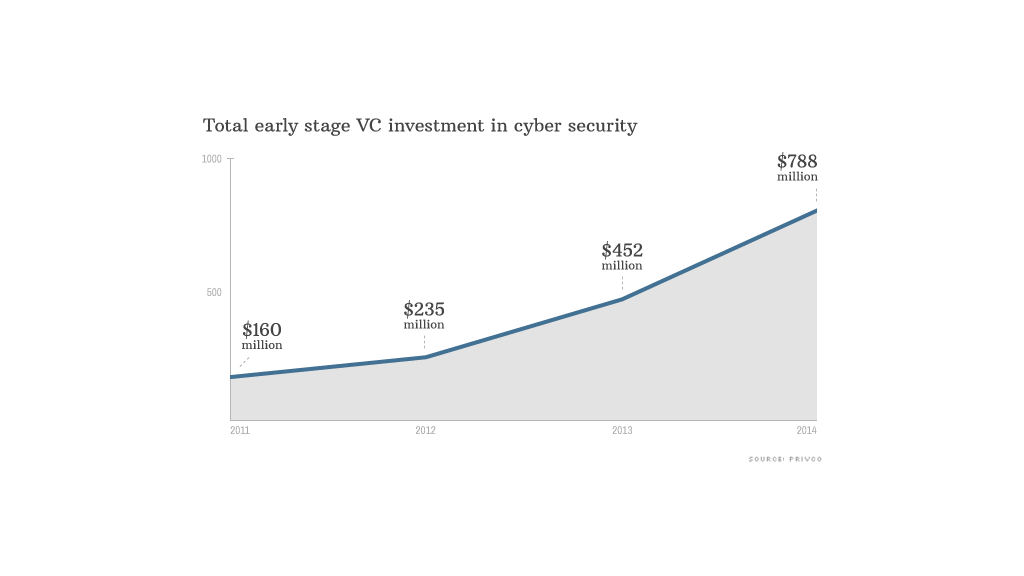 Online privacy is on the tips of everyone's tongues these days, and investors are rushing to pour money into cybersecurity startups.
Venture capital firms are expected to funnel $788 million into early-stage cybersecurity startups this year.
That's a 74% increase from last year's $452 million, according to PrivCo, a financial data provider on privately-held companies. In 2011, VC firms invested just $160 million in cybersecurity startups.
PrivCo estimates the funding will be dispersed among about 40 cybersecurity startups in the early stages of funding.
Particularly hot right now? Companies offering protection against mobile malware.
"Employees' mobile phones have become the biggest soft targets for cybercriminals, and the venture capital dollars are following," said PrivCo CEO Sam Hamadeh.
Security breeches at companies like eBay (EBAY) and Target (TGT) have made companies more willing to try new products from new firms, especially since it's difficult for cyberdefense powerhouses like Cisco (CSCO) and Symantec (SYMC) to innovate, according to Aaref Hilaly, partner at Sequoia Capital. From developing comprehensive cloud security to "botwalls," startups are hoping to fill the gap.
"Large companies rely on small companies for innovation," said Hilaly. "The radical new ideas come from small businesses. That's across the board in tech -- not just security."
Related: Google's dreaded blacklist
Hamadeh said Sequoia Capital is one of the most active venture capital investors in the security space.
Hilaly said they've had a consistent strategy: Look for companies that innovate around "architectural shifts" in computing that happen about once every five years -- like the turn toward mobile or the growth of the cloud.
One company they've invested in, Skyhigh Networks (which closed a $40 million round of financing in June), was early to anticipate the move toward the cloud.
Rajiv Gupta, CEO of Skyhigh Networks, and his two cofounders created a product to help companies evaluate the risk of using the cloud and analyze employee cloud behaviors. They officially launched in February 2013 with about 30 employees. Today, they employ about 130 people and service 220 enterprise customers, including some of the world's largest banks.
Gupta used to work for Cisco, which has since employed Skyhigh's product to understand their employees' need for cloud services, assess and reduce risks of using the cloud and ultimately improve the firm's productivity.
"We're addressing a need that [big cybersecurity firms] aren't addressing," explained Gupta. "We've chosen to partner with them as opposed to compete with them."
Related: 10 best cities to launch a startup
Shape Security also raised $40 million this year.
Sumit Agarwal and his two co-founders developed technology that protects against malware and bots (which can cause spam and hijacked accounts). Unlike existing software that protects based on past attacks, their "botwall" proactively transforms code on every webpage so cybercriminals can't latch onto the code.
The company publicly announced their anti-automation product in January. Agarwal said they work with major Fortune 500 companies that span the financial services, health care and ecommerce industries. The team went from six employees in 2012 to more than 100 employees today and Agarwal doesn't expect growth to slow.
"Everyone with a website is an eventual future customer of ours," explained Agarwal.