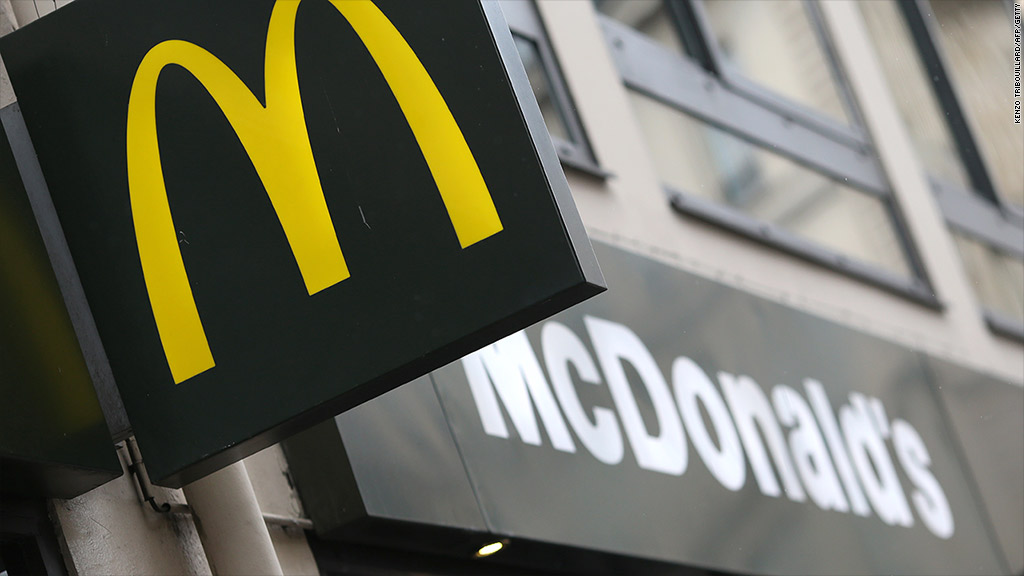 If there's a restaurant "it" list, McDonald's isn't on it.
The latest numbers from McDonald's (MCD) show the world's largest hamburger chain remains in a slump, and there are few reasons to expect a turnaround anytime soon.
"Near-term results are expected to remain muted," McDonald's CEO Don Thompson said in a statement on Tuesday. That's akin to cold fries.
People are opting for healthier options -- or, at least, they want to be perceived as eating healthier -- and they aren't coming in or driving thru McDonald's as much. The chain suffered from negative guest traffic across the board.
Investors punished McDonald's, driving the company's shares 1% lower Tuesday. Compare that to Chipotle (CMG), which is soaring after announcing blockbluster growth.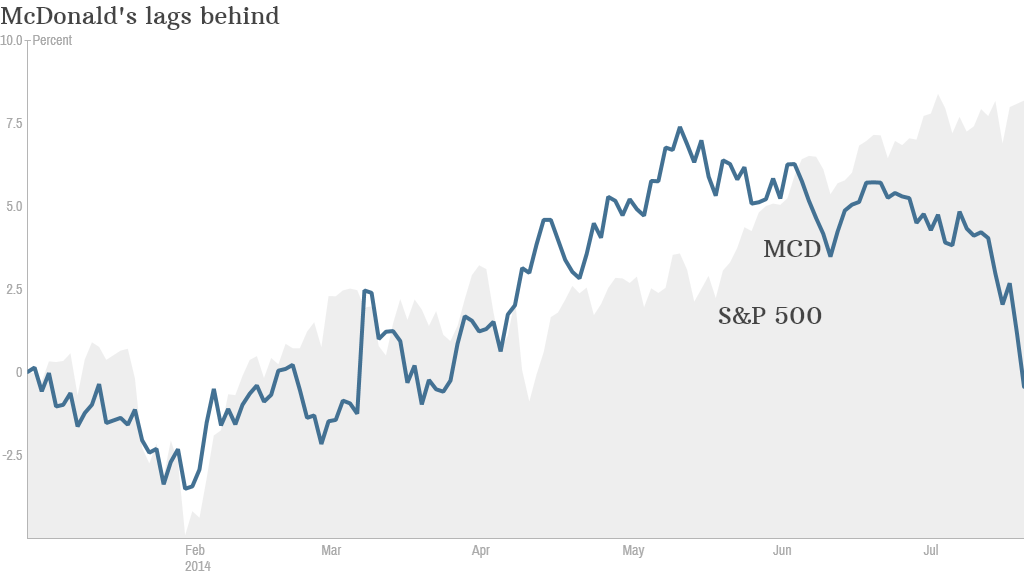 McDonald's is hardly the only company hurt by increasingly health-conscious consumers. Shares of Coca-Cola (KO) skidded 3% lower after the beverage company disclosed that people just aren't buying its marquee products like they used to in North America.
Related: El Pollo Loco is coming to Wall Street
McDonald's did manage to boost sales a bit in its Asia/Pacific, Middle East and Africa segment, but that wasn't enough to lift the rest of the world.
The company said its second-quarter profits fell to $1.39 billion from $1.4 billion the year before. Per-share earnings, boosted by share buybacks, ticked up to $1.40 from $1.38. But Wall Street had been banking on a stronger profits.
Related: Watchout: 5 S&P 500 stocks that are expensive
McDonald's faces a tough challenge ahead.
The poor performance accelerated at the end of the second quarter, with June U.S. same-store sales dropping 3.5%. European sales also slumped a similar amount.
McDonald's is also dealing with a meat scandal in Asia that could dent sales in its lone growth segment. A U.S.-owned meat factory in China has been accused of selling expired and tainted meat to clients, including McDonald's, Starbucks (SBUX) and KFC owner Yum! Brands (YUM).
Following a media report about the scandal surrounding Shanghai Husi Food, McDonald's and Yum said they have stopped ordering from the factory.
Related: China food scandal hits McDonald's, KFC
Meanwhile, Coca-Cola said its second-quarter profits fell to $2.6 billion from $2.68 billion the year before. Revenue slipped 1%, worse than anticipated.
The world's largest beverage maker said its global unit case volume rose 3% during the quarter. However, volumes were stagnant in Europe, Latin America and North America.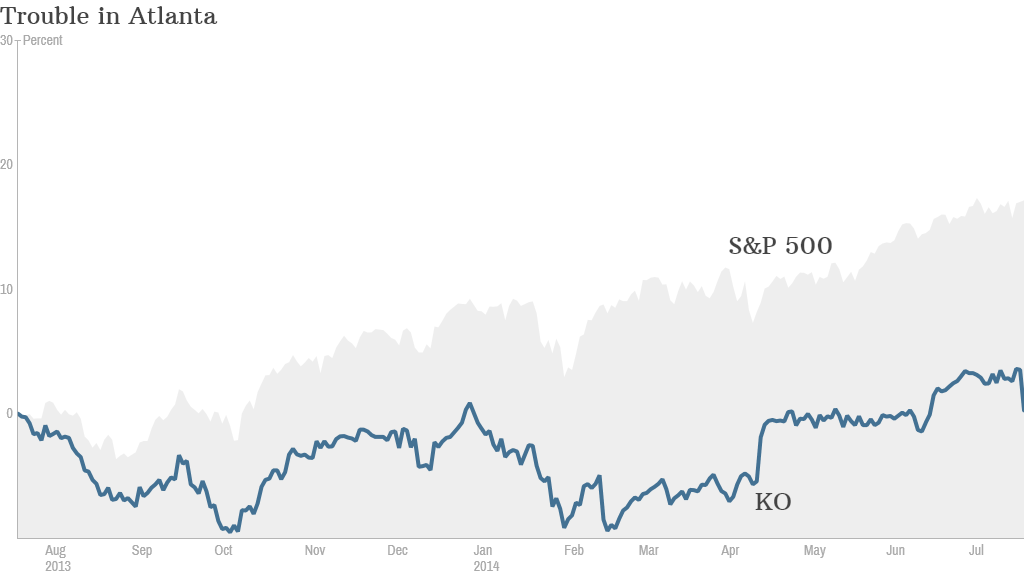 While sales of soda brands like Sprite and Fanta increased, Coke noted "softness" in Diet Coke, which has been hit by concerns about the side effects of artificial sweeteners.
Coke often tries to stress that it is more than a soda company, but its juice business is also struggling after prices hikes. The costs of many fruits and vegetables have gone up in recent months.
Famed investor Warren Buffett remains a big fan of Coke. He still has a large stake. The company also pointed to its more muscular advertising efforts, including serving as a major sponsor of the World Cup. But remaking McDonald's and Coke in a health conscious world is proving a challenge.