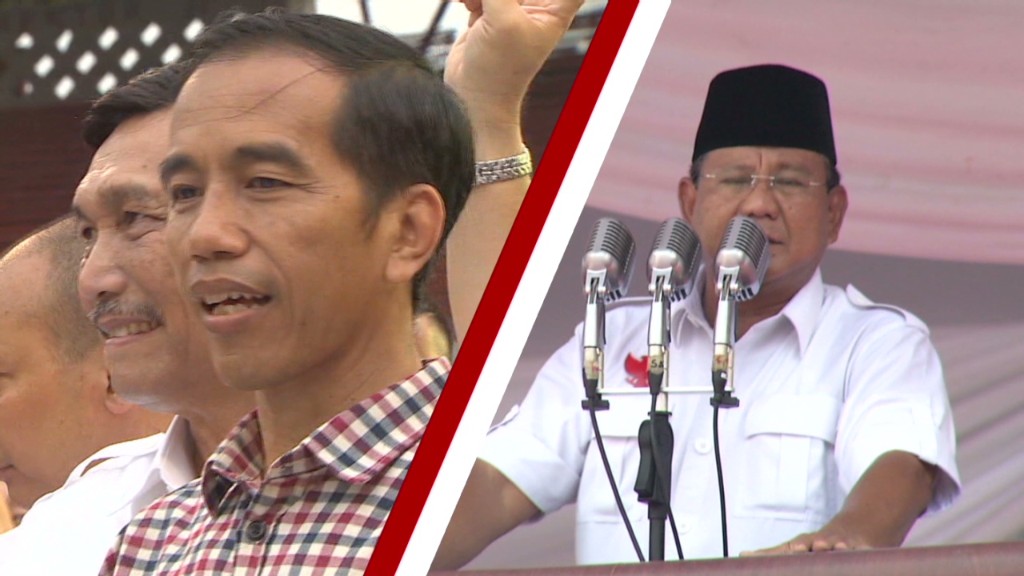 Indonesian markets rallied Wednesday after government officials declared Joko "Jokowi" Widodo the winner of the country's presidential election.
Stocks in Jakarta rallied as much as 1.1% during the trading day before closing up 0.2%. The rupiah strengthened as much as 0.8% to 11,465 against the dollar.
Widodo rose from humble origins to capture the top office in the world's third-largest democracy. He worked in his family's furniture business before entering local politics and then serving as governor of Jakarta.
While challenger Prabowo Subianto may contest the election results, most analysts don't expect the current verdict to change.
Related: 4 risks for emerging markets
Indonesia, the world's fifth largest country by population, is challenged with slowing growth, a weakening currency and widening budget and current account deficits. The Southeast Asian nation also needs to find a way to finance infrastructure upgrades.
Markets have surged this year on hopes that Widodo, a relative outsider, might be able to turn things around. Stocks have soared 20% since January, and the rupiah has gained 5.2%.
Widodo will have his work cut out for him. "The constraints of coalition politics, as well as a lack of experience on the national stage, could thwart his efforts to get the slowing economy back on track," said Gareth Leather of Capital Economics.
Related: Saudi Arabia: The next big emerging market?
One of the challenges Widodo faces is how to cut the country's fuel subsidy program, which is meant to keep costs stable for consumers but now weighs on government finances.
Changes to the fuel subsidy program -- which amount to roughly 3% of GDP and one-fifth of the country's budget, according to IHS -- are likely to upset consumers worried over rising fuel and transportation costs. In the past, violent protests have erupted over the issue.
Kunal Kumar Kundu of Societe Generale said that in the long run, a Widodo-led government is likely to reassure foreign investors and his victory is "good news for the economy."
"Foreign investors are more favorably inclined towards Jokowi as they believe that Subianto would have most likely enforced strong nationalistic policies that would have discouraged foreign investment," Kundu said.