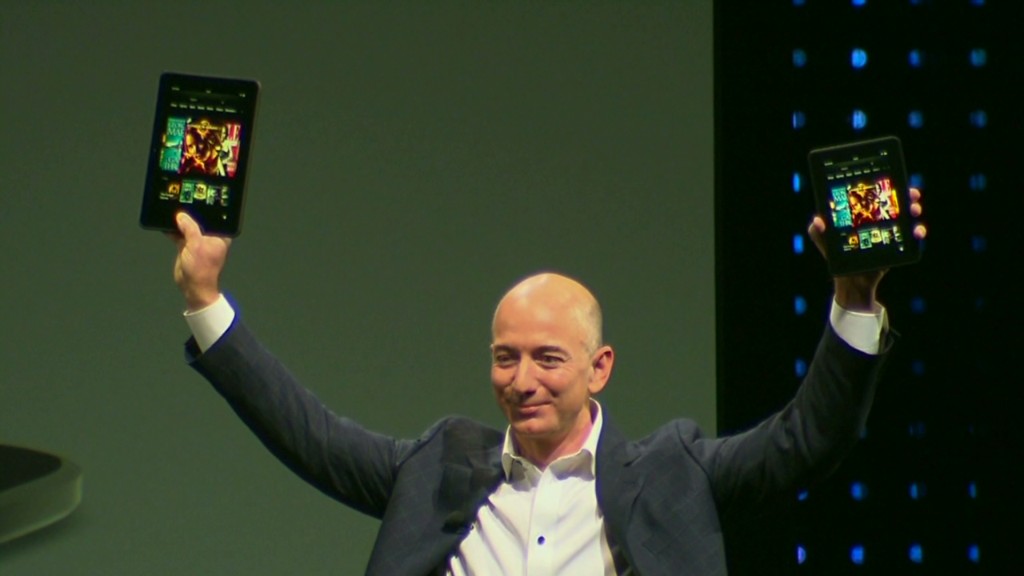 Investors are familiar with Amazon's quarterly routine: posting huge sales numbers with little or no profit. But they are not shrugging off the loss this quarter.
Shares plunged more than 10% early Friday, extending their after-hours sell-off, after the tech giant reported a larger than expected loss. While sales rose 23%, the company recorded a loss of $126 million, which was even more than analysts had expected. It lost $7 million during the same quarter last year.
It's easy to see where Amazon (AMZN) has been spending. It rolled out a number of new products and services this year, including Sunday delivery, its Fire TV media streaming device, and its first smartphone, the Fire Phone. It also recently announced an unlimited e-book subscription service for $9.99 per month.
Related: Amazon's innovative gadgets
While CEO Jeff Bezos has always been more concerned about the long-term growth than immediate profit, investors have supported his ways. The share price rose by 40% in 2012 and by more than 50% in 2013.
But Amazon stock was already down 10% this year before the company posted second-quarter earnings after Thursday's closing bell. It also landed in the middle of a heated fight with Hachette, taking criticism for delaying the delivery of some of the publisher's books.
It expects the same routine next quarter: a rise in sales but further losses.