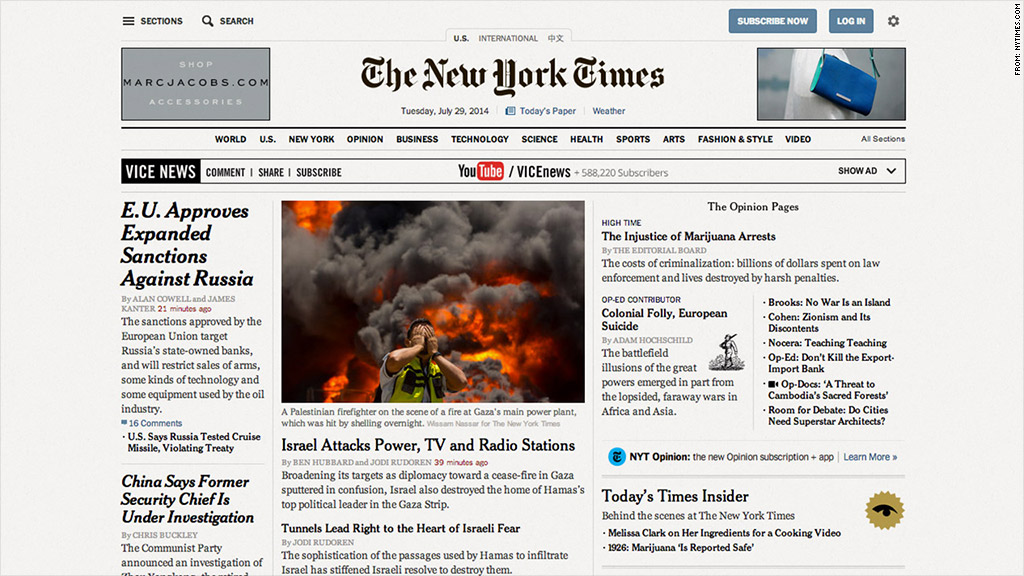 The New York Times' efforts to sign up digital subscribers came under new scrutiny on Tuesday after the company reported second quarter earnings that disappointed investors.
At midday the company's stock was down nearly 6 percent -- one of the steepest daily declines since late 2012.
As has become the norm for The New York Times (NYT), advertising revenue dipped while circulation revenue — from print and digital subscriptions to the paper — increased. The company is gradually becoming more dependent on its subscribers, which is why its circulation trends are so closely monitored. And right now there is cause for concern.
The New York Times ended the second quarter with 831,000 paid digital subscribers, which is in some ways an impressive statistic. After all, there was no such thing as a digital subscription until 2011. (Back then, I was a reporter at The New York Times, and I had my doubts about the pay wall model that was put into place. I was quickly convinced of its merits.)
But it has been a tumultuous couple of months for the company. Editor Jill Abramson was fired in May. And shares of The New York Times, down 17% this year, have lagged the performance of rival newspaper companies Gannett (GCI), McClatchy (MNI) and News Corp (NWSA).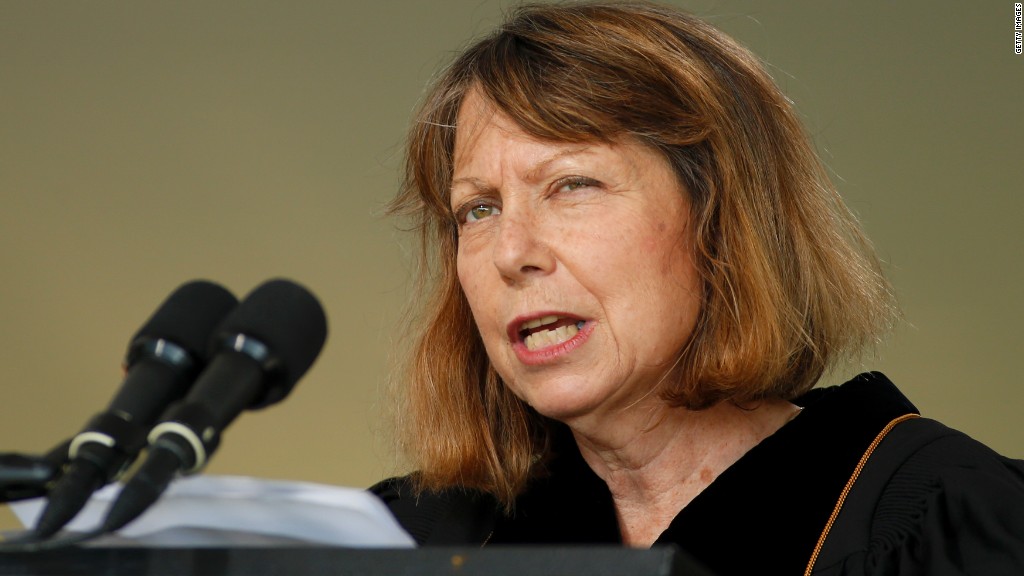 Tuesday's earnings report led some analysts to ask if subscription growth has stalled — and if the company is doing enough to attract new sign-ups.
In the first quarter, the newspaper added 39,000 digital subscribers. (A subscription starts at $15 a month.) But at the start of the second quarter, The New York Times introduced a new, less expensive option, an $8-a-month app called "NYT Now," and a high-end option, "Times Premier."
That did not boost the pace of subscriber growth though. The New York Times ended the second quarter with just 32,000 more digital subscribers than it had started with.
CEO Mark Thompson told investors Tuesday morning that the new sign-up options represented "the majority of the growth in the quarter." He singled out "NYT Now" as being "particularly well-received."
But it's been a challenge, he acknowledged, to get these new offerings in front of potential subscribers. For one thing, "we underestimated the challenge of presenting the new, wider range of choices to our users and left some consumers confused as a result -- obviously we are working hard to pivot and correct that."
The New York Times also has to work harder to convert readers into subscribers on mobile devices, he said.
"We'll need to build and flex some new marketing muscles," Thompson said.
One of the company's forthcoming products, a cooking app, will "initially be available for free to build up as large and engaged an audience as possible before we begin to charge," he added.
The reason that subscriptions are so important is because the traditional ways that newspapers make money are not growing.
The New York Times indicated that it expects circulation revenues in the third quarter to be flat compared with that same quarter last year. It expects advertising revenues to continue to drop.
The first quarter of the year, when advertising revenues rose 3.4 percent, was apparently just a fluke. Ad sales declined 4.1 percent in the second quarter. Revenues from ads have declined for 14 of the past 15 quarters.