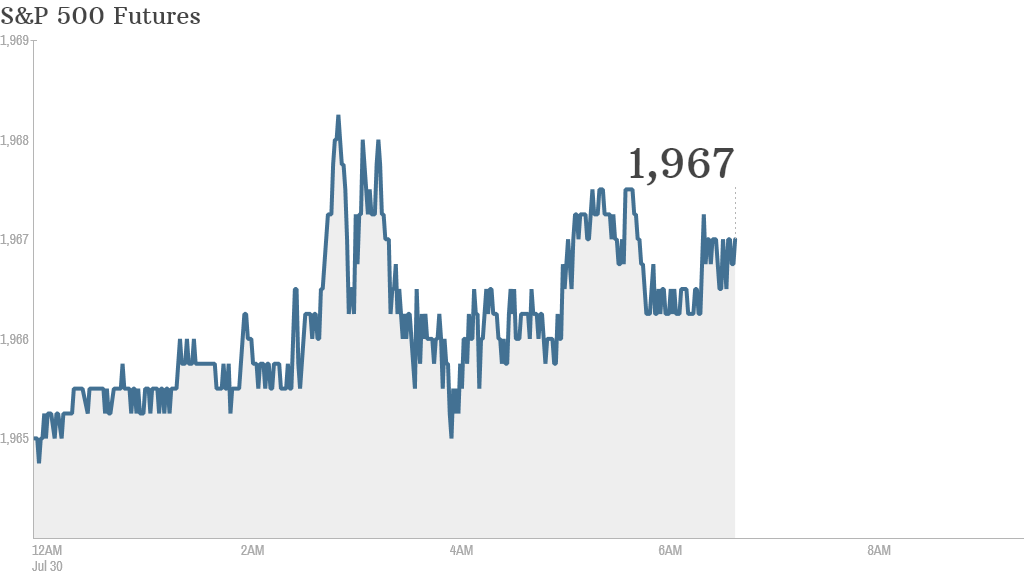 It's all about the U.S. economy.
Wall Street is waiting on key economic data releases Wednesday and the numbers could have a major impact on trading trends.
U.S. stock futures were making modest moves higher ahead of the releases.
Here's what you need to know before the opening bell rings in New York:
1. Growth, jobs and the Fed: The markets are eagerly awaiting U.S. GDP data, which comes out at 8:30 a.m. ET. Economists surveyed by CNNMoney predict the economy grew at a 3% annual pace in the second quarter, after a shocking 2.9% contraction in the first.
"This is seen as an important milestone for the U.S. economy, which suffered a severe retraction [in the first quarter] as a result of the incredibly harsh winter," said Angus Campbell, a senior currency analyst at FxPro.
Deutsche Bank analyst Jim Reid wrote that GDP for the second quarter "will surely be a fairly poor indictment of the U.S. economy" if it didn't grow by at least 3%, which is needed to "ensure any growth at all" in the first half.
Payroll processing firm ADP (ADP) is due to release July employment data at 8:15 a.m. ET.
At 2 p.m. ET, the Federal Reserve will release a statement outlining its latest monetary policies. It's widely believed that the central bank will announce another $10 billion pullback in monthly bond purchases, but investors will be scrutinizing every word of the statement for clues as to when the Fed plans to raise interest rates.
"The FOMC meeting is likely to be close to a non-event," wrote Marc Chandler, strategist for Brown Brothers Harriman, in a market report. "The action is universally anticipated: another $10 billion in tapering."
2. Stock market movers -- Twitter, Amgen, Barclays: Expect Twitter (TWTR) shares to soar when the opening bell rings. The stock is up by just over 25% premarket after it posted surprisingly strong second-quarter sales.
Shares in Amgen (AMGN) were rising by about 3.5% premarket after the company announced it was cutting up to 2,900 jobs, or about 12-15% of its workforce.
In London, investors pushed up Barclays (BCS) shares by about 3.5% after the bank's first half earnings were well received.
Related: Fear & Greed Index still gripped by fear
3. Earnings focus: Sprint (S) is among the big name companies posting results before the opening bell. Kraft Foods (KRFT) and Whole Foods (WFM) will report after the close.
4. International markets overview: Russia's benchmark stock index was rising by about 2%, with investors relieved that new European and U.S. sanctions against Russia were not as bad as feared.
European markets were all edging lower in midday trading, and shares in French energy producer Total fell by 2.5% as investors worried about its ties with Russia's Novatek, which is facing U.S. sanctions. Asian markets mostly closed with small gains.
5. Tuesday market recap: U.S. stocks closed modestly lower Tuesday. The Dow slipped 70 points while the S&P 500 fell about 0.5% and the Nasdaq dipped slightly.