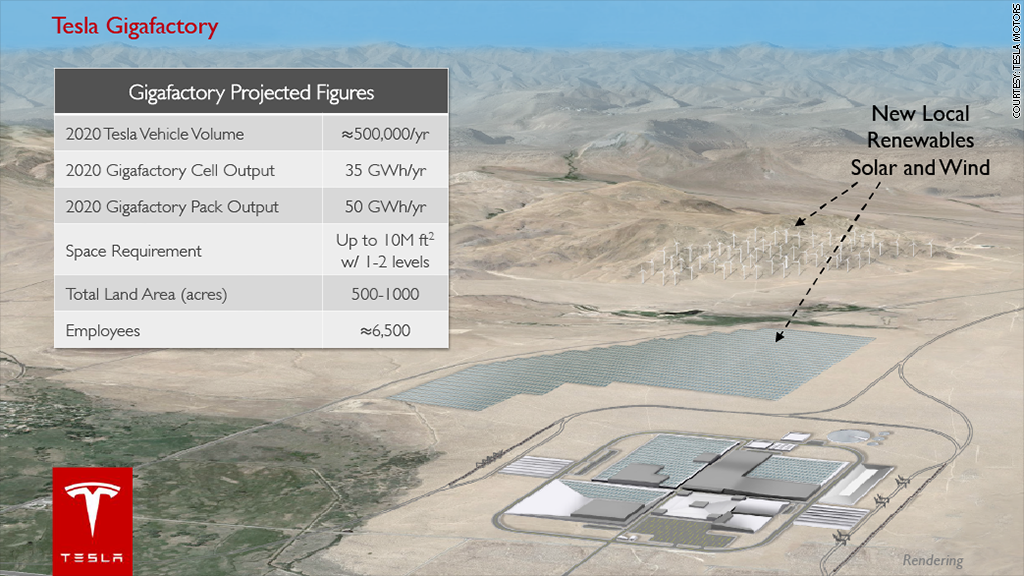 Tesla has found a partner for its plan to mass produce batteries for electric vehicles: Panasonic.
The companies announced Thursday that Panasonic (PCRFF) will contribute an undisclosed sum to a proposed "Gigafactory," the location of which has yet to be announced. Panasonic will also make and supply cylindrical lithium-ion cells to be assembled into batteries at the factory, and the two companies will set up a supply network for the materials used at the plant.
Tesla (TSLA) wants to build the Gigafactory, expected to cost $4 billion to $5 billion, in order to have enough lithium-ion batteries for a less-expensive electric car. Its current model, the Model S, starts at $69,000.
Tesla hopes to have a mass market car, the Model 3, on the market in about three years at about half the cost of a Model S. And it plans to build about 500,000 of those cars a year by 2020, up from the 35,000 cars it expects to sell this year. The new plant is crucial to those plans to slash the cost of its cars and massively increase the sales at the company.
Related: Tesla Model S is Consumer Reports' top car pick
Tesla has said it is looking at sites in Texas, New Mexico, Arizona, Nevada and California to supply its factory in California with batteries. CEO Elon Musk said in May that the company would take the unusual step of breaking ground on multiple sites in order to minimize the risk of delays in building the factory.
Panasonic has been a primary supplier of lithium ion batteries for Tesla, and the agreement ensures that it will continue to do so. As part of the agreement, Tesla agreed to continue to buy batteries built at Panasonic's plants.
Tesla is due to report second-quarter earnings later Thursday. Shares of the company, which are up more than 50% so far this year, were lower in premarkets trading Thursday following the partnership announcement.