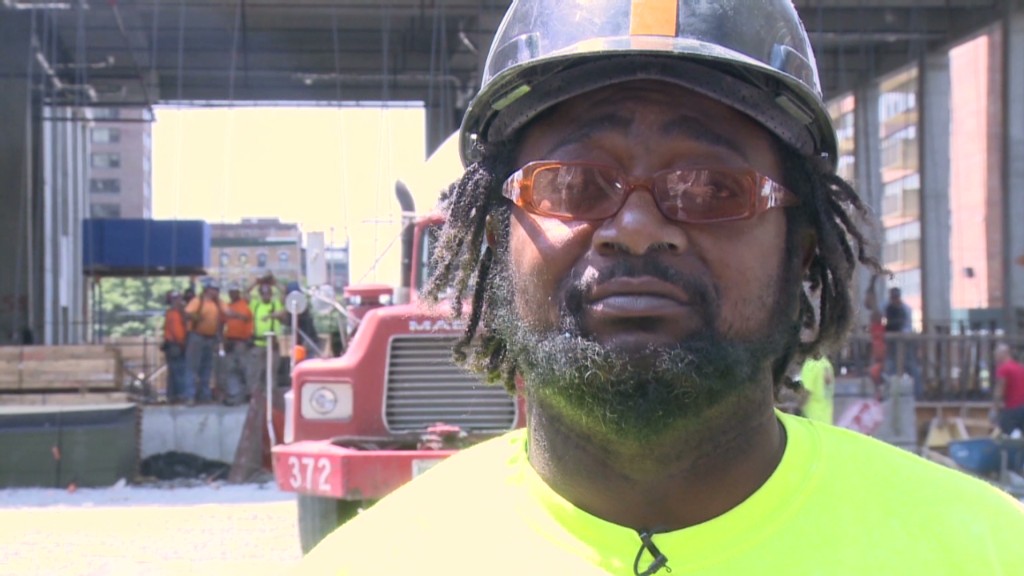 After gangbusters jobs growth in June, hiring slowed to a less impressive pace in July.
The U.S. economy added 209,000 jobs last month, the Bureau of Labor Statistics reported Friday.
The number was a bit disappointing after 298,000 jobs were added in June, but still the broader trend remains "respectable", economists said.
Over the past six months, the economy has added 1.5 million jobs, marking the strongest six months for hiring since 2006.
"We're not losing ground. We're still in a recovery," said Heidi Shierholz, economist for the Economic Policy Institute. "But we're not seeing a big acceleration in job growth, either. We're back to the solid, but not stellar growth."
Meanwhile, the unemployment rate ticked up to 6.2% in July, from 6.1% in June as more workers joined the labor force.
Check the unemployment rate in your state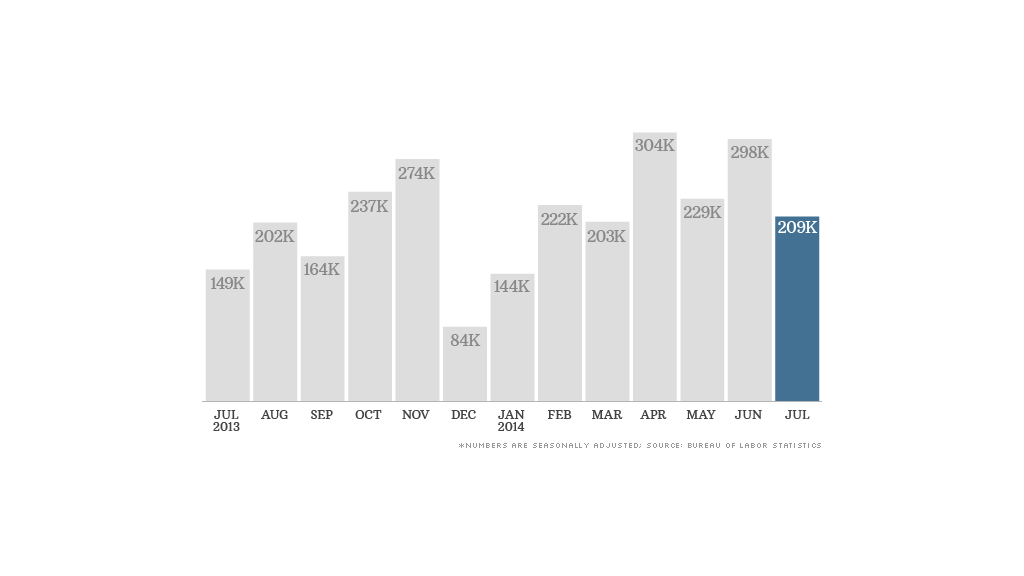 This recovery has been a long, slow haul, but it now seems to be hitting its stride.
About 8.7 million American jobs were wiped out in just two years following the 2008 financial crisis. The economy finally gained them all back earlier this year.
Blue collar industries like manufacturing and construction were the hardest hit sectors in the recession, and those jobs have started to trickle back. Manufacturers have added 99,000 jobs over the past six months, while construction firms have added 114,000 jobs since January.
Meanwhile, government jobs are starting to come back slowly too.
Jobs in these sectors tend to offer middle-class wages. The recovery is no longer dominated by hiring for low-wage retail and restaurant jobs.
Related: Middle class jobs are finally coming back
That said, stronger hiring has yet to translate into bigger paychecks for most workers. The average American wage edged up only 1 cent in July to $24.45 an hour. Over the past 12 months, wages rose 2%, but that's not enough to surpass inflation.
"As the labor market strengthens, we should see stronger wage growth, but this report doesn't provide much evidence that that's happening yet," Shierholz said.
Federal Reserve Chair Janet Yellen has said she wants to see wages rise faster than inflation so American households will have more buying power. That has yet to happen, but the Fed is quickly nearing its other goals for a lower unemployment rate and stable prices.
The central bank is gradually winding down its stimulative policies, and investors have recently become obsessed with trying to gauge when the Fed will eventually hike interest rates. Most economists expect a rate hike will occur in the spring or summer of 2015.
Friday's jobs report doesn't move the needle much for the Fed, and stocks were flat in morning training.
Related: Now what? Stocks mixed in early trading
Many Americans still think the economy is not fully recovered. According to the results of a CNN/ORC International poll released Friday, 41% of people surveyed rate the economy as "good", while 58% rate the economy as "poor."
But even at just 41%, it is the highest percentage of Americans with a positive view of the economy since the recession officially began in December 2007.
These perceptions about the economy will be a key factor in November's midterm elections. More than a third of the Senate and the entire House are up for grabs.
Both sides of the aisle are blaming each other for holding back the recovery.
When it comes to job creation, "there are a lot of things that can be done on a bipartisan basis," said Secretary of Labor Tom Perez. He points to the Obama administration's push to raise the minimum wage, pass an immigration reform bill and approve funding for infrastructure.
Meanwhile, the GOP points fingers at the Democratic-controlled Senate for blocking their job-creation bills, including legislation that would build the Keystone Pipeline.
"We're doing our part, but we need the president and his party to do theirs," House Speaker John Boehner said in a statement.
Both sides agree on one thing: "When I look at this report, I think one thing: we can do better," Boehner said.