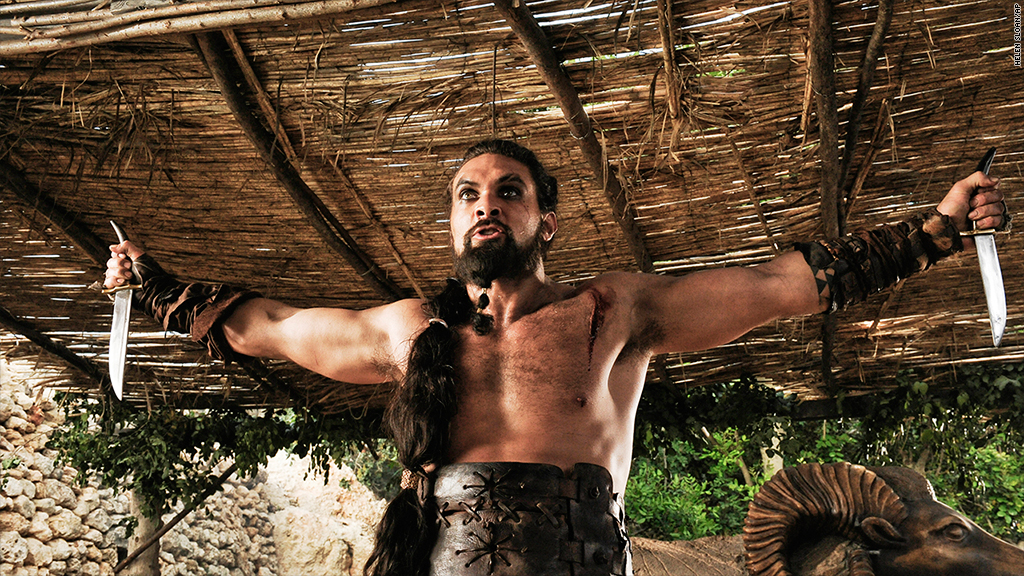 "Hello," "Goodbye," "I will let you live."
Those are a few of phrases you'll learn to say in the warlike language of Dothraki from "Game of Thrones" with the help of a new class.
In October, Living Language will put out a course on the tongue, which is spoken only on the mega-popular fantasy series by horse-mounted nomads, their fearsome king and their silver-haired queen.
The course is a part of a big licensing push by the popular HBO show, which has also spawned T-shirts, action figures and jewelry as it broke viewership records across its four seasons.
Living Language is producing 50,000 copies of the program, which consists of a book and a pronunciation CD that cost $20, and teaches about 200 words. There will also be a $4 app and a $30 online course.
Related video: How HBO's "Silicon Valley" figured out nerd culture
Dothraki may have been invented for a TV show, but the Living Language class is "a very serious language course," says company vice president Dan Zitt. The 65-year old firm, which is owned by Random House, has 28 other classes on more mainstream languages like Italian and Mandarin.
Invented languages have become proud hallmarks of super fandom before: The Klingon Dictionary, for instance, inspired by the "Star Trek" franchise, has sold more than 300,000 copies, according to Publishers Weekly.
George R. R. Martin, who writes the "Game of Thrones" book series on which the HBO show is based, laid down 50 or so fundamental Dothraki words in his books. The show's producers then hired linguist David J. Peterson to fill in the vocabulary and grammar for the show.
(Time Warner (TWX)owns both HBO and CNN.)
Peterson created 3,800 words for the language, which he says has the rolling R's of Spanish, the kh-sounds of Arabic and the feeling of Russian.
"I will let you live" is "Anha vazhak yeraan thirat" in Dothraki. Other phrases include "m'athchomaroon" ("hello"), "hajas" ("cheers") and "zheana" ("beautiful").
Related story: HBO shows coming to Amazon ... not Netflix
At least one Dothraki word has already made in-roads to American culture. The Social Security Administration says that 146 babies born in the U.S. in 2012 were named "Khaleesi." The Dothraki word translates roughly as "queen," and is the title of one of the show's main characters.
Peterson estimates there are already a few hundred speakers, but admits the language is best-suited to the show's often violent fantasy world.
"Of course, there isn't vocabulary in the language for subway trains and cell phones and airliners," Peterson says. "But if you want to go to a restaurant and demand as much sausage as they have, you'll be able to do that by the end of the course."