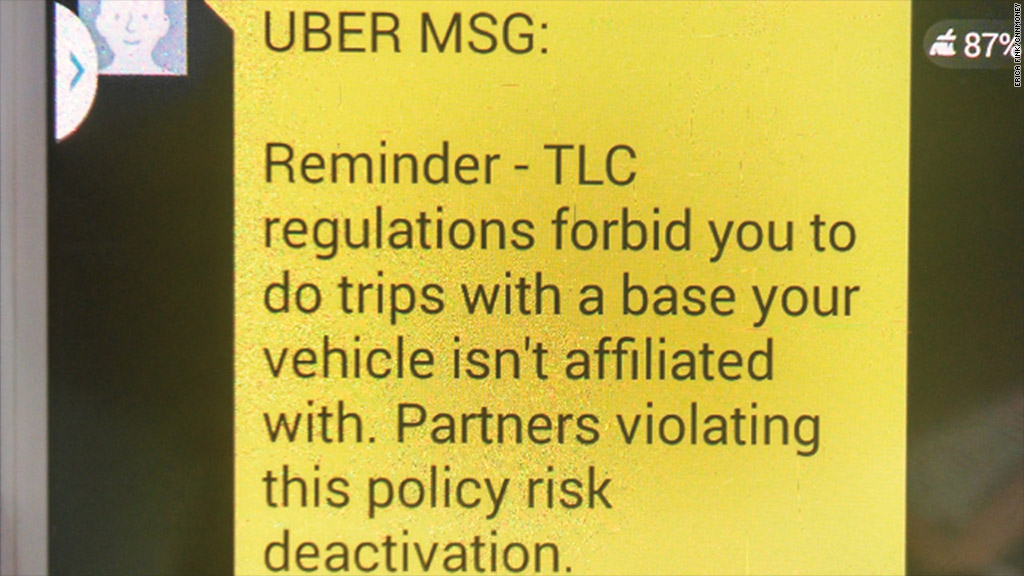 Uber is telling its New York drivers, it's Uber's way or the highway.
Among its tactics: Telling drivers it is against city regulations to work for both Uber and competing service Lyft, a claim the city's Taxi and Limousine Commission says is untrue.
CNNMoney spoke to three Uber drivers who said they received a text message that said they were "forbidden" from driving with another company. The text cited regulations by the New York Taxi and Limousine Commission. The TLC said the messages were not accurate.
Many drivers use multiple taxi and ride-sharing apps, so they can pick up as many potential fares as possible.
Additionally, one driver working for Lyft, which launched in New York in late July, told CNNMoney he was hailed by Uber employees who tried to recruit him.
Another Lyft driver, who has signed up for both companies, said he also received a phone call from Uber.
"They called and told me I cannot be working for both platforms -- that I can't be working for Uber and Lyft at the same time," the driver said.
The driver believes that Uber became aware he was working for both companies after he gave a Lyft to a passenger who later identified himself as an Uber employee.
All drivers interviewed for this story asked to remain anonymous.
Related: Uber rival accuses car service of dirty tactics
Professional drivers in New York City have to affiliate with a "base station" responsible for driver behavior, vehicle maintenance and dispatching rides -- Uber and Lyft each own a base station.
A driver affiliated with one could do rides for the other, so long as the dispatcher makes the passenger aware, according to TLC spokesperson Alan Fromberg.
The way Lyft is making passengers aware is by putting the vehicle's base ID on its picture on the app, per TLC requirements. In practice, the average passenger would not notice.
The TLC is considering revising its rules because the field of black car services has changed so dramatically.
The landscape of ride-on-demand apps has become increasingly crowded, with services like Hailo, Sidecar and Gett developing followings. Uber, with its $18.2 billion valuation, is by far the biggest.
One driver described his process: "I got a tablet, my phone and my Uber phone...when I have no passengers in my car, I turn on all my applications and whichever one gives me a job first, I take."
Related: Your handy taxi app guide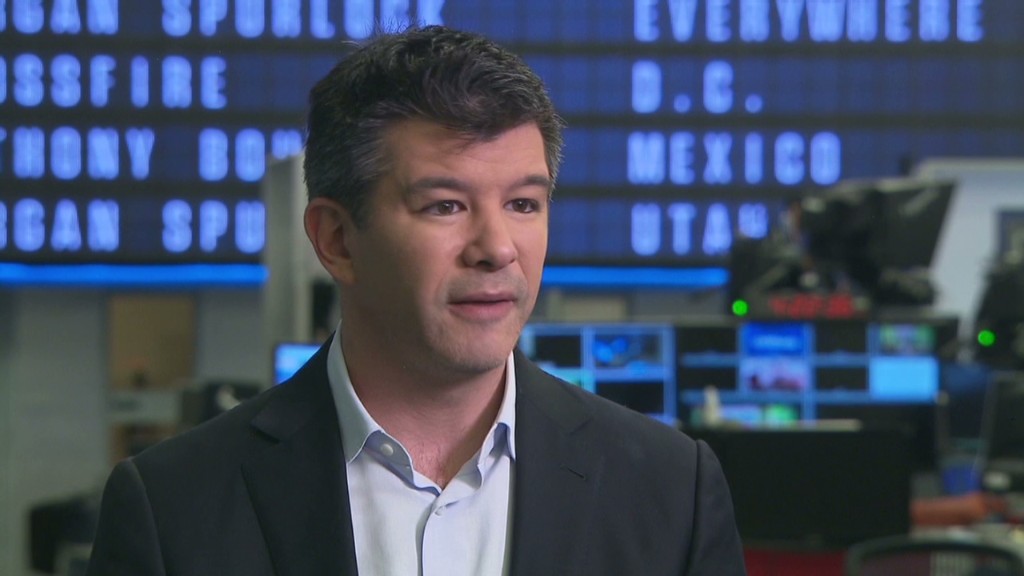 Lyft has had its own problems with the TLC. Its introduction to the New York market was halted for two weeks while the company sparred with regulators over conditions for entering the New York market.
The company has been working to ease driver concerns stirred by messages from Uber: "We've reached out to our drivers to let them know the truth behind these misrepresentations, and will continue to aggressively grow the community to best benefit New York City consumers."
In a statement, Uber said its official position is that drivers can drive for multiple companies: "For those drivers who have yet to experience the safety, flexibility and earning potential Uber has to offer, they can give partnering on our platform a try without leaving their base."
This isn't the first time Uber has been accused of not playing nice. Earlier this year, CNNMoney reported that Uber employees in New York ordered and canceled over a hundred cars from Gett, another competing service.
One of the reasons drivers tell CNNMoney they would be open to switching services away from Uber is because the company recently dropped prices in New York while maintaining the 20% cut they take from drivers.
Lyft is competing too: It has been offering New York City passengers free rides up to $25 for their first fifty rides. (All three of the Uber passengers got out of the car before they hit the $25 mark, meaning reconnaissance did not cost them anything.)
None of the drivers interviewed are looking to get in the middle of the sparring match between the two companies. "I'm just a simple guy with a nice car," one driver said.