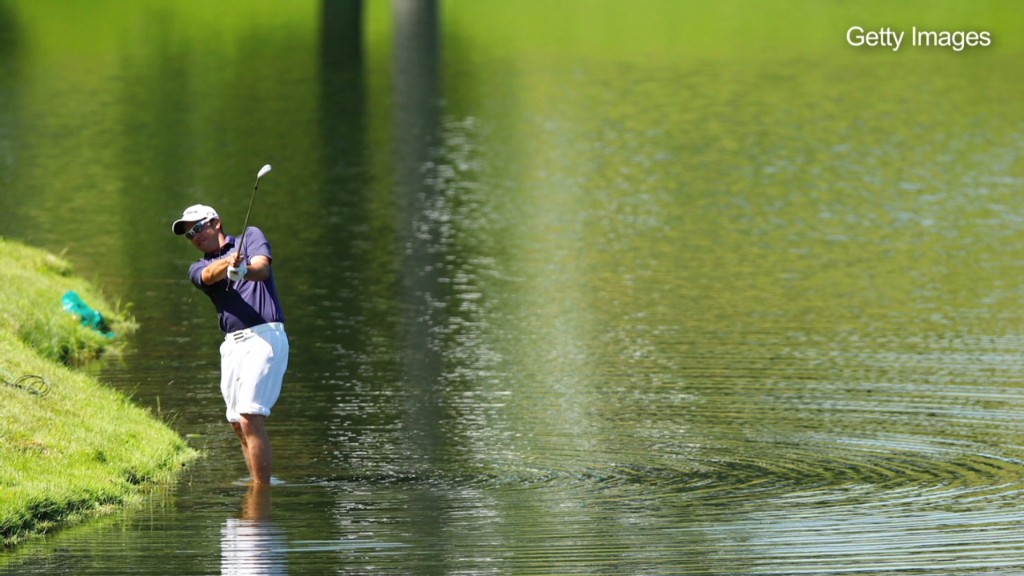 Golf's popularity is waning and the industry is getting whacked.
Adidas (ADDYY), which owns the popular TaylorMade brand, is the latest company to warn about the decline of the sport. Sales at its golf division dropped by nearly 20% in the second quarter, leading the sportswear company to slash earnings forecasts for the year.
Callaway Golf (ELY) reported a 7% decline in sales for the second quarter and predicted market conditions would remain "challenging" throughout the year. Even Nike's (NKE) golf division is underperforming. Sales stagnated over the last year as nearly every other division reported growth.
Here are three key reasons why golf is ailing:
1. The "Tiger" void: Golf's super-celebrity Tiger Woods has fallen out of favor with fans and the public, and -- with apologies to Northern Ireland's Rory McIlroy -- no new golfing legend has yet filled the void.
Case in point: Are you watching the U.S. PGA Championship today? If the answer is 'yes', you're part of a declining TV audience -- ratings for big tournaments this year have plunged.
"The sport desperately needs more players who a wider public can relate to," said Nigel Currie, director of sports marketing agency brandRapport.
Golf enthusiasts have high hopes for McIlroy, a three-time major champion, but he doesn't yet have the star power Woods had.
"Sport thrives on classic rivalries and golf needs one or two more players to challenge with McIlroy on a regular basis," said Currie.
Related: Cycling is the new golf for entrepreneurs
2. Golf is outdated: Before the recession, golf was a critical part of business networking. But times have changed for the LinkedIn generation.
"For the post-recession world, the game comes with uncomfortable connotations of old boy networks," said Jonathan Gabay, a U.K.-based brand psychologist.
Efforts have been made to bring in fresh blood, but golf is struggling to shake off a reputation for catering to an older, whiter, predominantly male audience.
The Royal and Ancient Golf Club of St. Andrews, in Scotland -- the spiritual home of golf -- still won't accept women as members. A vote is due next month on removing the ban on female membership that has stood for centuries.
3. Changing retail trends: The retail landscape is changing but golf brands haven't reacted quickly enough, said Tim Crow, CEO of London sports sponsorship agency Synergy.
Consumers are increasingly moving online and doing more price comparisons, which is hurting traditional brick-and-mortar stores.
Last month, Dick's Sporting Goods (DKS) reportedly laid off more than 400 golf staff.
Now there's too much expensive gear in stores and too few buyers.
"There's a lot of overcapacity in the system," said Crow, who predicts the industry needs to shrink by about 15% to 20% to come in line with demand.