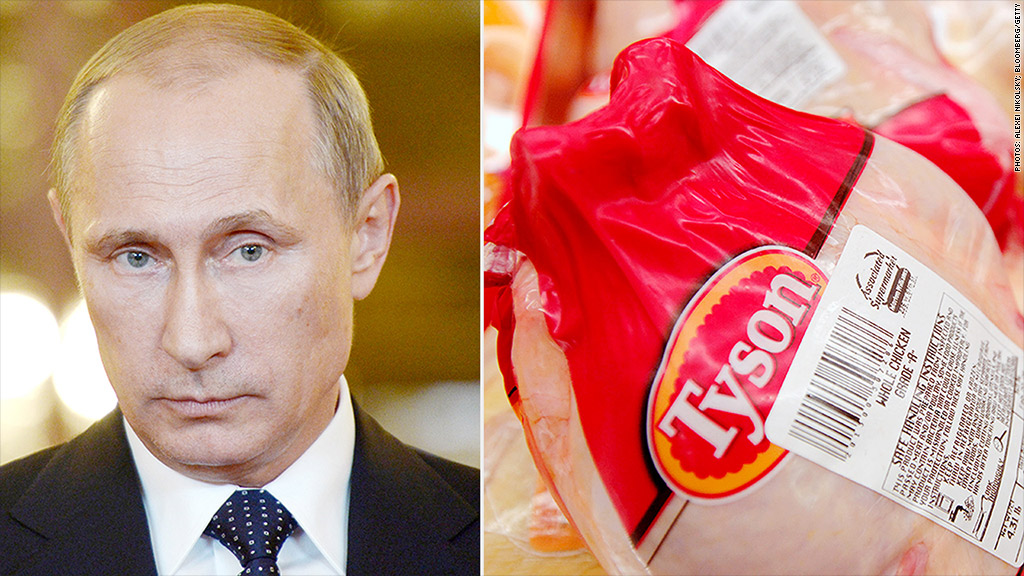 It seems that chickens are always the first to go in trade disputes.
Russia plans to restrict imports of U.S. poultry, according to the National Chicken Council. The move is retaliation for sanctions that American and Europe have imposed on Russia over its actions in Ukraine.
President Vladimir Putin ordered his government Wednesday to come up with a list of food and agricultural imports from countries that have applied sanctions on Russia. The imports are to be banned or limited for one year.
Related: The price of Russia's food import ban
So, is the American poultry industry plucked? Not really, says the Chicken Council.
Russia is the second largest export market for U.S. chicken. Last year, America exported roughly 267,000 metric tons of chicken, worth about $309 million, to Russia, according to the NCC.
That may sound like a lot, but US producers have become less dependent on the Russian market over the past 20 years as domestic production has ramped up.
Russia currently accounts for about 7% of total U.S. poultry export volume. That's down from as much as 40% in the 1990s, the council said.
"We do not expect that a Russian ban on U.S. poultry imports will have a great impact on our industry," the NCC said in a statement.
The stock of Tyson Foods (TSN), one of the leading American poultry producers, is down about 2% Thursday. Other leading U.S. chicken companies are not seeing much movement in their share prices.
Related: Russian chill gives Europe the shivers
The bigger impact from the ban will likely be felt by Russian consumers. The Russian economy is already fragile and inflation has been heating up. Chicken prices in Russia have been rising at a rate of 2% to 3% a week, according to the council.
Overall, the United States has limited trade relations with Russia. U.S. exports to Russia totaled just over $11 billion in 2013, which is a tiny fraction of the nation's $15.7 trillion gross domestic product.
"I don't think, on macro level, this will make a huge difference," said Mikhail Liluashvili, an economist at Oxford Economics.