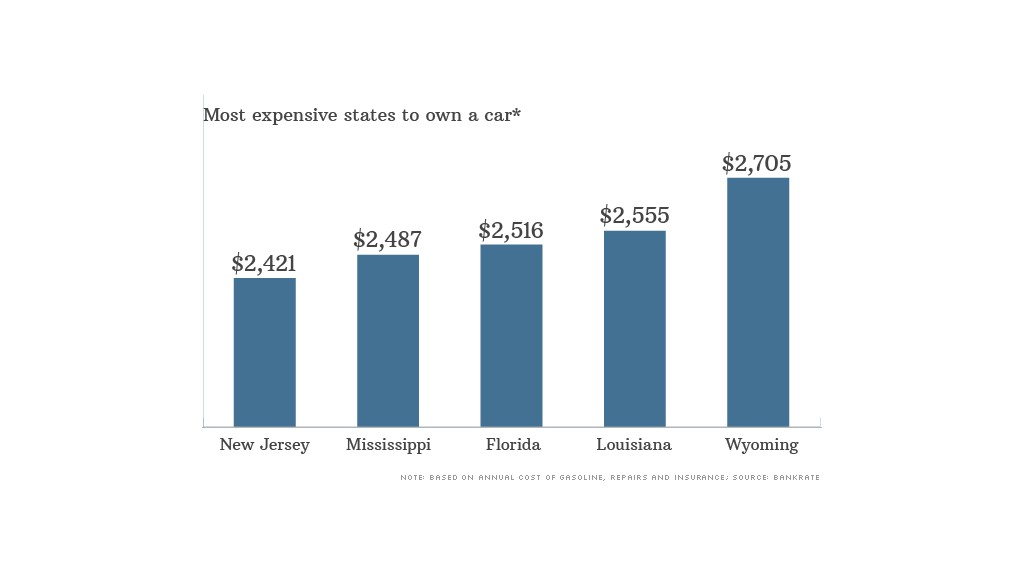 Why does it cost so much to own a car in Wyoming? Because residents there love the open road.
Wyoming is the most expensive state for car owners, according to a new survey from Bankrate.com, which ranked states based on the price of gas, insurance, and repairs.
The national average is $2,223 per year, but car owners in Wyoming spend an average of $2,705 a year. The reason? The average Wyoming driver logs more miles than residents of any other state -- enough to make five trips across the U.S. in one year.
People in the sparsely populated state have to drive further to get to work or to the store, said Bankrate analyst Stacy Jones. As a result, they spend a lot more on gas - an average of $1,588 annually for fuel alone. The cost of insurance and repairs and Wyoming is actually relatively low.
Related: Hot wheels and good deals
Florida and New Jersey make the top five primarily due to the high cost of insurance and repairs in those states. Owners in New Jersey pay an average of $393 a year for repairs, the most in the country.
Despite its high cost of living, New York ranks towards the middle of the list, mainly because car owners drive much less frequently. New Yorkers drive an average of just just 6,800 miles a year, compared to an average of 17,000 miles for Wyoming owners.
The cheapest place to own a car? The Midwest. Owners in Iowa, Ohio and Illinois spend less than $2,000 a year on their cars.