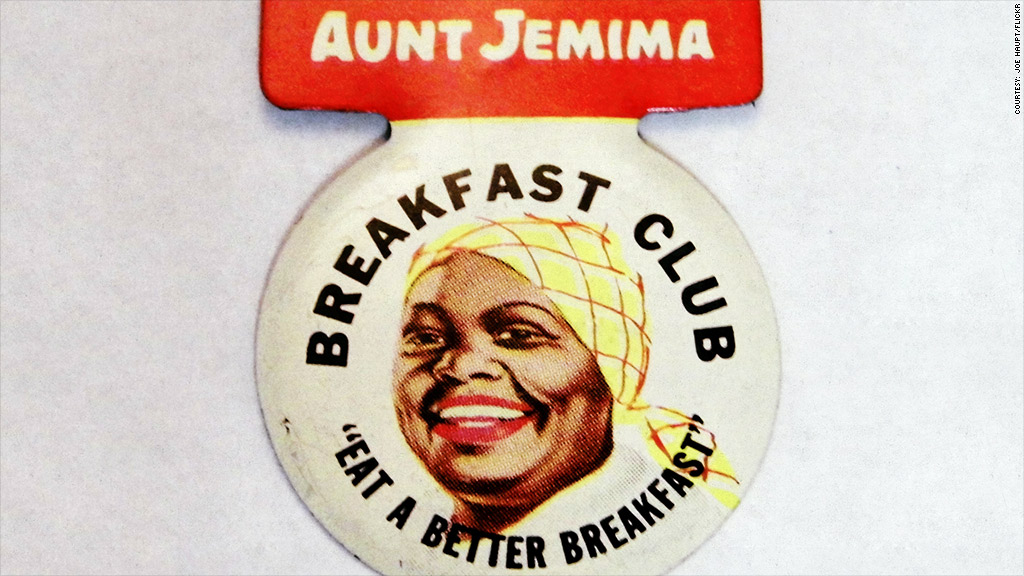 The great-grandsons of the woman who was the face of "Aunt Jemima" are suing for $2 billion.
The two men are going after Quaker Oats, its parent company PepsiCo (PEP) and Pinnacle Foods.
Quaker Oats is the maker of Aunt Jemima pancake mixes and syrup. Pinnacle Foods (PF) currently makes Aunt Jemima frozen pancakes, waffles and French toast.
In their suit, D.W. Hunter and Larnell Evans say Quaker Oats representatives discovered their great-grandmother, Anna S. Harrington, making pancakes at the New York State Fair in 1935.
Harrington portrayed the character in commercials and other public appearances for 15 years.
The suit says Quaker Oats used Harrington's pancake recipes and trademarked her likeness as the character "Aunt Jemima" in 1937.
The great-grandsons say Quaker Oats exploited Harrington with the intent of not paying royalties toward her estate after her death in 1955. They claim the companies conspired not to acknowledge Harrington's status as an employee of Quaker Oats by saying they could not find any employment records or images of her. But they say, Quaker Oats had her image deposited with the United States Patent and Trademark Office.
Harrington's family, according to the complaint, filed the suit after it was able to obtain a death certificate that listed Quaker Oats as Harrington's employer.
The filing also alleges Quaker Oats committed industrial espionage by deceiving Harrington and wrongfully taking her pancake recipes.
The descendants also allege that the companies practiced racial discrimination toward Harrington and her family "reflecting an innate form of disrespect towards African American people in general."
A call to PepsiCo was not returned.
Pinnacle Foods said in an e-mail, "Our policy is not to comment on threatened or pending litigation."
A call to Dean Panos, of the law firm Jenner & Block, was not returned. Panos is named in the suit as the senior legal counsel for PepsiCo, Quaker Oats and Pinnacle Foods in the case.
Efforts to reach the great-grandsons filing the class action suit were not immediately successful. The class action suit, on behalf of several of Harrington's descendants, was filed in federal court in Chicago.