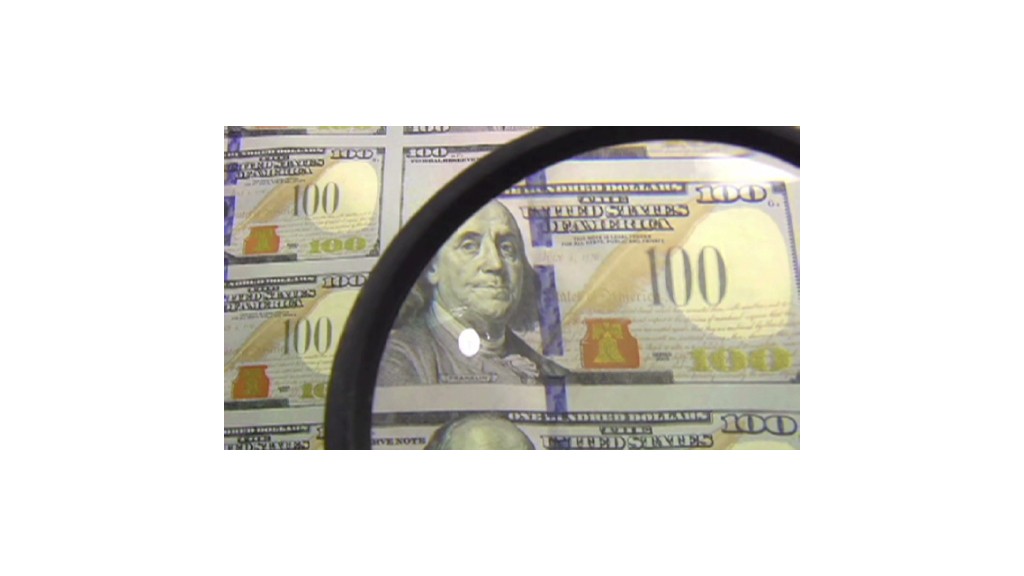 Is the $100 bill more trouble than it's worth?
Influential Harvard professor Ken Rogoff thinks so.
Rogoff ought to know. He was also once the chief economist at the international Monetary Fund.
Nearly 80% of the $1.3 trillion currency in circulation is in the form of $100 bills, Rogoff wrote in a paper earlier this year. The sheer number is far more than anything that can be traced to legal use in the U.S. economy. In other words, the U.S. "Benjamin" is a favorite of criminals.
Law enforcement agents agree. Criminals tend to prefer $100 bills because its easier to carry more money in less space, said Stuart Tryon, deputy special agent in charge of the criminal investigative division of the U.S. Secret Service.
"Internationally, the $100 is the most commonly counterfeited note there is," said Tryon.
Earlier this week, the Secret Service broke up a ring believed responsible for bringing in $77 million in sophisticated counterfeit $100 bills into the U.S. from Israel over the past 15 years.
Related: Flawed new $100 bill, $110 billion Fed headache
The counterfeiters had even started producing high quality bills at a new plant in New Jersey.
Criminals would pay about 40% of the face value of the bills for a "10 stack," or $10,000 worth of the bills, and then use the notes at local CVS (CVS) drugstores, car washes or Lowe's (LOW) home improvement stores. Most of the bills were circulated along the Interstate-95 corridor in the East.
The $100 bill also caused the U.S. government headaches because of a rash of printing problems that occurred when a brand new version was introduced a few years back. At the time, $110 billion in new $100 bills had to be isolated and kept out of circulation because of small blank spaces on the notes.
In an effort to make the bills hard to counterfeit, the new bill included new technological improvements, like 3-D security ribbons. However, tricky criminals are always cracking these codes and figuring out ways to thwart even the best efforts of Uncle Sam.