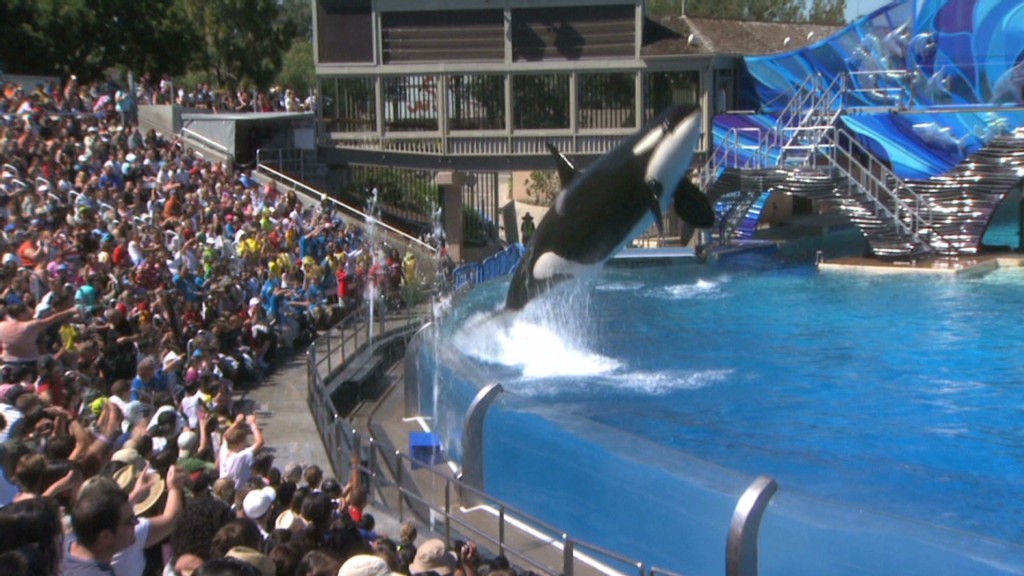 SeaWorld is giving its killer whales a little more space.
The amusement park company said it will double the size of the animals' habitats at its three parks. The first of the new killer whale exhibits will open to the public in San Diego in 2018.
New habitats will roll out at its other two locations in Orlando, Fla., and San Antonio will follow at some point after that.
The move comes amid a backlash following the release of Blackfish, a documentary aired by CNN that examined SeaWorld's treatment of the animals in a heavily critical light and questioned whether they should be held in captivity at all.
Related: SeaWorld responds to CNN's questions about its orca treatment
In a news release, SeaWorld said that the new enclosures, dubbed the "Blue World Project," will add 5 million gallons to the killer whale tank create a maximum depth of 50 feet and simulate underwater currents as well.
The new exhibit will also feature a simulated shoreline.
The company also said it will donate $10 million to study the welfare of killer whales in the wild and start a yet-to-be-disclosed "multi-million partnership focused on protecting the ocean."
Related: Sea World stock gets soaked, plunges 33%
Animal rights group People for the Ethical Treatment of Animals was not satisfied by SeaWorld's announcement, pushing instead for the whales' release to sanctuaries.
"A bigger prison is still a prison," the group said in a statement.
Attendance at SeaWorld parks has declined since Blackfish premiered last year, and Southwest Airlines (LUV) dissolved its 26-year long partnership with the company.
SeaWorld Entertainment (SEAS) said it expects sales to fall by as much as 7% for the year. Its shares fell by a third after the company reported its quarterly earnings Wednesday, and they're flat today.