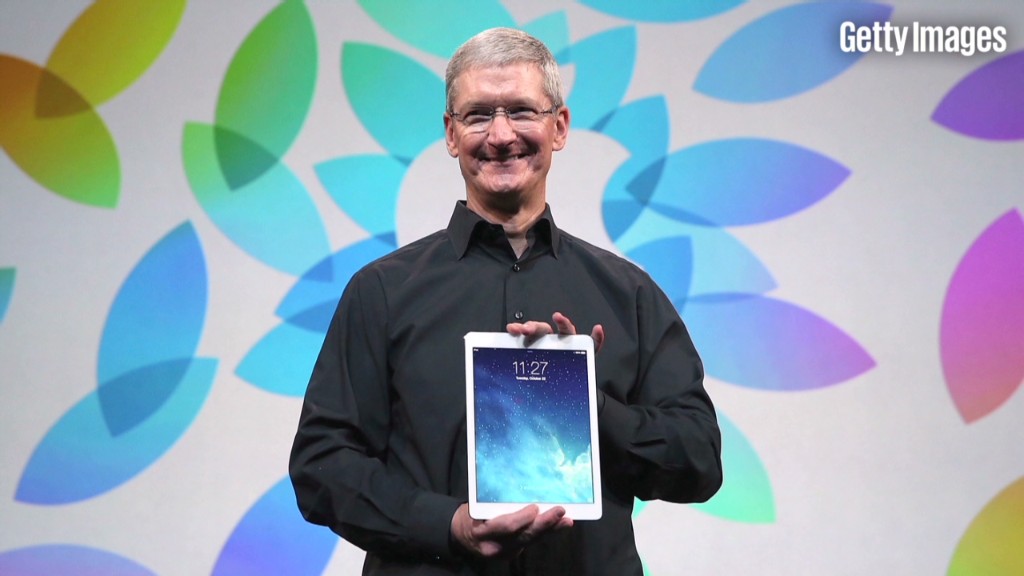 Apple's mojo isn't just back, it's on fire.
The tech behemoth's stock hit the highest price in the company's history -- $101.09 -- on Wednesday.
Investors are salivating over demand for the next iPhone and cheering Apple's (AAPL) newfound willingness to spend its cash horde.
Those who follow Apple closely might be wondering how this can be the all-time high price. After all, Apple stock traded over $700 a share in September 2012.
The catch is Apple executed a stock split in June where investors received seven new shares for each share they used to own. Stock splits are a somewhat common move for large companies. It didn't change the value of Apple, but it does make it easier for people to buy the stock at the lower price tag.
Uncharted territory: Taking the stock split into account, Apple closed at a record highs on Tuesday and then did it again on Wednesday. The prior closing high of $100.30 was set on September 19, 2012.
Apple also set a new record for the highest price ever paid for its stock on Wednesday. It traded as high as $101.09, knocking down the prior all-time high of $100.72 from September 21, 2012.
Investors who have stuck with Apple in recent months have been rewarded. Apple's shares have nearly doubled since tumbling as low as $55 in April 2013, crushing rivals like Google (GOOGL).
"It probably should have never gone as low as it did in the first place. Investors started worrying Apple had lost all momentum," said Rob Cihra, an analyst at Evercore Partners who covers Apple.
It's all about the iPhone: Apple is the world's largest company by market cap, and its latest quarterly report from July offers a lot to be happy about.
IPhone sales jumped 13% from the year before to 35.2 million, driven by strong growth in emerging markets like China, Brazil and India.
Investors soured on Apple and CEO Time Cook for awhile, partly due to concerns about the company's ability to innovate without visionary founder Steve Jobs.
Related: Tim Cook is not Steve Jobs. So what though?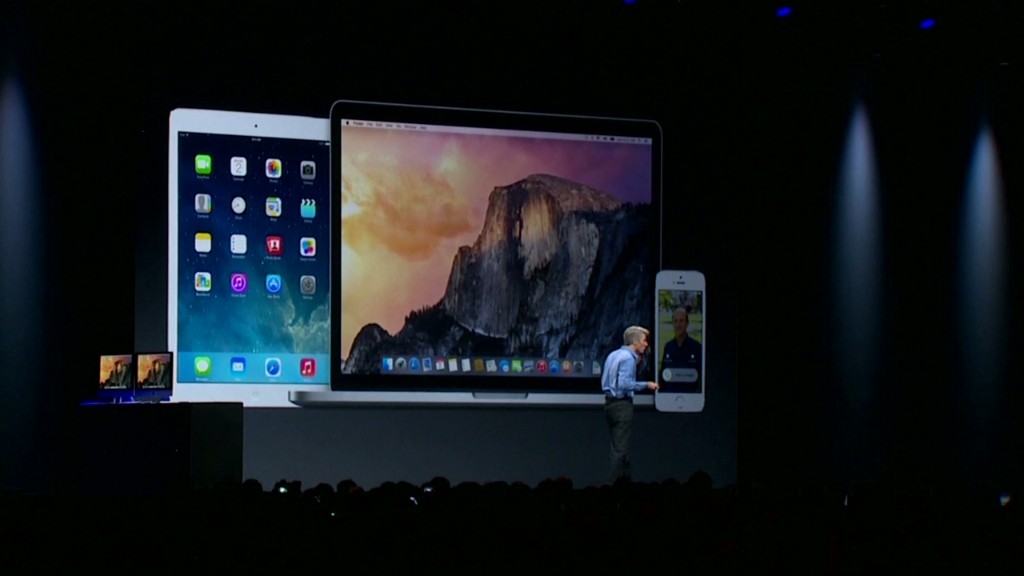 The need to churn out new products is highlighted by Apple's iPad sales, which shrank in recent quarters.
'Mother load' of upgrades: But the new iPhone 6, which is expected to hit the shelves later this year and feature a larger screen, has the potential to be another game changer.
ISI Group estimates there are a whopping 200 million iPhone users worldwide who want to upgrade to the new model.
"We call it the mother load of all Apple upgrade cycles," said ISI Group analyst Brian Marshall. "There's so much wood behind the arrow that we think it will be a multi-quarter upgrade cycle."
Related: Apple welcomes back top Bitcoin wallet app
At the same time, there are rumblings that Apple will enter the smartwatch game with an "iWatch." But there's little reason to believe the iWatch will be a mega blockbuster like the iPhone or iPad.
"Unless they are able to tie it in from a health-care perspective in a very unique fashion, this is going to be a niche product. I don't think it's going to move the needle very much," said Marshall.
Shareholder friendly: Apple has also pleased investors (especially hedge fund billionaire Carl Icahn) by finally opening up its treasure chest of cash to do stock buybacks and give shareholders dividends.
Related: Apple buffs up radio service with string of acquisitions
"They continue to buy back a ton of stock, have a nice dividend yield and the company's valuation is not rich," said Marshall.
Apple has even shown a willingness to spend on acquisitions. In May, Apple inked a $3 billion deal to buy streaming music service Beats and recently announced a string of smaller deals.
Those who took a bite of Apple stock must be feeling good.