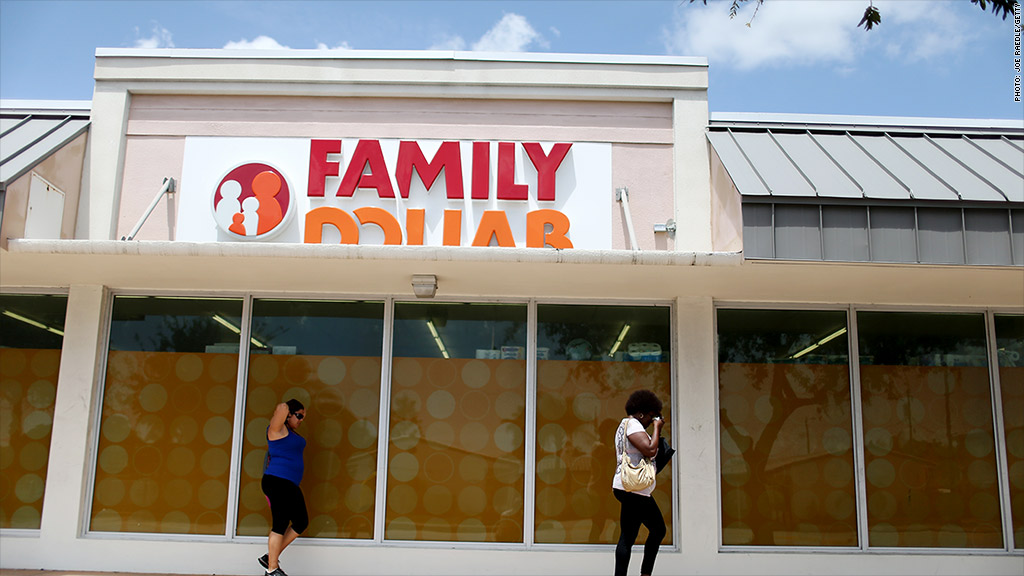 Family Dollar has rejected a nearly $10 billion buyout bid from Dollar General, saying it's sticking with an agreement to merge with Dollar Tree for less money.
Family Dollar (FDO) said in a statement that its board rejected the Dollar General bid "on the basis of antitrust regulatory considerations."
The Dollar General (DG) bid, at $78.50 per Family Dollar share, topped the offer from Dollar Tree (DLTR) of $74.50 per share, or about $8.5 billion.
Also, Dollar General offered all cash, as opposed to Dollar Tree's offer combo of cash and stock.
Related: Dollar General outbids Dollar Tree for Family Dollar
Family Dollar CEO Howard Levine said that the board's decision was unanimous and reaffirmed support for its pending merger with Dollar Tree.
But Dollar General CEO Rick Dreiling said the bid was still on the table and antitrust issues wouldn't be a problem.
"We have done extensive antitrust analysis ... the results of which confirm that the transaction [can be] completed," said Dreiling, in a prepared statement. "We remain willing to share this analysis with Family Dollar."
All three of the chains specialize in low-cost consumers goods.
Dollar General calls itself the largest discount retailer in the U.S., with more than 11,000 stores in 40 states.