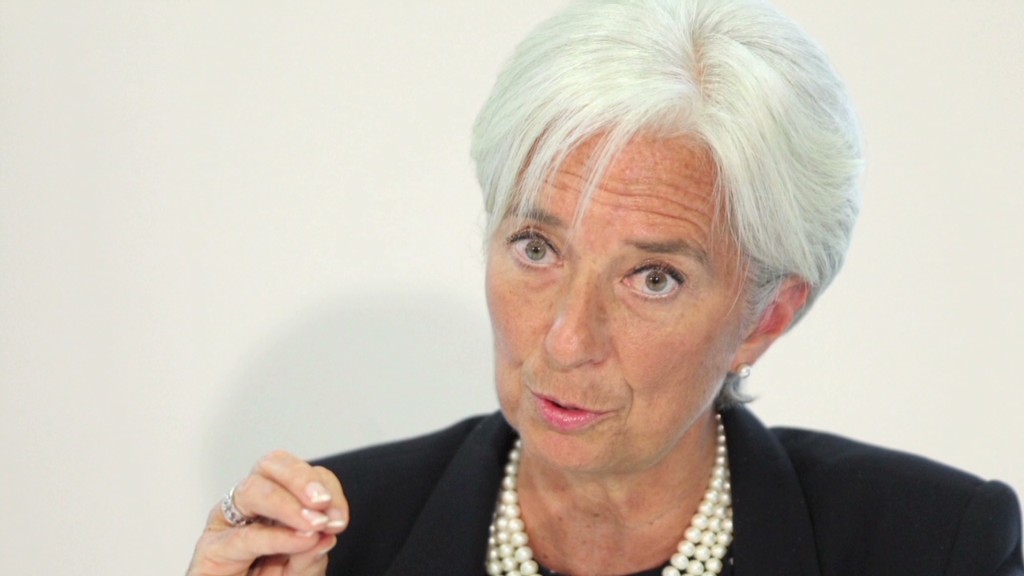 Christine Lagarde, the head of the International Monetary Fund, has been placed under formal investigation in France for her alleged involvement in a long-running fraud case.
Under French law, a formal investigation means prosecutors believe they have serious evidence implicating a suspect in a crime. It does not necessarily lead to charges or a trial.
The case stems from 2008 when Lagarde was finance minister under former French President Nicolas Sarkozy.
Prosecutors believe that Lagarde was negligent in dealing with a case in which a supporter of Sarkozy -- Bernard Tapie -- was awarded a settlement worth 285 million euros plus interest.
Tapie had sued the French state in 1993 after selling a stake in Adidas (ADDYY)to Credit Lyonnais, which was owned by the government. Tapie claimed Credit Lyonnais defrauded him when it resold the stake at a far higher price. The bank has denied wrongdoing.
Lagarde has not been accused of profiting personally from the Tapie case. The issue is whether she gave Tapie preferential treatment, by actions such as overruling other officials and referring the case to arbitration.
Lagarde said she would appeal the decision to be placed under formal investigation, saying the move was "without merit."
The IMF said Wednesday that Lagarde will continue in her role at the organization but had no further comment.
Related: Ex-FBI agent airs Wall Street's dirty laundry
Lagarde's former chief of staff, Stephane Richard, who is now head of the massive telecom group Orange (ORAN), had also been placed under formal investigation.
As part of the investigation, Lagarde's home was searched last year and she was questioned in court.
"The sole surviving allegation is that through inadvertence or inattention I may have failed to intervene to block the arbitration that brought to an end the longstanding Tapie litigation," she said.
Lagarde was appointed IMF managing director in June 2011, succeeding Dominique Strauss-Kahn, who resigned after a New York hotel maid accused him of assaulting her in his suite. U.S. prosecutors dropped the case against him a few months later.
--CNN's Carol Jordan, Jo Shelley and Marion Lory contributed to this report.