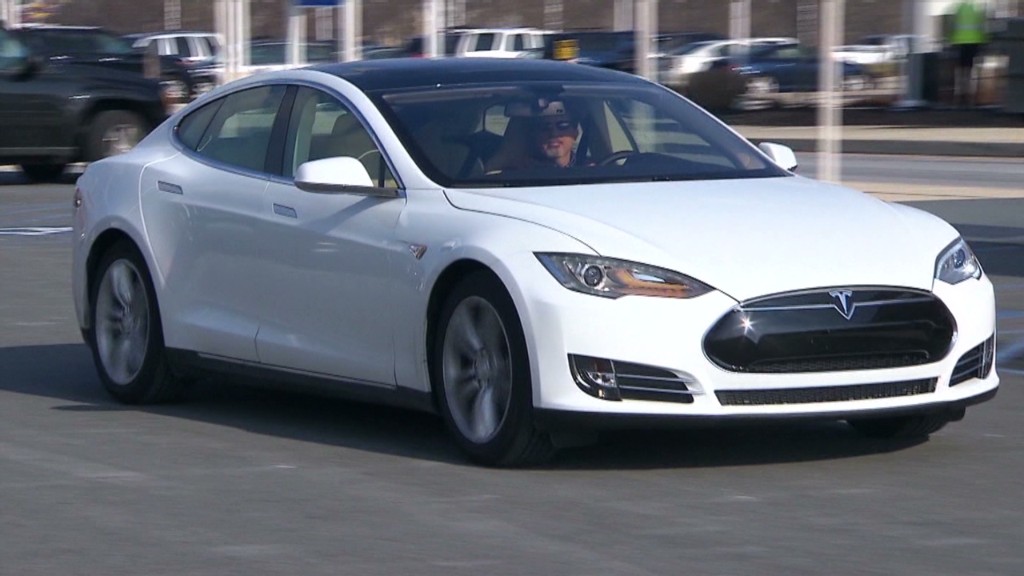 Tesla shares hit an all-time high Friday after the electric carmaker announced plans to build 400 charging points in China.
The company, which started selling its Model S in China earlier this year, said in an e-mailed statement to CNNMoney that it will build the stations at China Unicom retail outlets in 120 cities. It will also build 20 superchargers at China Unicom locations as well. Superchargers, as the name implies, allow for even quicker charges and tend to be near major highways.
China Unicom is one of the largest telecom companies in China. Tesla already has a relationship with China Unicom -- it provides the 3G in-car technology for Model S vehicles in China.
The move is significant because it adds a lot of new chargers to its network. Tesla said that it already has more than 200 charging points in China.
Tesla said that its customers in China will be able to use the new charging points free of charge.
Shares of Tesla (TSLA) rose more than 2.5% Friday. China Unicom (CHU) rose more than 3%.
Related: Will Tesla's bet on China pay off?
Tesla's stock is now up nearly 80% this year. That follows a more than 330% pop for the stock in 2013.
CEO Elon Musk has said he believes his company will be able to sell 500,000 cars a year by 2020. But, in order to do that, it must be successful in emerging markets in China.
The company has yet not disclosed vehicle sales for China. It merely said when it reported second-quarter results in July that the "Model S is off to a very encouraging start in China."
In addition, Tesla settled a long-standing trademark battle with a Chinese businessman earlier this month.
It also will need to be able to produce more cheaper vehicles whose batteries can last longer between charges.
Related: Don't bet against Elon Musk -- the real Iron Man
The company is planning to build a gigafactory that will enable it to make more lithium-ion batteries for a more affordable Tesla vehicle that's been dubbed the Model III. There are hopes that this car will cost under $40,000. The Model S costs nearly $70,000 and Tesla's upcoming crossover, the Model X, is expected to sell at a price closer to the Model S.
Trip Chowdhry, an analyst with Global Equities Research, wrote in a report Friday that he said it would not surprise him if China Unicom now decides to invest in the gigafactory. Panasonic (PCRFF) has already partnered with Tesla.
He added that the China Unicom deal is a huge win for Tesla. He currently has a price target for Tesla of $385 a share -- which is more than 40% higher than its current price.
And Chowdhry now thinks that his stock price target is conservative.