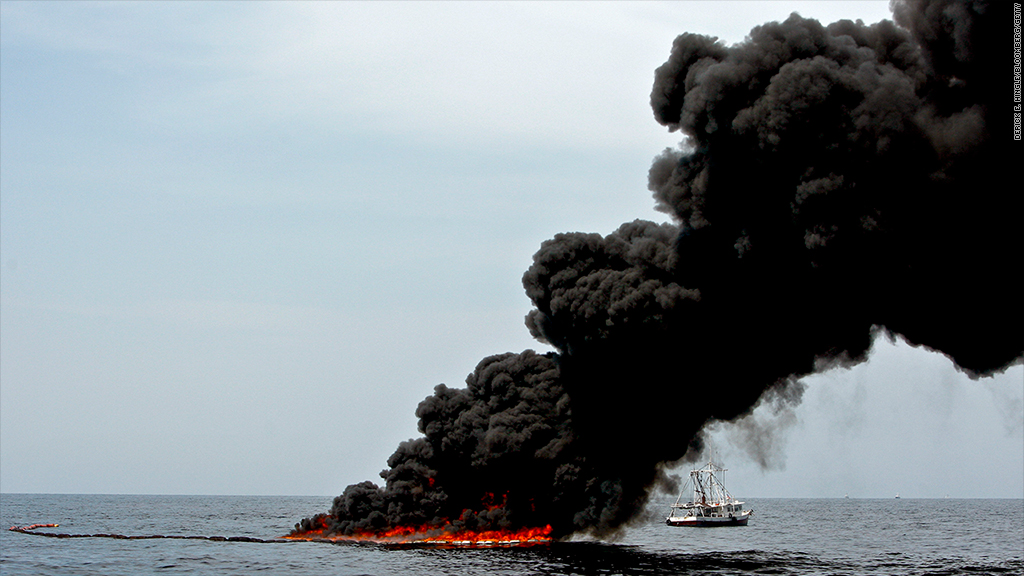 Halliburton will pay $1.1 billion to settle lawsuits stemming from the worst oil spill in U.S. history.
The settlement, which is subject to approval by federal authorities in Louisiana, resolves most of the legal claims that Halliburton is facing over its role in the 2010 oil spill in the Gulf of Mexico, the company said in a statement Tuesday.
Halliburton (HAL), which poured the cement on the well that was at the center of the spill, is one of three companies that have been blamed for the spill.
BP (BP), the London-based oil company that owned the Macando well, has paid billions to businesses and individuals that were harmed by the spill. Transocean (RIG), which operated the oil rig that was pumping oil out of the well, has also paid a substantial amount.
The Deepwater Horizon oil rig exploded on April 20, 2010, killing 11 people and unleashing millions of gallons of oil into the Gulf. The well was capped three months after the explosion, but in that time, the spill caused extensive environmental damage.
The settlement resolves claims by BP that Halliburton was to blame for the spill and will protect Halliburton from any liabilities stemming from a 2012 settlement between BP and the U.S. Justice Department. It also covers a class action by commercial fishermen.
in 2012, BP agreed to pay $4.5 billion in government penalties and has set up a $20 billion trust fund to provide compensation for those harmed by the spill.
Halliburton said it will pay the $1.1 billion into a trust fund in three installments over the next two years. It will be held there pending appeals, including one to reverse the 2012 BP settlement.
The company said it has $1.3 billion in reserve to pay for legal costs.
Shares of Halliburton were under pressure Tuesday, but have rallied sharply since the spill. The stock has nearly tripled in price over the past five years.
Halliburton, which provides a range of products and services to the energy industry, said last month that operating income surged 41% in the second quarter from a year earlier.