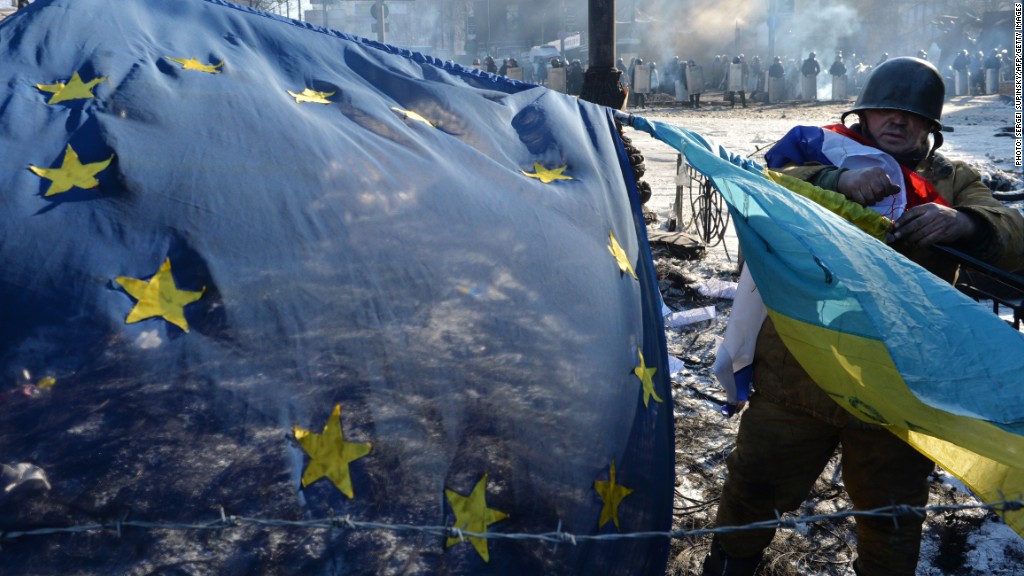 It's not "Credit Crisis 2" but Europe is in rough economic waters again.
Even anemic growth has evaporated and the eurozone risks slipping back into recession. The euro has fallen 5% against the dollar over the past three months.
Now investors are betting that the European Central Bank, which meets on Thursday, may finally embark on a policy of printing money akin to the Federal Reserve's bond-buying program.
Here are three reasons you should be worried:
1. Russia: Markets got a lift Wednesday from news that Moscow and Kiev had agreed on steps needed to establish a ceasefire in eastern Ukraine. But that's a far cry from ending the fighting.
Signs of diplomatic progress may give the West reason to pause before pulling the trigger on another round of economic sanctions -- Europe says it will have identified new targets by the end of the week.
But there's a significant risk that the accord between Russian President Vladimir Putin and his Ukrainian counterpart will unravel as quickly as previous deals.
That would mean more pain for Russia's economy and Western businesses operating there, and further dent business and consumer confidence in Europe.
And it's unlikely that existing sanctions will be lifted anytime soon. After all, Putin is not about to hand back Crimea.
"Western trust in Putin-run Russia has been shattered for good," wrote Holger Schmieding at Berenberg. "Even without new sanctions, a mild version of the cold war will likely ensue for a long time."
2. Deflation: Consumer prices are falling, or barely rising, in eight of 18 eurozone member states, and that tally may have increased in August. Regional inflation fell to just 0.3% last month, its lowest level since October 2009.
And prices for goods leaving Europe's factories have fallen all year -- except for June.
Very low inflation can be as damaging to an economy as excessive price increases, particularly against the backdrop of high eurozone unemployment.
Why? Because if households and businesses expect inflation to stay depressed for a long period, they may postpone spending and investment, triggering a downward spiral.
It also makes it harder for countries to pay off debts, and forces weak European economies to cut wages to compete with stronger countries like Germany.
Many economists say the ECB won't announce quantitative easing on Thursday, but even when it comes the boost to the economy may be very limited.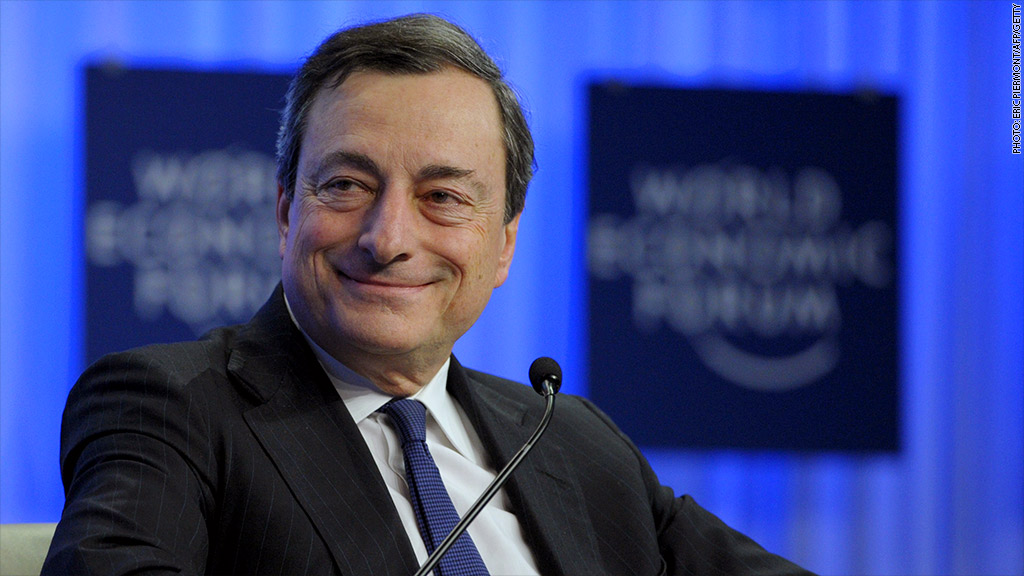 3. Stagnation: Germany, whose economy has slipped into reverse, can reasonably blame Russia. But the eurozone's second and third largest economies -- France and Italy -- are suffering the consequences of years of wasted opportunities to become more competitive.
Italy is now back in its third recession in five years, and France hasn't managed to grow since 2011. Both are now trying to step up the pace of change.
France's new economy minister last week took aim at one sacred cow -- the country's 35-hour work week. But any attempt at change is likely to face stiff opposition from unions and members of his Socialist government.
Italian Prime Minister Matteo Renzi is modernizing his country's justice system to encourage more investment, but the benefits are likely years away.
France, Italy and others may push next month for a relaxation of European austerity rules, in exchange for a commitment to make their economies more flexible.