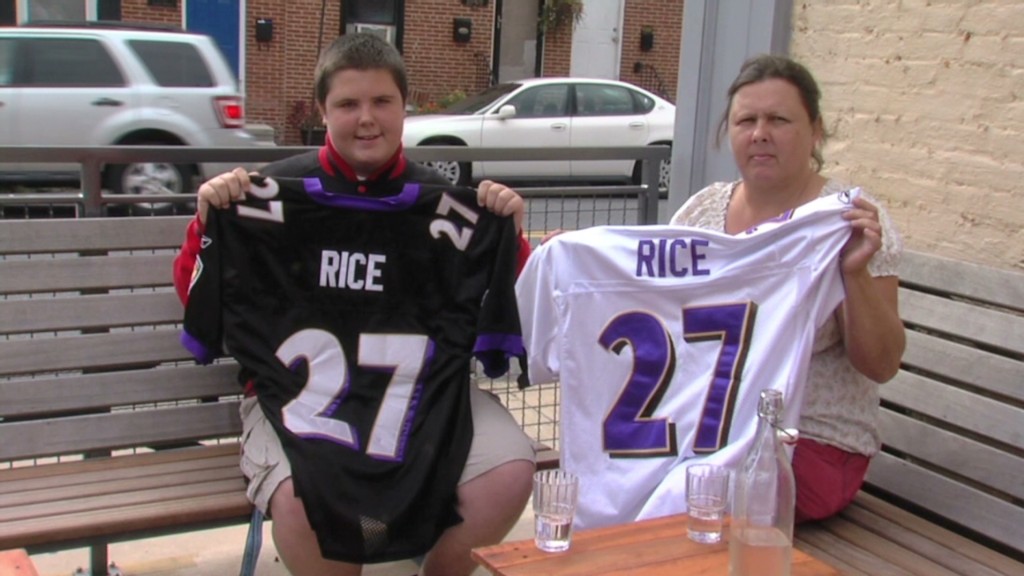 The fallout from Ray Rice's suspension from the NFL has even cut short his video game career.
EA (EA), which makes the Madden NFL video game series, said Rice will be removed from the game's roster as of Friday.
Rice was suspended indefinitely from the NFL and cut from the Baltimore Ravens' line-up on Monday after a video surfaced of him attacking his now-wife in an elevator.
The response from Rice's sponsors was swift.
Nike (NKE) has terminated its contract with Rice, and his jerseys have been removed from Nike.com.
The Baltimore Ravens management said Tuesday that fans can exchange their Ray Rice jerseys at stadium stores.
Meanwhile, Rice's Ravens game jerseys have been pulled from the shelves of sporting goods stores and stripped from online retailers.
The number 27 Ravens jersey is no longer available on NFLSHOP.com, the league's official online store.
Related: Ray Rice likely to keep $25 million
Modell's, a retailer with 150 locations in the Northeast, said it has removed all Ray Rice merchandise from its stores. Dick's Sporting Goods (DKS), another major sports retailer, did not immediately respond to requests for comment.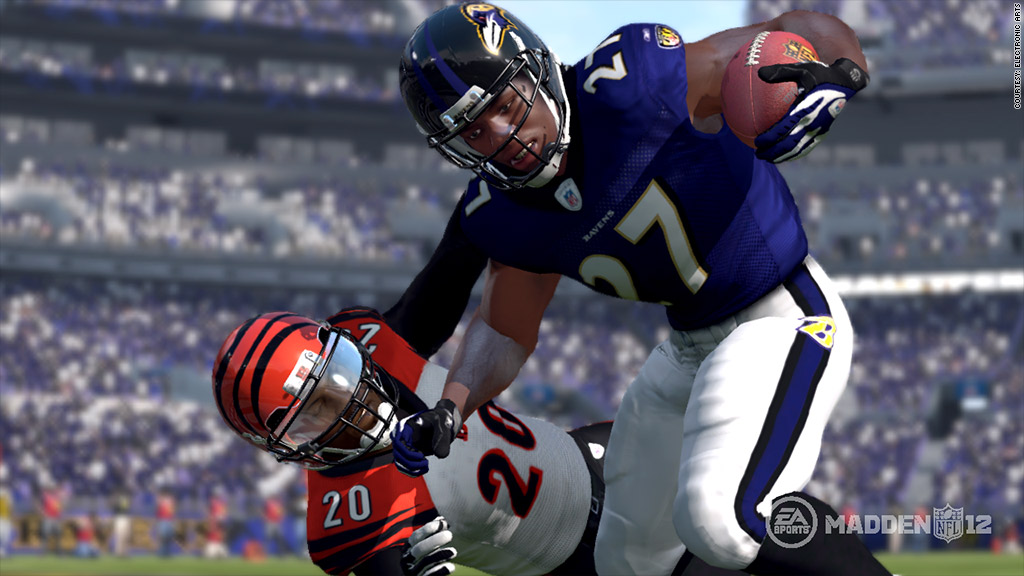 The backlash has been particularly acute in Baltimore, where local businesses have been offering fans alternative ways to dispose of jerseys with Rice's name and number.
A local pizza parlor, Hersh's Pizza in South Baltimore, is offering free pizza in exchange for Rice jerseys.
Hersh's announced the offer on Facebook Monday in a post that has since received more than 1,000 likes.
Related: How Atlanta's NBA team loses to L.A.
Stephanie Hershkovitz, one of Hersh's owners, said the idea was to get Rice jerseys off the street. "It's kind of like a gun buy-back program," she told CNN affiliate WBAL.
Hersh's had received 50 jerseys as of last night, and will accept them all week.
One disillusioned Ravens fan said she and her son had planned to burn their Rice jerseys, but changed their minds when they learned about the free pizza offer.
"We've had these jerseys for four or five years, and it doesn't mean anything to have to give them up," the fan said. "I'm done with Ray Rice."
Another local establishment, the No Idea Tavern, said on Twitter that anyone who "surrenders" their Ray Rice jersey will receive a $10 bar tab. "No. Questions. Asked," the tweet specifies.
Smyth Jewelers, which has three locations in Maryland, is offering store credit to customers who purchased Ray Rice merchandise. The store sells charms, earrings and cufflinks emblazoned with the Ravens logo.