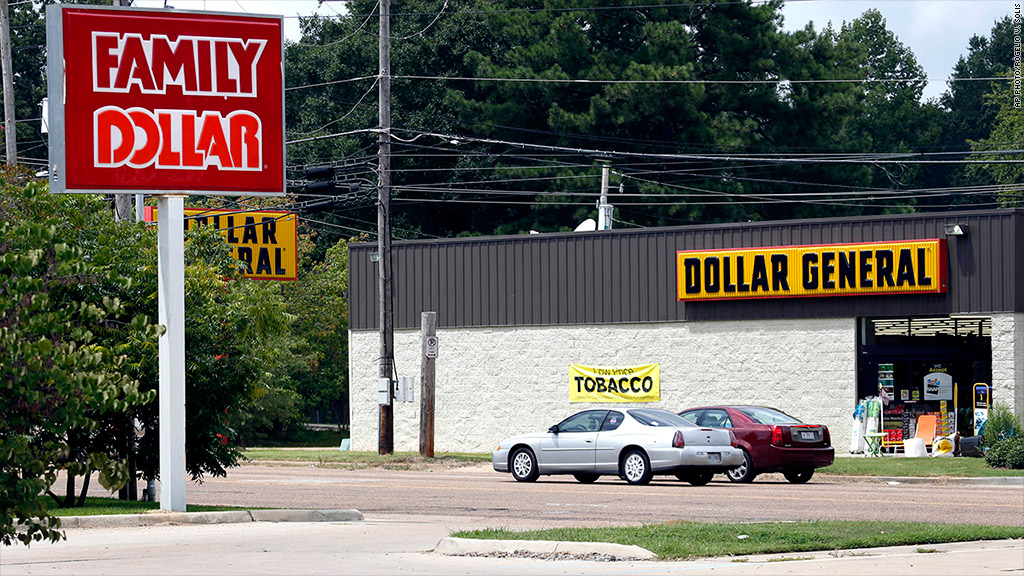 The dollar store battle is getting nastier.
Dollar General says it is taking its $9.1 billion offer for rival Family Dollar directly to the company's shareholders, making it a hostile bid for the company.
Family Dollar, which has agreed to be purchased by smaller rival Dollar Tree for $8.5 billion, has twice rejected bids from Dollar General. It said it believes antitrust regulators would block the purchase by Dollar General. Dollar General has almost as many stores as Family Dollar and Dollar Tree combined.
The Dollar Tree offer would also allow the Family Dollar chain to continue to operate separately from Dollar Tree with its own name. Dollar General has made no similar assurance.
Dollar General says it believes its offer would not run afoul of antitrust regulations. It says that the dominance of Wal-Mart Stores (WMT) in the low-priced retail sector would prevent a combined Dollar General and Family Dollars from raising prices, hurting consumers.
Despite the "dollar" in both their names, many of the items in both stores sell for more than a dollar. Dollar Tree sells everything for $1 or less.
Related: Best thing I ever bought for a dollar
Dollar General also said it is willing to pay all cash for Family Dollar shares rather than the combination of cash and stock being offered by Dollar Tree and is offering a $500 million breakup fee if the bid is not successful.
It also said it is willing to shed as many as 1,500 stores to satisfy antitrust regulators, although it said it believes it will only need to shed about half that many to satisfy their concerns.
The hostile bid starts the antitrust review process. It poses risks for Dollar General because it has yet to see the confidential financial information from Family Dollar.
But it could put great pressure on Family Dollar management from its shareholders. Family Dollar CEO Howard Levine holds only about 4% of the company's shares, according to share tracker LionShares.
Family Dollar said its board will consider the offer, and advised shareholders not to take any action on the offer until it makes a recommendation.
Shares of Family Dollar (FDO), Dollar General (DG) and Dollar Tree (DLTR) were all little changed in early trading Wednesday.