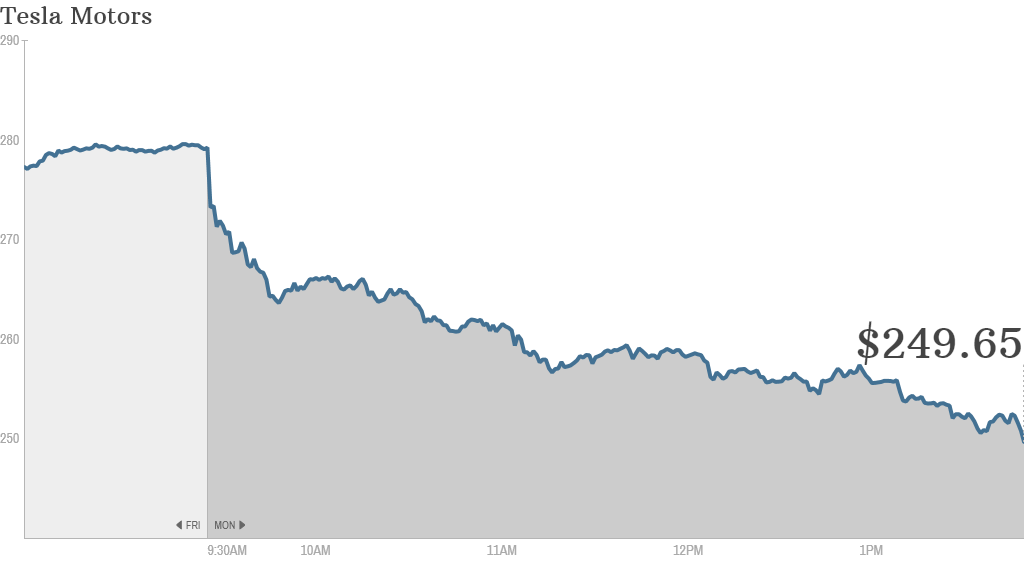 The idea that Tesla Motors shares won't go up forever is apparently news to some investors.
The stock closed sharply lower Monday, down 9%, after a Morgan Stanley analyst wrote a note saying Tesla (TSLA)'s steady rise over the past two years won't go on forever.
The analyst, Adam Jonas, is a big fan of Tesla, and predicts shares will rise about 25% from the current price. He has a price target of $320 on the stock.
But he says there are several factors that could drag on the stock, including slow growth in China and the belief that the new Nevada "Gigafactory" announced last week will not cut battery costs as much as expected.
Tesla shares are up 67% so far this year, even with Monday's sell-off.
Related: Consumer Reports puts some dings in Tesla's reputation
The stock fell despite a favorable court ruling for Tesla in Massachusetts. The state's highest court ruled that state law doesn't block Tesla from selling its cars directly to consumers.
The state's dealers argued that independently owned dealerships provide a level of protection for car buyers. But Tesla said it needs to sell directly to consumers because dealers who sell mostly gas-powered cars can't explain the advantages of electric cars to potential buyers.
Tesla's only store in Massachusetts is in the Natick Mall in suburban Boston. It is planning a second store in Dedham, another Boston suburb.
The court decision in Massachusetts is part of an ongoing battle between Tesla and state car dealers associations. Most states have laws that limit the ability of automakers to own the stores or dealerships that sell their cars.
Tesla vice president of business development Diarmuid O'Connell said that the Massachusetts decision could help the company sell cars directly in other states, however dealership laws are different in every state.
"There are some basic principals that are common across the board," he said.
The Massachusetts Dealership Association did not respond to a request for comment.