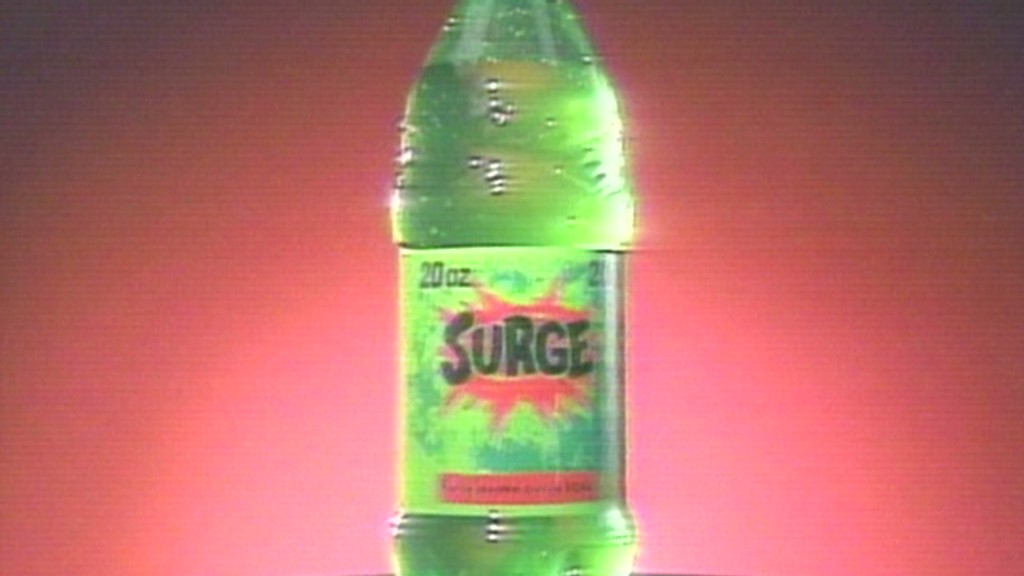 Calling all '90s kids: Surge is back.
Coca-Cola unveiled the citrus-flavored soda in 1996 as an answer to Pepsi's Mountain Dew. But Surge couldn't compete and was taken off shelves in 2001, to the dismay of what had become a cult-like following.
Thousands of passionate fans have been fighting for its return for years, and today they tasted victory.
Coca-Cola put a limited supply of Surge up for sale on Amazon Monday.
This is just a test, said Coca Cola spokeswoman Sheree Robinson.
"It has a big fan base, however, we're not sure how that will translate into sales," she said.
Surge's return is largely due to vocal fan groups like The Surge Movement, which has more than 131,660 likes on Facebook. In 2013, the group raised $4,000 to a buy a billboard near Coca-Cola's Atlanta headquarters that read: "Dear Coke, we couldn't by Surge, so we bought this billboard instead."
Related: Coke to drop flame retardant from drinks
The group also organized letter-writing campaigns and "Surge-ing days," with members bombarding the company's hotline with calls demanding the soda's return.
This is the first time Coca-Cola (CCE) is selling a brand online only, and this could be the way it sells other niche brands, said Robinson. But the company does not have immediate plans to bring any other drinks out of retirement.
A 12-pack of 16 oz cans of Surge costs $14 on Amazon (AMZN). It seems like a steep price for some, but for loyal fans it's worth the cost.
"Everyone complaining about the price clearly isn't bent on nostalgia like the rest of us," wrote Morgan Anderson on Facebook.
Orders came fast Monday, and Surge was even temporarily unavailable.
"Just spent $42 on soda... not even mad," posted Zach Lutes.
5 of the biggest-ever credit car hacks