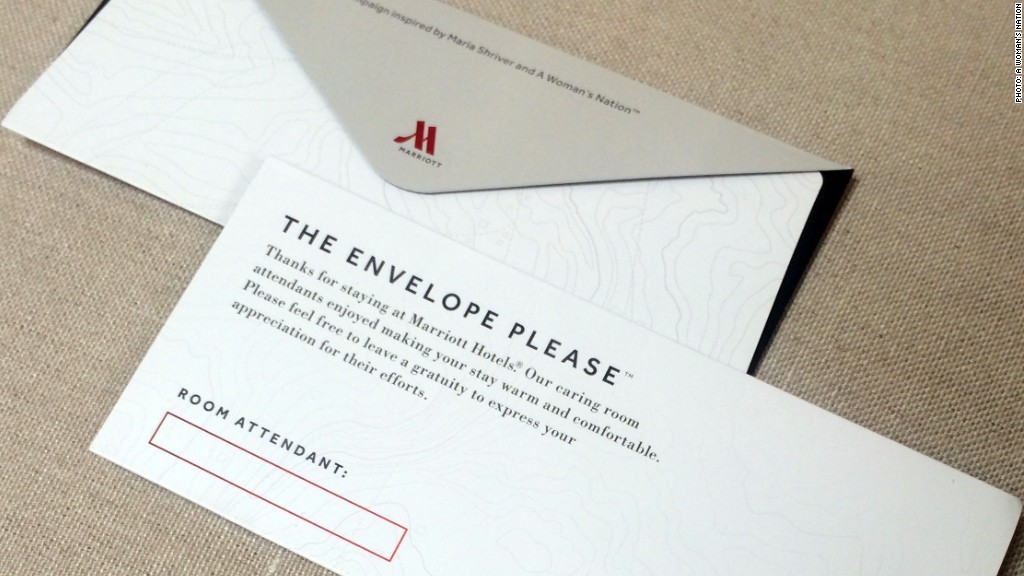 When you're staying at a hotel, tip your housekeeper!
That's the message from Marriott International (MAR). It is placing envelopes in more than 160,000 rooms in the United States and Canada to encourage tipping the people who clean guest rooms.
Marriott is launching the program in conjunction with A Woman's Nation, an organization for the advancement of women in the workplace spearheaded by TV newswoman Maria Shriver.
"Hotel room attendants often go unnoticed, as they silently care for the millions of travelers who are on the road at any given time," said Marriott and A Woman's Nation in a joint statement. "Because hotel guests do not always see or interact with room attendants, their hard work is many times overlooked when it comes to tipping."
The American Hotel & Lodging Association, the hotel industry group, suggests leaving housekeepers a tip of $1 to $5 per day, every day, not just at the end of the stay. This is because different housekeepers might be cleaning the room on different days during the guest's stay. The tip should be placed in an envelope.
A union that represents housekeepers is OK with the program, but..
"We applaud any effort that encourages guests to leave tips for housekeepers, but we also think that Marriott and other hotel companies should pay these women a living wage," said Annemarie Strassel, spokeswoman for Unite Here.
She said that average median pay is $9.21 an hour, so "tips are a pretty huge source of income."
"This is some of the most difficult work that exists in the service industry," Strassel said. "You've got women who are on their feet all day, lifting heavy 100-pound mattresses, cleaning toilets, and they're very underpaid."
Marriott did not immediately return messages from CNNMoney asking how much the company pays its housekeepers.