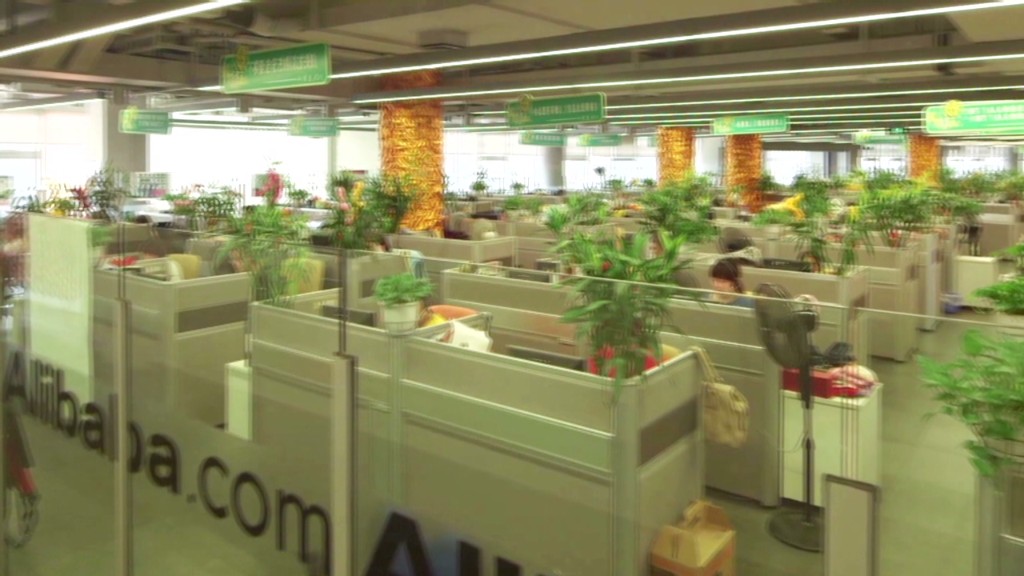 Alibaba is about to complete what could be the largest initial public offering in history. And by all accounts demand for the shares is huge.
But potential investors should know a few things about the Chinese e-commerce juggernaut before buying.
1. Ownership: Alibaba is listing with an unusual corporate structure that will allow its partners to control the board of directors, leaving ordinary shareholders with very little influence.
Hong Kong wouldn't accept the structure, so Alibaba turned to New York, where regulators stopped insisting long ago that shareholders should be in charge.
The move is designed to keep co-founder Jack Ma and his partners firmly in control. That's cool with some investors, but others are rubbed the wrong way.
2. Counterfeits: Alibaba has been on a mission to rid its virtual shopping malls of counterfeit goods in the months leading up to the IPO.
But industry experts and company executives say that fakes still flourish on Alibaba's marketplaces and insist the company must do more to crack down on unscrupulous sellers. Some brands report that up to 80% of their goods listed on Alibaba's Taobao website are fakes.
Related: Meet four kings of Alibaba's online retail empire
3. Affiliate businesses: Alibaba does not own outright or control some major parts of its e-commerce ecosystem.
Alibaba owns only 48% of China Smart Logistics, for example, which handles most of Alibaba's shipping needs.
Of particular concern is Alibaba's relationship with Small and Micro Financial Services Company, the operator of payment processor Alipay.
While Jack Ma has a stake in the firm and a profit-sharing agreement exists, it's really more of a corporate cousin to Alibaba. That could lead to a conflict of interest -- in a dust up, will Ma favor Alibaba or the company that handles 78% of its transactions?
Related: The best Chinese stock NOT named Alibaba
4. Discipline: Alibaba spent heavily in the months leading up to its IPO, investing heavily in a slew of tech and entertainment businesses.
Many of these were justifiable as Alibaba races other Chinese tech companies to capitalize on increased mobile Internet traffic.
Other purchases? Perhaps not. Alibaba paid almost $200 million for 50% of Guangzhou Evergrande Football Club, a curious choice for an e-commerce firm. Investors will want to see more discipline.
5. What's really for sale: When investors buy Alibaba, they are actually purchasing shares in a Cayman Islands entity called Alibaba Group Holding Limited.
But that company -- surprise! -- doesn't actually own Alibaba. Instead, Ma and another co-founder, Simon Xie, own most of Alibaba's biggest businesses according to Chinese law. Ma and Xie are then under contract to turn profits over to the Cayman entity.
Related: Alibaba is not the Amazon of China
The arrangement is called a variable interest entity (VIE), and is necessary to get around China's strict foreign investment rules. But investors should be aware of the structure -- especially since Chinese courts have not clarified the legality of the arrangement.
A recent research report by the U.S.-China Economic and Security Review Commission took a dim view, arguing that "risks could mount for unsuspecting U.S. investors who buy into ... precarious VIE structures."
Alibaba did not respond to requests for comment.