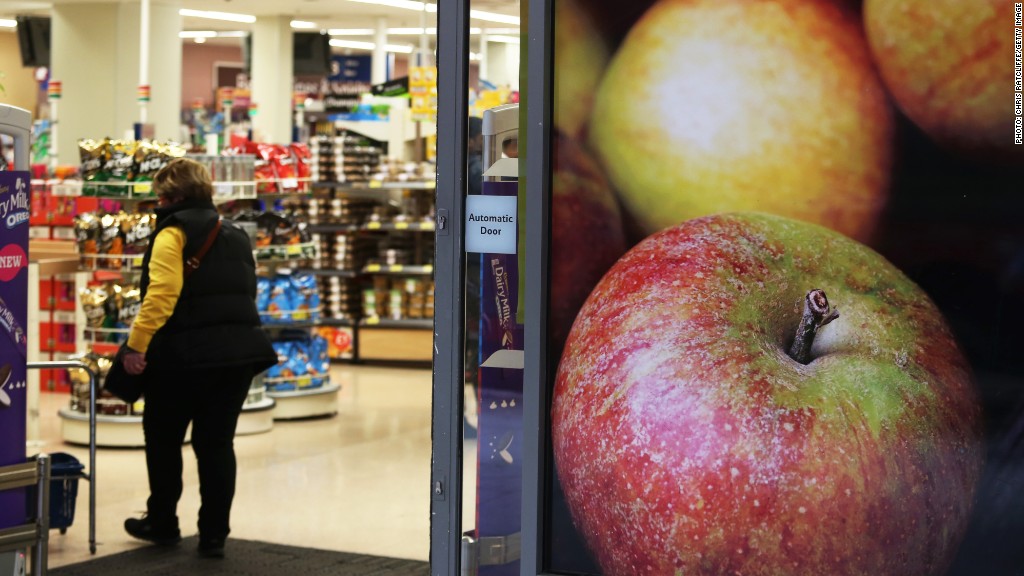 Here's one thing Americans can cross off their worry list: inflation.
While the prices of some things -- notably beef -- are rising, the situation overall is very tame for Americans. It doesn't cost that much more to buy fruits or vegetables than it did a year ago, and filling up at the pump is actually cheaper.
Inflation in August only increased 1.7% from the same time last year, according to the latest government data released Wednesday. That's below the Federal Reserve's 2% annual target. In fact, the August rate was the first decline in inflation since the spring of 2013.
This slight dip isn't huge cause for concern yet. If anything, it's a reminder of how much better off the U.S. economy is right now than many other places in the world.
Related: Big day for the economy. Keep an eye on the Fed's statement at 2pm ET
Much of continental Europe has struggled this year with deflation. It sounds good to live in a country where prices are falling, but if they fall too much, it's a sign the economy is in trouble. Deflation pushes prices down, and tends to lower spending, borrowing and wages. It can also mean job cuts if companies aren't making as much money.
Japan has also grappled mightily with deflation for several years. No one wants to be "the next Japan" when it comes to the economy. Deflation is much harder to cure than inflation.
On the opposite end, extreme inflation is causing major problems in two Latin American countries: Venezuela and Argentina.
Inflation has risen over 18% in Argentina since the start of the year, according to official government statistics. Private sector economists think the real figure is even higher. Argentina's inflation caused even its government to mark prices up staple goods like eggs in July, and its currency, the peso, has already devalued 22% this year, which makes foreign goods feel a lot more expensive to Argentines.
Related: What the heck is going on with Argentina?
Venezuela is even worse off, with a 63% annualized rise in consumer prices according to its central bank. Basic goods like milk hard to come by in the nation's capital of Caracas.
Wednesday's consumer prices may be lower than what policymakers wanted, but, in a global context, the glass is half full for the United States.