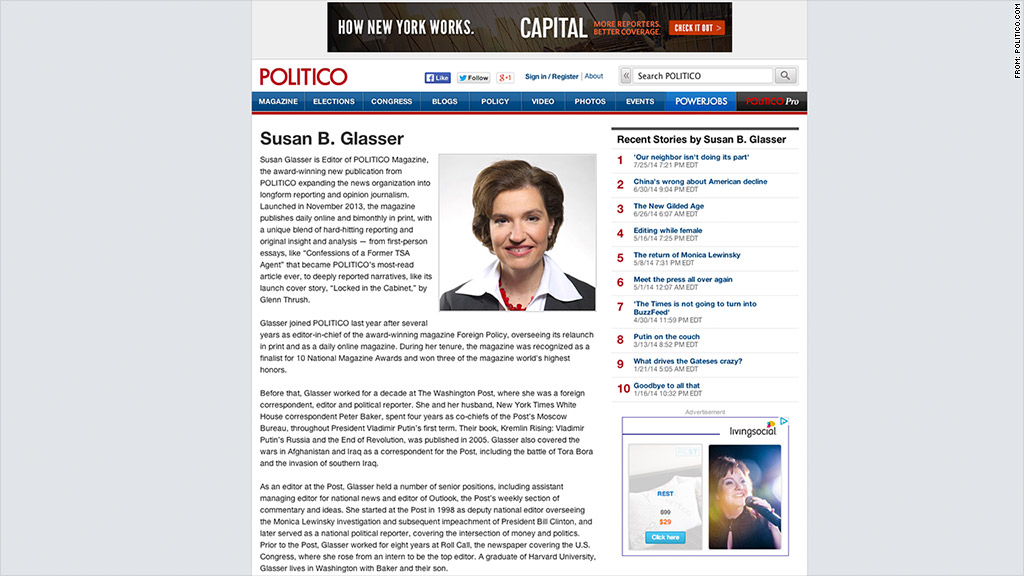 In the latest in a series of restructuring moves, Politico said Thursday that Susan Glasser, the editor of its weekly magazine, will also take charge of the news outlet's main newsroom in Washington.
Glasser, formerly the editor in chief of Foreign Policy magazine, joined Politico in June 2013. In her new role, she will continue to report to Politico editor in chief John Harris, but Harris's focus will be outside Washington, overseeing the company's expansion into new markets.
Glasser will have "full authority" to run "core coverage" by Politico, its subscription-only Politico Pro coverage, and its magazine, Politico chief executive Jim VandeHei said in an internal memorandum.
VandeHei and Harris were the primary editors of Politico when it was founded in 2007. But as the news organization has grown, so has its management structure. VandeHei moved over to the business side of Politico and became chief executive last fall.
Rick Berke, a veteran of The New York Times, became executive editor of the newsroom -- a position just below editor-in-chief -- a short time later. But Berke abruptly resigned earlier this month, citing disagreements with Politico's other leaders.
Berke apparently didn't have the autonomy he wanted to run the newsroom -- which is why it's noteworthy that Thursday's announcement emphasized the "full authority" Glasser will have.
One of her most important tasks will be naming a new executive editor.
She said in a message to staffers that she is also planning "high-impact additions of writing and editing talent."
Glasser's memo alluded to "the next stage of Politico's growth," much of which will come outside the city where it was born.
Last year the company acquired Capital New York, a digital news startup covering politics and media in New York state. The company is interested in expanding into other states -- like California -- and countries.
It announced a plan last week for a joint venture with Axel Springer SE to create Politico Europe.
"Our challenge is to extend our dominance in this space and expand our reach − in Washington, key states and the world," VandeHei said in his memo. "That is why we are redesigning our digital properties, redoing all of our technology, expanding into Europe, exploring new state versions of Politico and growing our operation and leadership here."
Related: Politico's next battleground: Europe
VandeHei praised Glasser, saying she's "as obsessed as we are with dominating news coverage of Congress, politics, the White House and policy."
"Her thinking − and portfolio in this newly designed job transcends the writing and editing. Susan will help us sharpen and deliver on our strategy," he added.