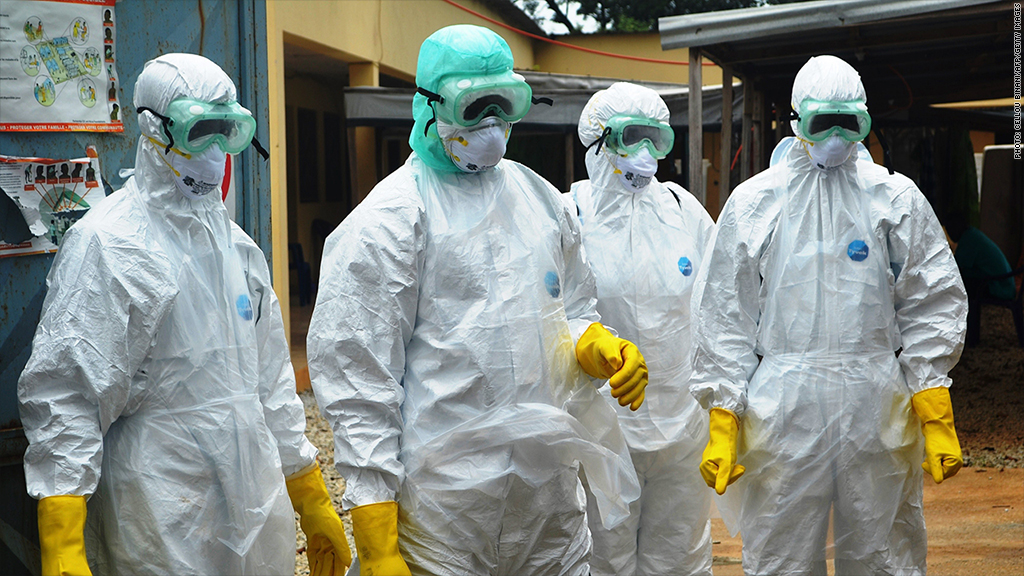 The Ebola virus has already killed thousands in West Africa, an immeasurable loss for many families. As medical workers try to quell its spread, global organizations are calculating the economic impact of the disease.
"Their economies are basically being devastated," said Daniel Epstein, a spokesperson for the World Health Organization. "Economic activity has halted in many areas there. The harvest isn't going on. People can't fly in and fly out."
WHO workers even had difficulty flying into the Ebola-stricken nations of Liberia, Sierra Leone and Guinea, Epstein said.
Related: Ebola patients are buying survivors' blood from the black market
Over 2,600 people have died, according to the latest WHO count. If Ebola is not contained this year, the cost could increase by eight times its current estimate, according to a report published Wednesday by the World Bank Group. Ebola's toll in Liberia alone could affect almost 5% of the country's GDP this year, the World Bank said.
"Our findings make clear that the sooner we get an adequate containment response and decrease the level of fear and uncertainty, the faster we can blunt Ebola's economic impact," said World Bank president Jim Yong Kim in a statement.
Related: History of Ebola outbreaks
In need of aid: The United Nations said this week that $1 billion in aid is needed to contain the Ebola outbreak. But a UN database tally of donations shows that many wealthy Western nations that verbally pledged support have donated paltry sums to fight the disease.
Total donations, including non-binding pledges, to fight Ebola are about $388 million, well under half of the United Nation's estimate, according to data from Financial Tracking Service, a database that tracks humanitarian aid and is managed by the United Nations. The Obama administration announced this week that it hopes to send an additional $500 million in humanitarian aid to the West African nations this fiscal year.
Even with the U.S. government's significant aid proposal, the total number would still fall short of the United Nations' estimate of a billion.
UN Secretary-General Ban Ki-moon went as far as saying "our best estimate is that we need a 20-fold increase in assistance" at a meeting this week.
Related: Despite Ebola, CEOs bullish on parts of Africa
Some private foundations have also stepped in. The Bill and Melinda Gates Foundation has donated over $8 million so far to various organizations to fight Ebola. That is more than the combined donations of Canada, Germany and Spain, according to FTS data.
Overall, the Gates Foundation has pledged $38 million, which eclipses many more countries.
Epstein noted that countries such as Canada contribute to the aid effort in non-monetary ways by sending aid workers and conducting medical research.
"We're also at the stage where people are seeing what the landscape is and figuring out, what's the best way to donate funds?" Epstein said. "In a humanitarian crisis, there are often delays between what people realize what they have to do and what they actually do."